Kase, Ducks beat Wild to clinch playoff berth
Ondrej Kase scored the tiebreaking goal on a rebound with 3:56 to play, and the Anaheim Ducks clinched their sixth consecutive playoff berth with a 3-1 victory over the Minnesota Wild on Wednesday night.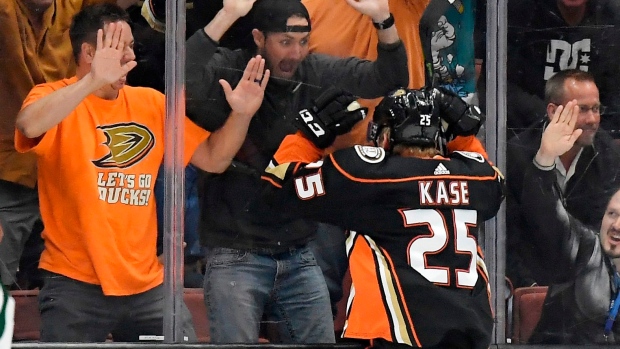 ANAHEIM, Calif. — Deep into their 80th game in a season riddled with injuries and setbacks, the Anaheim Ducks still weren't certain they were heading back to the playoffs.
So the Ducks dug down deep and came out with the ticket to the Stanley Cup tournament. And now that they're in, their hard-earned resilience could be a nightmare for anybody in their path.
Ondrej Kase scored the tiebreaking goal on a rebound with 3:56 to play, and the Ducks clinched their sixth consecutive post-season berth with a 3-1 victory over the Minnesota Wild on Wednesday night.
Kase secured his first 20-goal season by jumping on a long rebound of Josh Manson's shot, and Andrew Cogliano added an empty-net goal. Nick Ritchie also scored, while Manson and Francois Beauchemin had two assists apiece as the Ducks officially extended the NHL's second-longest streak of consecutive post-season berths — a streak they share with Minnesota.
"It's very satisfying," goalie Ryan Miller said. "The guys certainly turned a corner. We were grinding from the start."
Miller made 26 saves in his first start since March 9 for the Ducks, who have won eight of 10 in their usual late-season surge.
Anaheim also leapfrogged archrival Los Angeles into third place in the Pacific Division, leading by one point with two games to play for both clubs.
The Ducks' streak of five consecutive Pacific Division titles was ended by Vegas this season, but Anaheim's veteran lineup remains a foreboding matchup for any playoff opponent. The Ducks still have most of the core that reached the Western Conference finals twice in the past three seasons.
"This whole year has been a bit of a struggle," captain Ryan Getzlaf said. "With the start we had, and the players we had out of the lineup, it was tough to see the big picture at that point. Our guys did a good job battling throughout the whole year. We accomplished one goal we wanted."
Matt Dumba scored a power-play goal and Devan Dubnyk stopped 28 shots for the Wild, who took their fifth loss in seven games during what turned out to be a meaningless contest for them.
When the St. Louis Blues' loss to Chicago ended during the first period in Anaheim, Minnesota was locked into third place in the Central Division, ensuring a first-round matchup with Winnipeg or Nashville.
"Both of those teams have had pretty fantastic seasons, and (neither is) really a great option," Dubnyk said. "But I think us, as a group, have shown that we can play and beat anybody in the league, including both those teams. I think it will be exciting for us."
The Blues' result also clinched a playoff berth for the Kings, and it meant the Ducks would be able to clinch as well. Coach Randy Carlyle's team didn't miss the chance, even while playing without several injured regulars — a theme of the Ducks' entire season.
"You can't hide the fact that it's been a different type of year for our hockey club," Carlyle said. "But every time people were ready to count them out, they were able to stand up and say, 'That's not happening.'"
Ducks goalie John Gibson sat out with an upper-body injury that doesn't appear to be serious, and Miller coolly picked up his second straight victory after coming on in relief for Gibson on Sunday.
Both teams were without their top defencemen. Minnesota's Ryan Suter is done for the year with a broken ankle, while Anaheim's Cam Fowler missed his first game since Nov. 19 with a shoulder injury that could require six weeks of recovery.
Dumba's goal in the second period was his second of the season at Honda Center, where he scored the overtime winner for Minnesota on Dec. 8.
Nearly seven minutes later, the Ducks evened it by crowding Dubnyk. With Adam Henrique's help, Ritchie got credit for his 10th goal of the season.
"They got a fluke goal to tie it up, I thought, but (in) the third period, they definitely outworked us," Minnesota coach Bruce Boudreau said. "It was a great test. We talked about how this is what playoff hockey is going to be like. Maybe it's a cheap lesson learned."
NOTES: With Fowler out and Kevin Bieksa still recovering from surgery on his left hand, D Andy Welinski appeared in his fifth career NHL game for Anaheim. Welinski had been down in the AHL since Dec. 19. ... Minnesota F Luke Kunin had surgery Tuesday repairing a torn ligament in his left knee. He will need 6-7 months of recovery time. ... Boudreau lost at Honda Center for the first time in three visits since the Ducks fired him in 2016 after a first-round exit from the playoffs. ... Mike Trout attended the game with his family after playing in the Angels' 13-inning victory over Cleveland earlier in the day across Katella Avenue.
UP NEXT
Wild: At the Los Angeles Kings on Thursday.
Ducks: Host the Dallas Stars on Friday.
___
More AP hockey: www.apnews.com/tags/NHLhockey