Leafs trade Leivo to Canucks for Carcone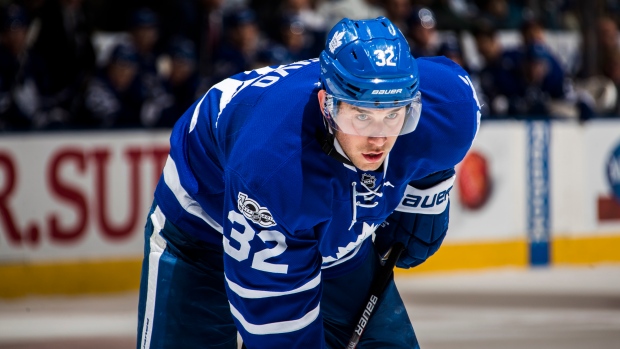 The Toronto Maple Leafs have traded forward Josh Leivo to the Vancouver Canucks for forward Michael Carcone.
The move frees up a roster space for William Nylander, who signed a long-term deal with the team on Saturday.
Dubas addressed the media on Monday and said the Leafs' roster crunch made it imperative he move Leivo quickly.
"In the summer from meeting with Ian Pulver and Josh, clearly they were concerned, and I think rightfully so, [about him] falling, with his career on the line, into a situation where he's playing very sparingly and not even getting to 15 games a year," Dubas said. "My promise to them was if there was a situation looming where I saw him going to potentially be in that situation again, they had my word that we would try to facilitate a move for him to a better opportunity."
Saying the Leafs were "happy to do that" for Leivo, they were also pleased with the return. While some may write Carcone off as just an extra body, the Marlies organization is familiar with him from Utica, and see plenty of potential.
"We're excited to get him," Dubas said. "[Marlies' coach] Sheldon [Keefe] is a big fan of his, and with his speed and his skill and his competitiveness, he will be someone who has a chance with us, so we're excited about that."
The Leafs loaned forward Travis Dermott to their AHL affiliate Toronto Marlies earlier Monday but head coach Mike Babcock confirmed Dermott would be back with the team for their game Tuesday against the Buffalo Sabres.
Leivo was originally drafted by the Leafs in the third round (86th overall) back in 2011. In 27 games with the Leafs this season, Leivo has four goals and two assists.
The Leafs' acquisition of Carcone signifies a homecoming for the Ajax, Ontario native. The undrafted winger last played hockey for an Ontario-based team with the Stouffville Spirit (OJHL) during the 2013-14 season.
Carcone also owns a vegan restaurant in Toronto called 'Copper Branch'.