Maple Leafs place D Marchenko on waivers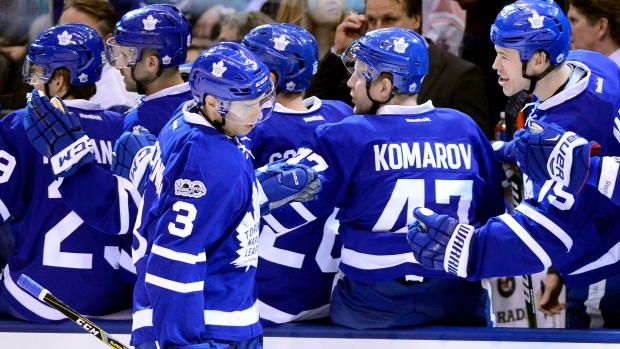 The Toronto Maple Leafs have waived defenceman Alexey Marchenko, according to his agent Dan Milstein.
This was confirmed by TSN Hockey Insider Pierre LeBrun. Milstein said a media statement would be issued at 1pm et. on Tuesday.
Marchenko, 25, played in 25 games with the Leafs upon being picked up on waivers from the Detroit Red Wings on February 4. He scored one goal and posted one assist with Toronto, he had six assists in 30 games with the Red Wings.
He is signed through this season at a cap hit of $1.45 million.
A seventh-round pick in 2011, Marchenko owns four goals and 17 assists in 121 career NHL games.
CSKA Moscow president Igor Esmantovich said in April the team hoped to lure back former players of the club over the off-season, including Marchenko. Mikhail Grigorenko and Roman Lyubimov, who were both also mentioned by name by Esmantovich at the time, signed signed deals with CSKA in July.
Marchenko, a native of Moscow, played four seasons with the KHL club before joining the Red Wings for the 2013-14 season.