Marchand OK with big contract for Pastrnak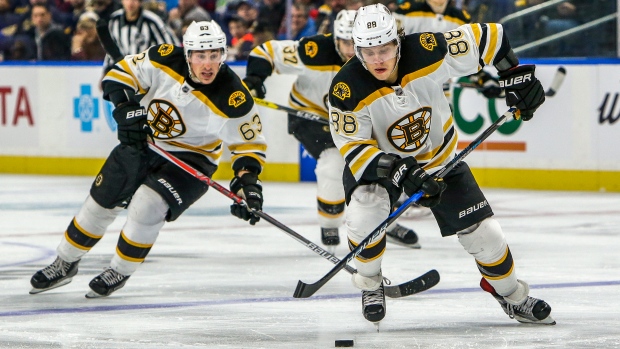 The Boston Bruins have been unable to reach a contract extension this summer with restricted free agent David Pastrnak as the team reportedly attempts to avoid paying him more per year than Brad Marchand.
The Bruins are believed to have made an offer with an average annual value of $6 million on a six or seven-year term, which Pastrnak declined. Latest reports indicate the two sides are working on the max eight-year term, but it's unclear if the Bruins have upped Pastrnak's salary.
Marchand, whose eight-year, $49 million extension will kick in this season, led the Bruins in goals and points last season, while Pastrnak ranked second on the team with 34 goals and 70 points in his third NHL campaign.
Marchand signed his contract, holding an annual cap hit of $6.125 million, just last September but told the Boston Herald on Monday he understands the landscape has changed for RFA contracts and he will not be holding a grudge if Pastrnak's salary is higher than his own.
"We all want to see each other be successful," said Marchand. "He had a great year last year, so we'll be very happy for him with whatever he ends up getting. The contract that he signs, Pasta's going to make a lot of money, he's a phenomenal player, he's 21 years old, he's going to have a long career. We all like to see each other be successful and do well and that's the way the game goes.
"The league's trending upwards and the contracts are getting higher and higher. You look around and some of the deals that were thrown out this summer for young guys, it wasn't like that three or four years ago and that's the way it is now. So again, we're all very happy for one another, and whatever he gets is going to help other guys get more too. So that's just the way it is."
David Krejci currently owns the highest cap hit on the Bruins at $7.25 million, followed by Patrice Bergeron ($6.875 million), Marchand and David Backes ($6 million). Pastrnak is the lone remaining restricted free agent on the Bruins, who currently have $10.15 million in cap space remaining for the 2017-18 season, according to CapFriendly.
Pastrnak was taken at No. 25 overall in the first round of the 2014 NHL Entry Draft by the Bruins, making his debut later that season. He was one of two players from the 2014 draft to play in 40 or more games in the same season, appearing in a total of 46 games. The other was No. 1 overall pick Aaron Ekblad.
A native of Havirov in the Czech Republic, Pastrnak is coming off a three-year, $2.775 million entry-level deal.
He has 59 goals and 64 assists in 172 career regular season games. He ranked tied for 10th in goals and tied for 18th in points in the NHL last season.