McDavid, Draisaitl help Oilers continue their domination of Senators with win
Connor McDavid had a goal and two assists while Leon Draisaitl and Tyler Ennis both added a goal and an assist as the Edmonton Oilers defeated the Ottawa Senators 6-2 on Friday night.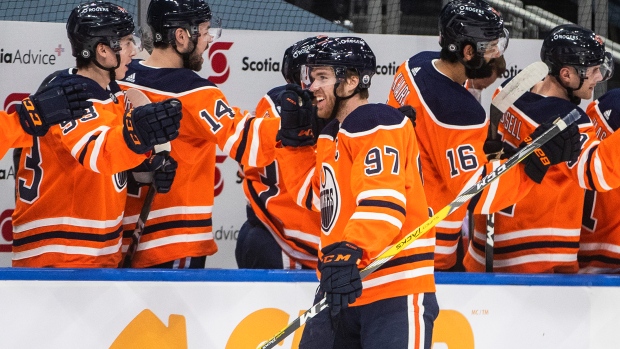 EDMONTON — Connor McDavid and the Edmonton Oilers continued their domination of the Ottawa Senators on Friday night.
McDavid had a goal and two assists while Leon Draisaitl and Tyler Ennis both added a goal and an assist as Edmonton downed Ottawa 6-2 to cap a three-game sweep. Even more impressive is the Oilers improved to 7-0 this season versus the Senators and have won four straight overall since dropping three consecutive contests to the Toronto Maple Leafs.
"Its big," McDavid said. "A lot was made obviously last week with what happened with Toronto and we found a way to get those points back.
"It doesn't matter who you're playing, it's not easy to beat them three times so credit to our group."
McDavid became the first player in the NHL to crack the 50-point plateau, having registered 17 goals and 34 assists in 29 games.
Tyson Barrie, Darnell Nurse and Gaetan Haas also scored for Edmonton (18-11-0), which is 11-11-0 versus the remainder of the North Division. Still, the Oilers moved into second overall, four points behind idle Toronto (19-7-2).
Thomas Chabot and Brady Tkachuk scored for Ottawa (9-19-1), which has lost three straight and is 4-6-0 in its last 10 games.
Draisaitl and McDavid were both factors in Edmonton's 7-1 win over Ottawa on Wednesday. Draisaitl had five points (three goals, two assists) while McDavid scored and added two assists.
McDavid needed just 10 seconds to open the scoring, beating youngster Joey Daccord on the game's first shot at Rogers Place.
"I have no idea where it went, I still don't even know where it went," McDavid said. "I just tried to put a puck on net, fortunate it went in."
Oilers head coach Dave Tippett said it was important his team come out strong against Ottawa.
"We wanted to make sure we come out and started the game quick," he said. "We knew they were going to come at us pretty hard.
"I give them some credit, they rebounded right after that, they pushed back for the next 10 minutes or so pretty good. We got a lucky break . . . but we'll take all the breaks we can get right now."
Chabot pulled Ottawa even at 3:06 with his fourth as the Senators held a 7-1 advantage in shots on goal before the Oilers went on the power play at 11:07.
Barrie put Edmonton up 2-1 at 13:45 with his fourth. Barrie fired a wrist shot past Daccord following a Chris Tierney turnover as the Oilers outshot the Senators 12-10.
"We know they work hard, they play an energetic game and they're dangerous when they get rolling around and get that excitement into their game," McDavid said. "They did a great job responding.
"I thought they kind of controlled a lot of the first and we were lucky to come out 2-1."
Ottawa made it 2-2 on Tkachuk's power-play goal at 9:19 of the second. He tapped a nifty centring pass from Tim Stutzle, past Mike Smith for his 10th of the season.
"Great first pass from Drake (Batherson) to Timmy and Timmy with unbelievable vision," Tkachuk said. "I was just lucky to be there."
Nurse staked Edmonton to a 3-2 lead at 13:55, threading a shot through traffic in front for his eighth, and fifth this year against Ottawa. Draisaitl scored his 15th on the season, this one the power play, at 18:50 as the Oilers outshot the Senators 18-8 in the period.
Ennis recorded his third of the season at 5:05 of the third after Daccord had made the first save. Haas tucked the puck under Daccord's leg at 15:48, his second of the year.
Tkachuk admitted the Senators' struggles against Edmonton have been frustrating but he remains upbeat about the Ottawa club.
"They're a great team, I mean every team in this division is a great team so there's no easy night," he said. "I think this is just going to help us out tremendously down the road.
"We're a good team ourselves . . . right now the record doesn't show what we've put into this but I think every day we're getting better. I think that's definitely exciting for our team."
Almost a quarter of Edmonton's schedule this season has been against Ottawa. But Tippett said his team has adopted the mentality of only looking to the next game, not who it's against.
"When the schedule came out you wrapped your head around it, you think about it a little bit and then you move on," he said. "Everyone knows what the schedule looks like, you're going to play a lot of the same teams over and over again and you just have to deal with it.
"Ultimately in the end we've tried to focus on what we're trying to do no matter who we're playing."
Friday night's contest was the first of 11 in 18 nights for Edmonton, which is in Vancouver to face the Canucks on Saturday.
"They're working hard, they're getting good goaltending, they're playing solid throughout," McDavid said. "It's a big hockey game for us, it's big for them.
"I'd expect a high-paced game, a high-energy game. Even though we're coming off a back-to-back, I think we've been all right in those and need a big one (Saturday)."
This report by The Canadian Press was first published March 12, 2021.