Moses attracting interest across the pond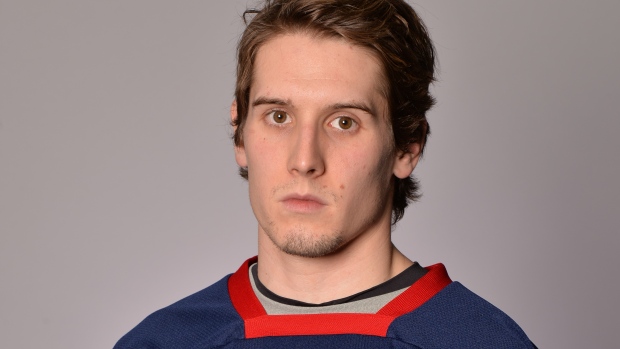 NHL teams are not looking for Moses to lead them out of the wilderness as much as they are simply trying to determine whether he can part an NHL defence.
His name is Steve Moses. He is a 25-year-old, 5-foot-9, 170-pound winger from Leominster, Mass., and he's attracting NHL interest this season because he's leading the Kontinental Hockey League (KHL) in goals, with 35 in 56 games for Jokerit (Finland). He also has 56 points in 56 games, sixth best in the KHL.
"He's the top (unrestricted) free agent in the KHL, that's for sure," one NHL management person said.
"Really small but really fast," said another.
Some teams think he's worth a shot. Others aren't so sure. In any case, what's certain is the diminutive University of New Hampshire alum – he played four seasons there between 2008 and 2012 – won't be leaving Jokerit (where he's in his third season), or the KHL, unless he has a one-way NHL contract tucked in his back pocket.
"His goal and his dream is to play in the NHL," Moses's agent Markus Lehto said, "but he's also in a very good situation (in Jokerit and the KHL)."
Moses isn't just a free agent to the NHL. When this season is over, he also becomes a free agent within the KHL and the league's top goal-scorer will be highly sought after there, too.
The implication is clear. He stands to make more money in the KHL than the NHL but he's willing to sacrifice dollars, to a point, for a legitimate chance to play in the NHL. That is, he's not about to bolt home for a two-way contract that sees him sent down to the AHL without being given a real shot to show what he's got.
Moses played eight AHL games on a tryout with the Connecticut Whale in 2012, at the end of his senior season at UNH. He scored two goals and had no assists in those games.
A one-way NHL contract for next season would ensure the team that signs him is invested enough to give him a chance to prove he can play. As always, big players have to prove they can't play; small players have to prove they can. But many small players never really get the chance.
At this point, the sense seems to be there are enough teams interested in Moses that he'll get that one-way deal. It's early yet, though.
"On a one-year deal?" said one NHL management type. "On a (salary) cap-strapped team it might be a problem, but there are lots of teams that could justify the risk. I think you'll see him get an offer (one way)."
Some teams are most interested to see if the Columbus Blue Jackets will step up and make an offer to Moses. No one knows the player better than Blue Jackets' general manager Jarmo Kekalainen, who, as Jokerit's GM, originally brought Moses to Helsinki.
If Kekalainen isn't interested, it may send a message – not a good one for Moses – to the rest of the league. Not surprisingly, for obvious reasons, the Columbus GM isn't talking about it. If he is interested in Moses, he doesn't want to signal his intentions to other clubs. If he's not interested, he doesn't want to hurt Moses's marketability with others.
In the meantime, NHL clubs are forming their own opinions, and there is some skepticism. There always is with smaller players.
A sampling of opinions from NHL scouts who have been scouting Moses this season:
"He has skill but he doesn't have that special stuff a small player needs to do well (in the NHL)," one said. "Some might sign him; not us."
"He's quick and can shoot the puck but he's tiny and spends a lot of time on the perimeter," said another. "He's a better player on big ice."
"He could play in the NHL but he projects as a depth player and do you want to give a depth player a one-way deal?" said a third.
Then there's how much to read into the difference between the KHL and NHL. For example, former NHLer Nigel Dawes has scored 31 goals in the same 56 games as Moses. Former Ottawa Senator Stephane Da Costa has 30 goals in only 44 KHL games.
"Success (in the KHL) doesn't often translate into success in the NHL," said a scout.
If that sounds like a whole lot of negativity on Moses, do remember a couple of things.
One, it takes only two interested NHL teams in one player to create a bidding war. And it's believed more than two NHL teams have legitimate interest in Moses.
Two, many NHL teams get into frenzied competition for far less accomplished U.S. college free agents who don't have the current resume of Moses.