Most unusual NHL All-Stars in history
John Scott has never been more popular and probably won't ever be again. Known more for his abilities with his fists than his scoring prowess, Scott has racked up 542 penalty minutes while amassing just five goals and six assists in 285 career NHL games.
Jamie Mountain, TSN.ca Staff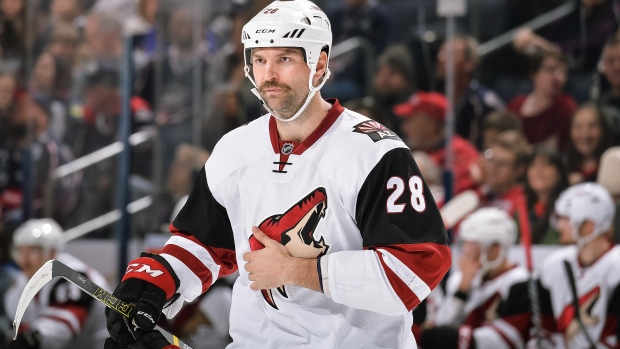 John Scott has never been more popular and probably won't ever be again.
Known more for his abilities with his fists than his scoring prowess, Scott has racked up 542 penalty minutes while amassing just five goals and six assists in 285 career NHL games. Despite this, hockey fans decided they wanted to see him in this year's All-Star Game, so much so that he garnered enough votes to be named captain of the Pacific Division.
A trade from the Arizona Coyotes to the Montreal Canadiens on Jan. 15 put his All-Star status in doubt. That was further muddied when the Habs immediately assigned the 6-foot-8 forward to their minor-league affiliate, the St. John's IceCaps. After some deliberation, the NHL decided to respect Scott's desire to participate in the event and Scott will be in Nashville at the end of the month for the league's mid-winter showcase.
Although it's bizarre that an enforcer like Scott will be taking part in this year's festivities, he's not the first unusual 'All-Star' to ever be named. Here's a look at some other odd inclusions to past spectacles:
Bob Probert – Detroit Red Wings 1988
Like Scott, Probert was known more for pummeling opponents with his fists than lighting the lamp.
The 6-foot-3 winger spent 16 seasons in the NHL with the Detroit Red Wings and Chicago Blackhawks, recording 3,300 penalties in minutes and was one of the most-feared fighters in NHL history.
Probert's best year in the league came in 1987-88 where he recorded 29 goals and 33 assists, earning his first and only All-Star Game appearance. Despite his eye opening offensive numbers, Probert still played his usual bruising style that season and picked up 398 penalty minutes, the sixth-highest single-season total in NHL history.
Probert assisted on Wayne Gretzky's first period goal and surprisingly didn't take a single penalty as the Campbell Conference fell to the Wales Conference 6-5 in overtime.
Chris Nilan – Boston Bruins 1991
Another tough-as-nails guy who was graced with an All-Star nomination was Chris Nilan.
Nilan managed to record 225 points in his 688-game career that was spent with the Montreal Canadiens, New York Rangers, and Boston Bruins.
Somehow in 1991 Nilan was selected to represent the Bruins in the All-Star Game by Wales Conference head coach Mike Milbury, a season where he only recorded six goals and nine assists.
Milbury's decision to include Nilan and checker Brian Skrudland was met with a lot of criticism because they were chosen over scorer Kirk Muller and retiring legend Guy Lafleur. This prompted the board of governors to state that future teams would be chosen by committee.
Nilan never suited up in the game due to injury and was replaced by Bruins teammate Dave Christian.
Brad Marsh – Ottawa Senators 1993
Although he was drafted 11th overall by the Atlanta Flames in the 1978 NHL Entry Draft, Brad Marsh was never considered an offensive threat from the blueline.
The London, Ont., native spent 15 years in the NHL, playing for the Flames, Philadelphia Flyers, Toronto Maple Leafs, Red Wings, and Ottawa Senators. Marsh amassed 23 goals and 175 assists over 1086 career games. A respectable career, but nothing that screamed "All-Star."
Marsh was surprisingly named to the 1993 All-Star Game as a member of the Senators in his final NHL season. It appeared to be an odd choice given the fact that he only recorded three assists in 59 games that year.
As fate would have it, Marsh silenced all critics of his All-Star inclusion by netting a goal as the Wales Conference won the game by a huge 16-6 margin over the Campbell Conference.
Peter Sidorkiewicz – Ottawa Senators 1993
Possibly the most head-scratching inclusion to an All-Star Game ever was Peter Sidorkiewicz. The 5-foot-9 goaltender manned the pipes for the Sens in their inaugural season of 1992-93, where the team accumulated an awful 10-70-4 record.
Sidorkiewicz went 4-32-3 for the Sens that year with a 4.43 goals against average and .856 save percentage, but given how bad the team was, it was a miracle his stats weren't worst and was graced with the All-Star nod.
He joined teammate Brad Marsh at the 1993 All-Star game and earned the win for the Wales Conference – something he didn't see much with the Senators that year.
Petr Buzek – Atlanta Thrashers 2000
When the NHL decided to switch from the East vs. West format to North America vs. the World All-Star format in 1998, it paved the way for players with questionable All-Star credentials. One such player was Petr Buzek.
Since the World team was in need of a European blueliner at the 2000 game in Toronto, Buzek became the Thrashers' representative.
The World All-Stars went on to defeat the North America All-Stars 9-4, with Buzek failing to record a point.
Buzek finished the 1999-00 season with just 19 points and a minus-22 rating.