Murray, Poyser shine at BioSteel game
Canada's future stars came out in warmup shirts that read "Look Up to The North." And that was precisely the point of the inaugural BioSteel All-Canadian Basketball Game. Jamal Murray of Kitchener, Ont., scored a game-high 29 points as Canada's top high schoolers stepped into the spotlight Tuesday night.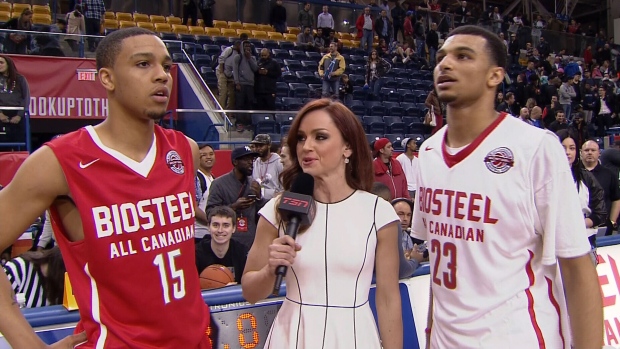 TORONTO - Canada's future stars came out in warmup shirts that read "Look Up to The North."
And that was precisely the point of Tuesday's inaugural BioSteel All-Canadian Basketball Game.
Jamal Murray of Kitchener, Ont., scored a game-high 29 points as Canada's top high schoolers stepped into the spotlight in a game that the players and organizers said was a long time coming.
"It's something that we really needed here, and our kids really needed," said Tony McIntyre, the game's operations director. "Obviously with the McDonald's game and the Jordan game (both U.S. high school all-star games), there's a platform for American kids.
"We needed to create that here and give the kids a chance to showcase their talents — and all 24 of them, instead of hoping we get one or two of them into those (U.S.) games each year."
Murray added 10 assists and eight rebounds and drilled a three with 27 seconds left to pull Team White to within two points. But Team Red would go on to win 99-95. Jalen Poyser of Brampton, Ont., led Team Red with 21 points. Murray and Poyser were named the game's MVPs.
"We have to show the Americans that Canadians are here," Poyser said afterward.
The event drew a near sellout crowd to Ryerson University's Mattamy Athletic Centre, including two-time NBA MVP Steve Nash, former NHL star Gary Roberts, veteran NBA guard Roger Mason Jr., and Kemba Walker of the Charlotte Hornets, and Hall of Famers Wayne Embry and George Raveling.
But what mattered most to the players were the some 60 NBA scouts in attendance, along with the television audience and fans tuning in on social media.
"A game like this is not just the Canadian level, because it's so viral, there's so much media attention and probably worldwide," said Thon Maker, a seven-foot-one Sudanese-Australian forward who opted to play high school basketball in Canada for Orangeville Prep.
"I am excited, you should have seen me in the hotel room, just so happy, playing music loud, preparing for it."
Gus Gymnopoulos, Andrew Wiggins' high school coach, led Team Red. Team White's coach was Paul Melnik, high school coach to Tyler Ennis.
Melnik called Murray "phenomenal," saying "He just makes plays, it's almost like he sees the game in slow motion, he's almost picking you apart because he's bringing the ball up the floor and he's attacking on the dribble. He either finishes or puts it on the money for teammates.
"I'm looking at the assistant coaches going 'Wow, this guy is for real.'"
Bill Wennington, who won three NBA titles with the Chicago Bulls, and former national team player Rowan Barrett were the celebrity coaches.
"For once our Canadian public gets to see these guys," said Barrett, whose son Rowan Jr. played in Monday's Future All-Canadian game for the top Grade 9-10 players. "To be able to get behind these kids now I think is a great thing. I think every young player should have that, to feel loved where he comes from."
McIntyre and Jesse Tipping, both of the Athlete Institute Orangeville Prep program, launched the game over a lunchtime chat.
"We thought with the class we have now, it would be a shame not to have them in one gym playing together," Tipping said. "Tony said, 'We can do that, let's make it happen.'"
Murray was coming off winning MVP honours at the Nike Hoop Summit on Saturday, a game that pits the best high schoolers in the U.S. against the best in the world.
The 18-year-old took the path less travelled, remaining in Canada to play rather than heading to a prep school down south. And prior to last weekend, he'd largely flown under the radar compared to the American counterparts because of that.
"I think that's what this game's all about, for me," Murray said. ". . . to show you how much talent we have, mostly underrated talent, that we haven't seen."
Orangeville Prep plays the top American prep schools, and Maker, who had an off night Tuesday, shooting 2-for-13 for eight points and five boards, said Murray stacks up well against all of them.
"Jamal is a special player, he hasn't shied away from the lights," Maker said. "We probably had the. . . hardest schedule there is, yet he's found ways to come out and perform, and consistently, day in and day out."