Spotlight shines on Canadian basketball
Exposure was the name of the game for Tuesday night's BioSteel All-Canadian Basketball Game, where Team Red got by Team White, 99-95. With over 60 NBA scouts in the building, along with former and current NBA players, it was the type of focus that was once a rarity for Canadian basketball.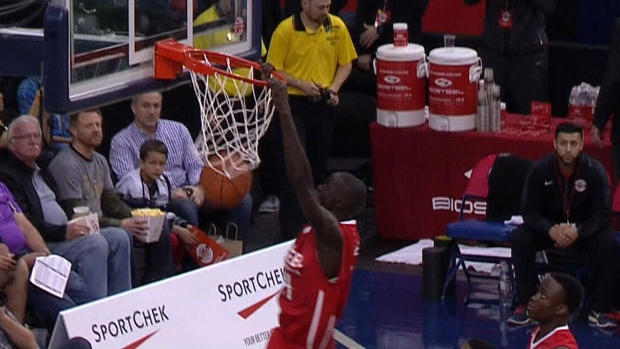 TORONTO - Prior to Tuesday night's BioSteel All-Canadian Basketball Game, seven-footer Thon Maker said that he didn't consider the event strictly a Canadian one, per se.
Born in Sudan and raised in Australia, Maker, who attends high school in Orangeville, at Ontario's Orangeville Prep, pointed out that the level of coverage and exposure of the inaugural game made it an international one.
"A game like this is not just the Canadian level, because it's so viral, there's so much media attention (here) and probably worldwide," said Maker.
Exposure was the name of the game on Tuesday night at the Mattamy Athletic Centre in downtown Toronto, in the building that once was called Maple Leaf Gardens, as Team Red got by Team White, 99-95. With over 60 NBA scouts in the building, along with former and current NBA players, it was the type of focus that was once a rarity for Canadian basketball.
Bill Wennington certainly never saw this kind of spotlight on the game when he was coming up in Montreal in the late 1970s, eventually leaving to finish high school in Long Island before attending St. John's University in Queens.
A three-time NBA champion with Michael Jordan's Chicago Bulls teams of the late '90s, Wennington acted as one of the celebrity coaches along with Canada Basketball executive vice president and assistant general manager, Rowan Barrett.
Wennington can only speculate on what would have happened if he hadn't left for the US to pursue his hoop dreams.
"My exposure at that point would be all through the national team," the 16th-overall pick in the 1981 NBA Draft told TSN.ca "I'm sure (legendary Canadian national team coach) Jack [Donohue] would have found me playing up in a CEGEP at whatever college I went to in Quebec, but at that time, very few guys were coming down to the States to play. I know Leo [Rautins] went to Syracuse, but I don't know. I was getting attention up in Canada from the CEGEPs and local universities, when I was in 10th grade, but I don't think I would have got all the attention [without leaving.]"
An inductee to the Canadian Basketball Hall of Fame, Wennington stressed the potential impact a game like the BioSteel All-Canadian Game could have on the next generation of Canadian basketball.
"That's what this game is about – attention and the attention that it's bringing to the five and six-year-olds watching TV and saying, 'Wow,'" Wennington said. "Because what do we try to do as people? We see something on TV and say, 'I like that. I can try to do that.' I think just the media coverage of basketball in Canada now is so much greater now that more kids can play. The more kids that play, you get more special kids. And that's what really this is – to grow the game. You've gotta get more people playing."
One of those 'special kids' who Wennington mentioned is Jamal Murray, who was named MVP of Wennington's Team White. Murray followed up a 30-point performance in last Saturday's Nike Hoop Summit by falling just two rebounds short of a triple-double with 29 points and 10 assists.
With Murray's stock having never been higher, there is growing speculation that the 18-year-old Kitchener, Ontario native will reclassify from a 2016 graduate to this June, which would allow him to attend an American college in the fall. Though, he addressed the weight of that decision with TSN.ca on Monday evening, Murray wouldn't speak on the topic on Tuesday night.
The biggest fallout from a student choosing to reclassify is the likelihood of redshirting. A redshirt is a student at his particular institution can practice with his team, but he's ineligible to play in any game action. If Murray were to redshirt in the fall, he wouldn't be able to appear in the NCAA until the 2016-17 season.
Barrett, who also attended St. John's from 1992 to 1996, believes that redshirting can benefit many athletes.
"I would say specifically going for the year can be really good, just because there's some things that you're going to need to know," said Barrett, a member of Canada's entry at the 2000 Summer Olympic Games in Sydney. "To be able to take a course in accounting or finance, to be able to take a look at marketing or to be able to understand the media that you're going to be standing in front of for, hopefully, the next 10-15 years of your life – getting some sort of understanding of the inner workings of those things is good and, especially, learn something to become fiscally responsible. I think that year in school could help them, but each case is different, so you kind of have to take it on a case-by-case basis."
Wennington feels that the jump from high school to the NCAA level shouldn't be seen strictly as a necessary evil to becoming an NBA player. It needs to be appreciated for what it is and how it helps in the maturation process of a young athlete.
"I'm gonna be honest with you," Wennington told TSN.ca. "Four of the best years of my life were at St. John's. As an athlete, it's a lot of fun. I don't want to say there's no pressure because, obviously, you've got to educate yourself in the classroom and play, but that was really the last bastion of playing where it's just fun. We're kids. We're still innocent. We're playing."
Wennington says that kids need to be ready for the harsh realities of going pro and staying in school for as long as possible goes a long way in bracing them for those changes.
"Once you're in the league, you're being paid," said Wennington. "It's a job and you're going to know it's a job on the first day of training camp. You're going to be in there with a couple of other rookies and one or two of them are going to get cut and sent home. And they're your friends that are no longer with you anymore. It's a business and it's a cutthroat business and, if you make a team, that means that there's 100 people that didn't and they'll let you know it. And, of course, there's the life lessons that you're going to have to deal with, the paycheques you're gonna get and the people who want to be involved. So there's a lot more to it and I think the older you are when it happens, the better prepared you are for it. Now, does that mean there aren't 19-year-old kids who can handle that? No, it doesn't. There are some special kids that are able to, but it's tough and I really think you miss a lot and miss out on a great experience [by leaving early.]"
That great experience for Jamal Murray could begin as soon as this September.