New dad Muzzin gives Leafs D core some swagger
It's been a bit of a whirlwind for Jake Muzzin in the last 24 hours with the birth of his baby girl, but he'll be a big part of the Leafs' quest to take the upper-hand in the series Friday night, Mark Masters writes.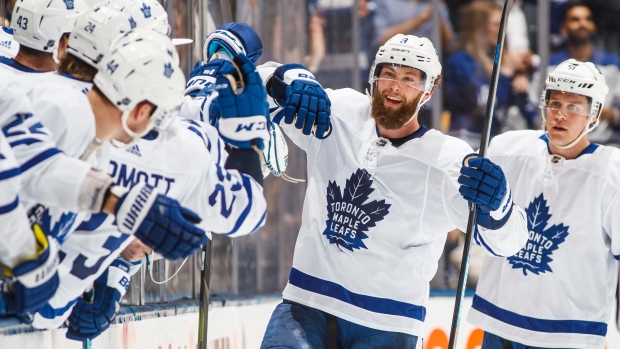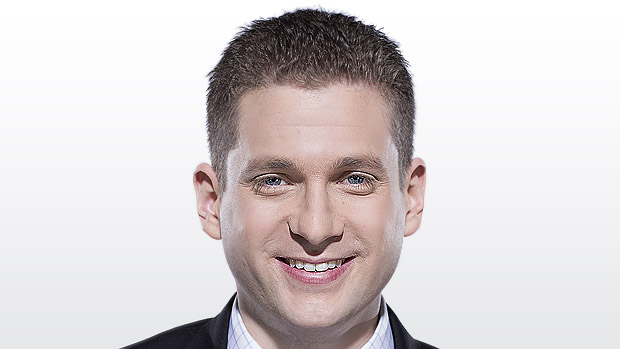 TSN Toronto reporter Mark Masters checks in daily with news and notes on the Maple Leafs. Toronto skated at TD Garden on Friday ahead of Game 5.
---
Jake Muzzin became a father yesterday welcoming a baby girl into the world, but he still made it to Boston for the Leafs morning skate.
"It's been fun," the 30-year-old said. "It's exciting, you know, it's a big part in our life away from hockey and now we're here back to work so it's been a crazy 24 hours."
Will he ride a wave of adrenaline into Game 5?
"Um, I'm a little tired," he said with a smile, "but other than that I'll be fine."
Muzzin is a key part of Toronto's plan to contain Boston's top line. That plan seemed to be working well until Wednesday when David Pastrnak got his first two goals of the series (one on the power play) while Brad Marchand posted three points. Muzzin's ill-timed pinch led to a Pastrnak goal early in the second period.
"We got to limit some mistakes," Muzzin said. "They capitalized on a few mistakes we made. Every shift is important. We got to have attention to detail and execution every shift. You give them a chance, they're going to score."
"We just got to get back to what we were doing," said coach Mike Babcock. "Any time you're a goal scorer and you score, you feel good about yourself. So, that's the beauty of a series is they didn't have it going, suddenly they've got it going. We're the same way. The series has been about responding and we have to respond here today."
The Leafs let an opportunity slip through their fingers in Game 4, but Muzzin believes the inexperienced core is responding well.
"When I was a young guy, you know, I was kind of oblivious to the pressure and kind of just went out and played and I think I see some of that here with these guys. They're just going out, they're excited, they're hungry and they're just going out and playing hockey and I think that's the best way to go about it."
The series is as tight as can be with the teams deadlocked in games, even-strength goals (8-8) and five-on-five shots (117-117).
---
Muzzin has made his presence felt with some booming hits. He knocked Torey Krug out of Game 2 and has flattened Pastrnak on a couple of occasions. The arrival of the six-foot-three, 213 pound native of Woodstock, Ont., has given Toronto's blue line an edgy force in the top-four.
"He kind of brings a swagger to our D corps that's nice to have," said Mitch Marner. "He's a physical guy, who can play a real defensive game ... He's very good at timing the hits and I think kind of drawing people into thinking he's not going to come and then he comes out of nowhere so he does a good job of kind of being incognito."
Muzzin, a Stanley Cup champion in 2014 with the Kings, has been credited with 12 hits in the series, which leads all defencemen on both teams.
"In a long series it wears on guys," he said. "When you get hit and you get hit and you get hit, slowly but surely it wears on you. Mentally, you're thinking, 'Oh, I'm going to get hit again,' and physically it may wear you down a little bit."
---
Zach Hyman, who leads the Leafs with 15 hits, struggled to get off the ice after an awkward collision with Marchand late in Game 4. He stayed in the game and was back on the ice at the morning skate today.
"Just a weird play," the left winger explained. "I initiated the hit and got stung and for a second got nervous there and then got to the bench and everything was OK. Ready to go tonight."
Hyman appeared to grimace upon taking the ice this morning and was shaking his leg at times, but insists all is well.
"It's fine," he said. "Good to go."
---
Hyman is a key part of Toronto's embattled penalty kill, which has allowed five goals on 11 chances in the series.
"We have a lot more to prove," Hyman vowed. "I don't think we've been as bad as the numbers show. We've got to get back to playing our way and be confident out there and go after them."
"We thought we had it covered and we didn't," said Babcock. "Obviously, we addressed that. I mean, it's a game of mistakes as you all know. You try to eliminate the mistakes as much as you can. The onus is on the coaching staff to do a good job and then the players to execute that job."
Kasperi Kapanan, who was on the ice for the first Bruins power play goal on Wednesday, worked with the penalty kill at the morning skate rather than with the second power-play unit, which he was added to after the Nazem Kadri suspension.
---
Boston will get a boost tonight as Sean Kuraly is expected to return to the line-up for the first time since sustaining a broken right hand on March 21.
"Sean's greatest strength is his ability to transport the puck out of our zone, close first, get out. He's strong, real good skater so he can get the puck out of our zone," head coach Bruce Cassidy told reporters on Thursday. "That line's done a good job in terms of structurally being in lanes, blocking shots, willing to battle, but they miss that element, a guy that can get it and go and separate. In the offensive zone, he can be a puck possessor and be a one-man cycle, specifically teams that are man-to-man. He will force the other team to defend, hang onto pucks, get it out of our end and possess it in their end."
Boston's fourth line, which saw a lot of the John Tavares group during Game 2 in Boston, was dominated at even strength during the two games in Toronto. Joakim Nordstrom will be the odd man out should Kuraly, who had two goals and two assists in the series against Toronto last year, play.
---
Babcock confirmed that Michael Hutchinson will serve as the back-up goalie for the rest of the series.
Lines at Maple Leafs morning skate:
Hyman-Tavares-Marner
Johnsson-Matthews-Kapanen
Marleau-Nylander-Brown
Ennis- Gauthier-Moore
Petan
Rielly-Hainsey
Muzzin-Zaitsev
Gardiner-Dermott
Rosen-Marincin
Holl-Ozhiganov
Andersen starts
Hutchinson