Niskanen won't face discipline for Crosby hit
Matt Niskanen will not face supplemental discipline from the NHL's Department of Player Safety for his hit on Sidney Crosby in Monday's game between the Washington Capitals and Pittsburgh Penguins, according to reports.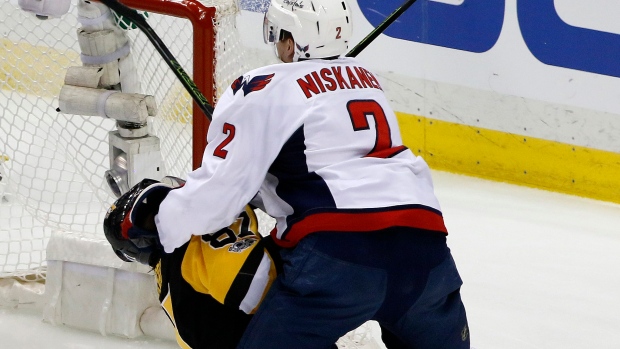 PITTSBURGH — The NHL will not hold a disciplinary hearing for Washington defenceman Matt Niskanen for his cross-check that injured Penguins star Sidney Crosby.
Niskanen was given a five-minute major and a game misconduct. He said afterward that he did not intend to injure the Penguins' captain during Monday night's game, which the Capitals won 3-2 in overtime to trim their playoff series deficit to 2-1. League spokesman John Dellapina confirmed in an email that no hearing was planned.
The NHL's leading scorer and one of the game's best players left the game early in the first period and did not return. His status for Wednesday's Game 4 — and maybe the rest of the post-season — was uncertain. Penguins coach Mike Sullivan said Crosby will be evaluated on Tuesday. Crosby has a history of concussions and has missed significant time over his career because of them.
Crosby was skating by Washington goaltender Braden Holtby when he turned awkwardly after being stick-checked by Alex Ovechkin. He ended up facing Niskanen as his body was going toward the ice and took Niskanen's stick across the side of the head . Crosby was on the ice in obvious pain for several minutes before exiting slowly under his own power.
Crosby entered the game tied for second in scoring for Pittsburgh with 11 points, including two goals in Pittsburgh's Game 1 victory over Washington.