Off-Season Watch: Golden Knights reportedly sign RFA Haula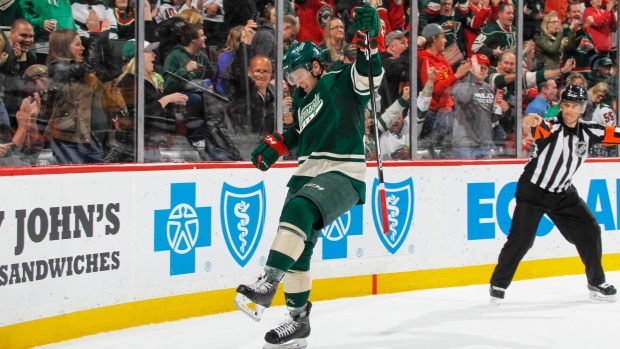 Each day through the Vegas expansion draft and up until free agency on July 1, TSN.ca breaks down the latest news and rumours around the NHL.
--
What's the Deal?
TSN Hockey Insider Bob McKenzie reports the Vegas Golden Knights may have made as many as 12 or more trades before selecting their roster on Tuesday. He notes the team had roughly eight deals completed before the protection lists were submitted on Saturday.
McKenzie did his best Wednesday morning to try to piece together the details of as many of the trades as possible. Here's what he came up with:
Minnesota Wild: The Wild are believed to be sending restricted free agent Erik Haula and a prospect to the Golden Knights in order to keep Matt Dumba, Marco Scandella and Eric Staal on their roster, according to Michael Russo of the Minnesota Star-Tribune.
UPDATE: Russo reports Haula signed a three-year deal with the Golden Knights and will count as their selection from the Wild. The Wild will send Alex Tuch and to the Golden Knights for taking Haula. The Golden Knights will send the Wild a conditional future draft pick in the deal.
The Wild drafted Tuch 14th overall in 2014. He scored 18 goals and added 19 assists in 57 games at the AHL level this season.
Haula scored 15 goals and added 11 assists in 72 games this season. The 26-year-old owns 42 goals and 47 assists in 266 career games, all with the Wild.
Anaheim Ducks: The Ducks had a deal in place last week that allowed them to avoid asking Kevin Bieksa to waive his no-move clause. McKenzine writes that while it isn't for sure, the Ducks' deal is likely to send defenceman Clayton Stoner to Vegas in the expansion draft and see the Golden Knights acquire Shea Theodore via trade in order to keep both Josh Manson and Sami Vatanen in Anaheim.
Stoner, 32, played just 14 games last season and did not dress in the playoffs. He is under contract for next season at a $3.25 million cap hit. Theodore, 21, was the Ducks' first-round pick in 2013 and played in 14 games this postseason, scoring two goals and adding six assists.
Chicago Blackhawks: The deal TSN Senior Hockey Reporter Frank Seravalli reported last month of the Golden Knights receiving both Marcus Kruger and Trevor van Riemsdyk appears to be still be true. The Blackhawks will lose van Riemsdyk in exchange for taking Kruger's $3.08 million cap hit.
Columbus Blue Jackets: Aaron Portzline of the Columbus Dispatch reports the Blue Jackets have agreed to send a first-round pick and a prospect to Vegas to protect Josh Anderson, Joonas Korpisalo, Jack Johnson and David Savard. The Golden Knights will then have their choice to select Matt Calvert, William Karlsson or Ryan Murray.
Florida Panthers: Details are scarce on any deal the Panthers may or may not have made. The team left 30-goal scorer Jonathan Marchessault exposed, so he would be the obvious choice for Florida to make a side deal to protect. However, McKenzie says it's been suggested to him that the Panthers may actually be sending Marchessault and Rielly Smith to Vegas
Such a deal would cost the Panthers their leading goal scorer this season in exchange for shedding Smith's $5 million cap hit through 2021-22. Smith scored 15 goals and added 22 assists this season, in the first year of the five-year extension. Marchessault is signed for one more season at $750,000. He broke out with 30 goals last season after having scored just eight in his career entering the season.
McKenzie reports there's been talk of "secondary" expansion trades that involve Marchessault and Smith - trades where the Golden Knights would move one or both players.

New York Islanders: Arthur Staple of Newsday reports the Isles will likely send their first-round pick this year and Mikhail Grabovski to the Golden Knights in exchange for Vegas picking a pre-determined player off their expansion list.
Grabovski has not played in over a year due to a concussion and owns a $5 million cap hit for one more season, which could help the Golden Knights reach the cap floor.
Pittsburgh Penguins: McKenzie reports the Penguins are believed to be sending a draft pick to the Golden Knights to ensure Marc-Andre Fleury is selected in the expansion draft. Fleury waived his no-move clause for the draft and is under contract for two more seasons at $5.75 million. The Penguins will move forward with two-time Stanley Cup winner Matt Murray at goaltender. Murray owns a $3.75 million cap hit through 2019-20.
TSN Hockey Insider Pierre LeBrun reports the deal between the Penguins and Golden Knights was believed to have made long before this week, as the Penguins didn't want the Golden Knights to pass over Fleury (and his $5.75M cap hit) with so options at goaltender in the draft.
Tampa Bay Lightning: Joe Smith of the Tampa Bay Times reported Tuesday he was hearing the Lightning reached a deal to protect their young exposed defenceman. McKenzie says he's heard the the Golden Knights may take on the contract of Jason Garrison in that deal, though compensation and exact details are not yet known.
The Lightning exposed 23-year-olds Jake Dotchin and Slater Koekkoek in the expansion draft, while Andrej Sustr, 26, and Luke Witkowski, 27, were also left available.
UPDATE: Smith reports prospect Nikita Gusev, who's under contract for more season in the KHL, could be headed to Vegas as part of the deal.
--
What's the total?
TSN Hockey Insider Pierre LeBrun reports the Golden Knights have acquired roughly 10 draft picks to be used over the next three years in expansion side deals.
LeBrun adds the Golden Knights have also acquired prospects and players in trades and even completed three-way trades, some of which will be revealed on Wednesday with the rest being announced Thursday.
--
Barry the Lead
According to LeBrun, agent JP Barry says that he has been in conversation with Vegas, however his clients, defenceman Karl Alzner of the Washington Capitals and forward Jordan Weal of the Philadelphia Flyers, will wait to speak with more teams at this time.
The free agent window for players to speak to all teams opens next week and LeBrun suggests Weal is not necessarily done in Philadelphia just yet.
--
Taking a Hard Line
McKenzie reports Golden Knights general manager George McPhee made any team who made a deal with him agree to not make any other trade that would negatively affect the Golden Knights before the pre-draft trade freeze.
He also adds the Golden Knights are expected to trade players selected in the expansion draft, possibly as soon as Thursday when the trade freeze is lifted at 10am et.
--
Help Up Front
TSN Hockey Insider Darren Dreger reports that the New York Islanders will be a team to watch over the coming days as they continue their search for a top six forward.