Oilers reboot with focus on scoring goals
Todd McLellan's practice plan Monday in Dallas was singularly focused; scoring goals. Two losses into the season the Oilers have only scored one, an own goal by St. Louis. Needless to say the offensive confidence isn't exactly thriving. TSN Oilers reporter Ryan Rishaug explains what the team is doing to try to boost it's output.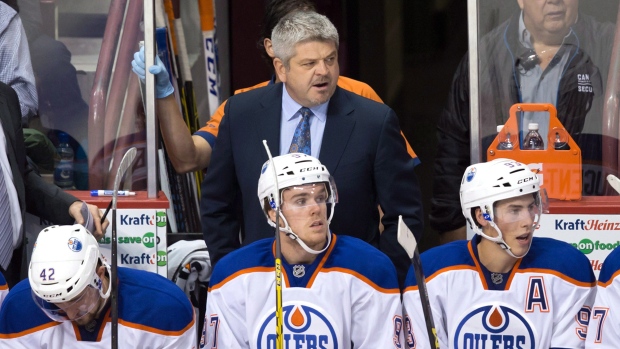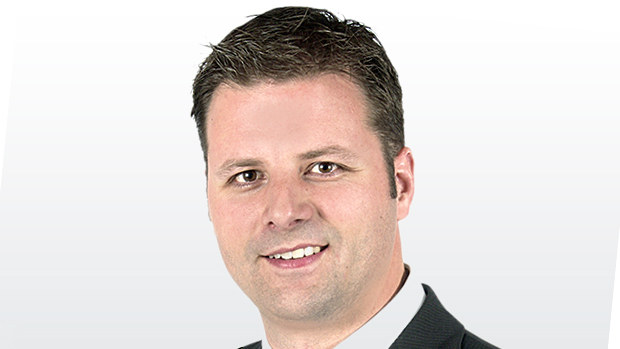 DALLAS - Todd McLellan's practice plan Monday in Dallas was singularly focused; scoring goals. Two losses into the season the Oilers have only scored one, an own goal by St. Louis. Needless to say the offensive confidence isn't exactly thriving. McLellan ran drill after drill in the offensive zone trying to create scoring opportunities for his forwards. He admitted after the skate he did not anticipate before the season that goal scoring would be this high on his list of problems.
The Oiler power play has really struggled through two games (one for eight), not just with scoring goals, but with zone entries and puck battles. They are having a tough time transporting the puck under control over the opposition blue line and setting up. They have also been getting outworked in the corners for loose pucks.
On Monday they spent time working on both those elements. The zone entries are understandable with a new system in place and new things being asked of the players, but the number of puck battles they've lost on the power play is way too high; that's on the players.
Something intriguing happened while they were working with the second power play unit at practice Monday. McLellan had the other players pick who they thought would win the drill. Those who thought the penalty kill would win stayed by the benches, players who thought the power play would score, skated to the penalty box side. The coach will usually make the ones who guess wrong skate back and forth a few times. It's a fun team building wrinkle added to a regular drill.
Connor McDavid was the only Oiler to skate to the far side of the ice, and bet on his fellow power play specialists. The rest of the team, including members of the first PP unit (Hall, Nugent-Hopkins, Pouliot, Schultz) stayed on the bench side betting on the penalty kill, who the drill clearly favoured. McDavid could not openly bet against his fellow power play unit, even if it meant he was standing all by himself, getting a few jeers from teammates.
In the end, the penalty kill dominated the drill, and McLellan chose not to make McDavid skate on his own, but that's beside the point. The entire power play should have been on the penalty box side, the penalty killers on the bench side, each supporting their fellow units. McDavid was the only one who got that. It was a subtle sign of natural leadership from him.
McLellan's use of McDavid early on in his first game against St. Louis was notable. McDavid's first shift should have been after the first whistle, but instead, McLellan elected to keep him on the bench and have Anton Lander jump the boards with Taylor Hall and Anton Slepyshev for a defensive zone faceoff against David Backes. Lander lost the draw to Backes, and quickly got to the bench to allow McDavid to jump on.
Not sure if McLellan was more worried about McDavid losing the draw, or setting the kid up for early failure, but after that he allowed McDavid to take two draws in the D-zone (he lost both).
This is one of the tricky aspects of integrating teenage centres into a top-six role. They need McDavid on the ice, but face-offs are critical. McLellan took a different tact in the second game, lining McDavid up on the wing for D-zone face-offs and subbing a veteran centre in for that winger to take the draw.
An early season observation on McDavid through two games is he isn't spending much time with the puck on his stick leading the rush out of his own end. McDavid swings down low on controlled breakouts, but doesn't call for the puck, or have his stick on the ice to indicate he wants it. He seems to wait until he gets to the neutral zone to make himself available for the pass. He also has a tendency to curl away from the puck carrier while breaking out instead of towards him.
McDavid has incredible speed, and can back off opponents with it. My guess is the coaching staff would love to see him carry it more. It's a big reason why they took him off of Taylor Hall's line. Hall likes to transport the puck off the rush and McDavid was deferring to him all the time.
Perhaps McDavid doesn't want to look selfish by demanding the puck too much, or maybe it's just a tendency he brought from junior, but he should have the puck a lot more, and it's ok for him to want it every time he's out there. He will skate on a line with Nail Yakupov and Benoit Pouliot Tuesday, his third line combination in three games.
Other Notes
- Despite a fairly solid opening night performance against the Blues, Griffin Reinhart is likely going to find himself out of the lineup for a second straight game Tuesday. Andrew Ference played in his place Saturday in Nashville and it looks like Brandon Davidson will play against the Stars. This is where having eight defencemen gets a little tricky. They don't want to leave Ference on the shelf for too long, so he needed to play to stay up to speed and remain usable. Some in the organization are very high on Davidson and feared they would have lost him on waivers had they sent him to the AHL, so he stayed as well, and can't sit forever. The problem is, Reinhart in the third pairing gives them their best chance to win, but these other factors are muddying what should be a clear choice.
- After two solid performances, it sounds like Cam Talbot is going to take a back seat to Anders Nilsson Tuesday against Dallas. Nilsson won the job from Ben Scrivens in camp, and McLellan doesn't want to wait too long to get him into game action. Nilsson didn't allow a goal in the two exhibition games he played, except for a three-on-three overtime marker.