Padres top A's for Murphy's first win
Pat Murphy got his first win as San Diego's manager, Derek Norris homered against his former team and the Padres beat the Oakland Athletics 3-1 Thursday. Matt Kemp hit his second home run in three days, and San Diego stopped a four-game losing streak.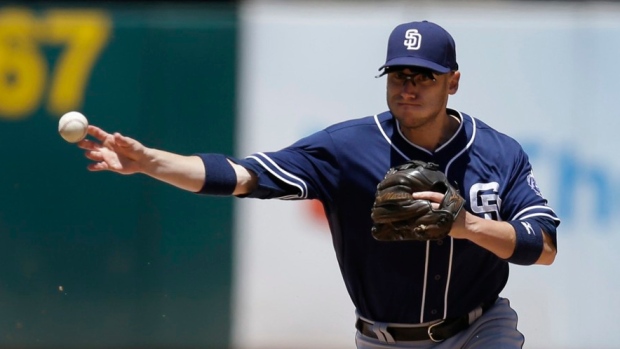 OAKLAND, Calif. - Pat Murphy didn't have much time to ponder his first win as the San Diego Padres manager before he was grabbed by players, carried into the shower and doused with a combination of beer, champagne and baby powder.
"I thought I was having a heart attack, I'm not joking," Murphy said following Thursday's 3-1 win over the Oakland Athletics. "The thought went through my head, 'Isn't this beautiful? You get your first major league win and you have a heart attack in the shower during the celebration.' That's truly what I was thinking."
Murphy was in much better spirits afterward, and for good reason.
San Diego ended a four-game losing streak with solid starting pitching and home runs by Matt Kemp and former A's catcher Derek Norris. That was big for a ballclub just a few days removed from the firing of manager Bud Black on Monday.
"It's a little silly to make it about me today," said Murphy, who was hired Tuesday. "It was kind of a must-win, but you still have to let the game flow. If you try to force it, a lot of bad stuff can happen."
Norris homered against his former team, and Kemp hit his second home run in three days.
Ian Kennedy (4-5) gave up one run and four hits in six innings, allowing only one runner past second base. Kennedy, who struck out Stephen Vogt with the potential tying run at the third in the sixth, has a 2.63 ERA in his last four starts after compiling a 7.15 ERA in his first eight.
"I was glad to be the guy. I've faced him so many times in college, at least I was that guy to be on the mound that day," said Kennedy, whose Southern Cal teams faced Murphy's Arizona State squads. "I wanted to pitch well for him, and partially for the team, too. We needed that one."
Craig Kimbrel pitched a one-hit ninth for his 17th save in 18 chances, completing a five-hitter.
Oakland rookie Kendall Graveman (3-4) allowed two runs and five hits in seven innings, struck out six and walked one.
"He was spotting up his fastball away, his sinker and once they kind of caught on that he was throwing those for strikes, they started to swing a little more," catcher Josh Phegley said. "It was just couple pitches up in the zone that we got beat on."
San Diego struck out eight times, raising its total in four games against Oakland this week to 40.
Oakland right fielder Josh Reddick went down hard after colliding with centre fielder Billy Burns while chasing Melvin Upton's triple in the eighth. Reddick — who appeared to get hit in the face by Burns' gloved hand and absorbed a knee to the groin — lay on the warning track for several moments as manager Bob Melvin and a team trainer rushed out from the dugout. Reddick remained in the game.
A day after setting season-highs for runs (16) and hits (20), Oakland couldn't get much going.
Kemp homered in the fourth and Norris doubled the lead when he homered leading off the sixth. He had been hitless in six at-bats at the Coliseum since he was traded to San Diego in December.
Phegley homered in the sixth for Oakland, which had won four games in a row.
Melvin Upton Jr. tripled and scored on brother Justin Upton's sacrifice fly into foul territory in the eighth.
TRAINER'S ROOM
Padres: Infielder Will Middlebrooks was kept out of the starting lineup while Norris made his first career start at first base. Yonder Alonso, San Diego's normal starting first baseman, got the start at third. ... Middlebrooks struck out as a pinch hitter in the seventh.
Athletics: 1B Ike Davis (strained left quadriceps) played for Triple-A Nashville on Wednesday and is expected to be activated from the disabled list as early as Friday.
UP NEXT
Padres: RHP James Shields (7-0) pitches the series opener in Arizona on Friday and is third in the NL in strikeouts. Shields has fanned six or more in all but two of his 14 starts this season.
Athletics: RHP Sonny Gray (8-3) takes his major league-low 1.60 ERA into Friday's start against the Angels.