Parenteau, Leafs cool off Hurricanes
P.A. Parenteau had a goal and an assist as the Toronto Maple Leafs put a dent in the Carolina Hurricanes' playoff hopes, scoring a 3-1 win at the Air Canada Centre on Thursday evening.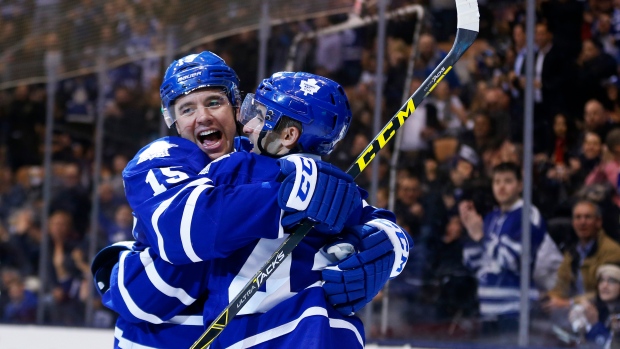 TORONTO - Pierre-Alexandre Parenteau's stock for the upcoming Feb. 29 trade deadline only trended higher on Thursday night.
Parenteau scored a goal and set up another as the Toronto Maple Leafs dealt a blow to the Carolina Hurricanes' playoff chances with a 3-1 win at the Air Canada Centre.
An impending unrestricted free agent, Parenteau now has 16 goals and 32 points this season and could soon join a playoff contender ahead of Monday's deadline. He was bought out by the Montreal Canadiens last summer.
"It's in the back of your mind obviously," Parenteau said of a potential trade. "I try not to think about it. I try to block it (out). I have two kids. I have a wife, too. We try not to listen to the media or anything, we go about our business and go from there."
Rebuilding this season, Toronto has already dealt three players in the past week — Shawn Matthias, Roman Polak and Nick Spaling — sending out captain Dion Phaneuf at the beginning of the month.
Parenteau could soon join that list.
"I wish he'd slow it down a little bit so we could keep him," said Nazem Kadri, who set up Parenteau's goal, which sealed just the fifth Leafs win in 21 games. "I want him to have a shot at going to the Cup, too, this year. He wants nothing more than to win."
Inked to a low-risk, high-upside one-year contract last summer following the buyout from Montreal, Parenteau has thrived under Leafs head coach Mike Babcock, for whom he credits for his resurgence.
Babcock says he simply stressed to Parenteau the level of work that would be required for him to reinvigorate his career.
"He's done it right and he's been important for us," Babcock said of Parenteau. "He transports the puck. He's good on the power-play. He makes plays. And he's important. I think he's been good with our young guys, too so good for him."
Tied 1-1 with the Hurricanes after a single period on Thursday, Parenteau set up the go-ahead goal from 22-year-old Josh Leivo. He dealt Leivo an easy pass on a two-on-one, odd-man rush opportunity, with Leivo beating Hurricanes goaltender Cam Ward for the Leafs second goal.
Then late in the third period, with the playoff-hungry Hurricanes pushing, Parenteau deposited a cross-ice pass from Kadri, sealing Toronto's victory with the 3-1 goal.
It was a stinging loss for Carolina, scorching in recent months and hoping to score a playoff berth for the first time since 2009. The Hurricanes entered the night with 46 points since Dec. 5, trailing only the Washington Capitals among Eastern teams in that stretch.
Suffering just its seventh loss in regulation since the start of January, Carolina remains two points back of Pittsburgh (while playing three more games) for the final wild-card spot in the Eastern Conference.
The Hurricanes were especially disappointed with their start against the Leafs. They were out-shot 11-4 at one point in the opening period, boosted by a goal from John-Michael Liles that evened the score at one following an early Leafs power-play marker from Brad Boyes.
"It doesn't matter where they are in the standings," Liles said of facing the Leafs, who sit last in the Eastern Conference with 52 points. "We got outplayed pretty well in the first period and we didn't get our legs under us until probably the second and it ended up costing us."
A top candidate to be traded at the deadline, if both he and organization deem it right, Carolina captain Eric Staal played nearly 21 minutes, but didn't find the scoresheet.
"It's obviously been a tough time for Eric," said Jordan Staal, Eric's younger brother and teammate since the 2012-13 season. "But at the same time he's come ready to play and ready to work every day and that's all you can ask for."
The Hurricanes host Boston on Friday night, hoping to boost playoff hopes that sunk with the loss to the Leafs.
Jonathan Bernier stopped 28 of 29 shots to earn the win for Toronto, his first victory since Jan. 6. Bernier will start again when the Leafs visit the Canadiens in Montreal on Saturday.
Parenteau, meanwhile, will be riding high into his home of last season, a place where his career seemed to hit a rut. Frustrated with his role and opportunity under Canadiens head coach Michel Therrien, Parenteau had only eight goals and 22 points in 56 games, numbers he surpassed quickly this season.
"He wouldn't even be talked about if he wasn't playing any good," Babcock said. "So obviously he's setting himself up to play longer."