Suns G Paul enters health and safety protocols
Phoenix Suns guard Chris Paul has entered the league's health and safety protocols and his status will be updated on Saturday, the team said Wednesday.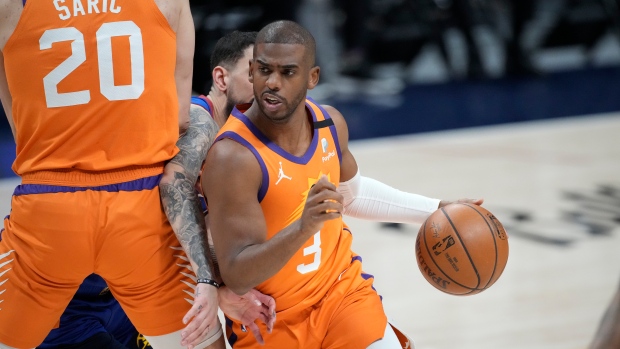 Phoenix Suns point guard Chris Paul has entered the NBA's health and safety protocols and is out indefinitely, jeopardizing the star's availability for the Western Conference finals.
The NBA's rules for coronavirus-related isolation periods have evolved throughout the season in correlation with increasing vaccine numbers. If Paul is already vaccinated against COVID-19, he could be facing a shorter absence from the Suns.
Suns coach Monty Williams wouldn't say whether he expected Paul to be available for Game 1 of the West finals.
"I'm not even going to go there until I have to, so there's no reason for me to be pessimistic at all," Williams said. "We just have to wait and see what's going to happen."
Phoenix swept Denver in the conference semifinals and will face either the Utah Jazz or LA Clippers in the Western Conference finals, which are scheduled to start next week. Against the Nuggets, 36-year-old Paul averaged 25.5 points on 61.8% shooting, 58.3% from 3, 100% from the free throw line, plus a 41-to-5 assist-to-turnover ratio.
The protocols are the league's playbook for handling all matters related to the coronavirus this season. There have been examples of players missing multiple weeks after positive COVID-19 tests; there have also been examples of players missing very short amounts of time for matters such as contact tracing investigations.
In March, the NBA relaxed some of the protocols that were put into place in the fall, doing so in response to players and coaches choosing to receive the COVID-19 vaccine.
But the league also cautioned at that time that "if an individual has symptoms consistent with COVID-19, the previous protocols apply," which would mean that anyone with those symptoms "may be subject to quarantine" regardless of their vaccination status.
This is set to be Paul's second trip to the conference finals, along with 2018, when he was a member of the Rockets and missed Games 6 and 7 because of a hamstring injury as Houston fell in seven games to the Golden State Warriors.
Information from ESPN's Royce Young and The Associated Press was used in this report.