Playoff baseball returns to KC, as Royals host A's in AL wild card
A generation of fans have never seen the Kansas City Royals play a postseason game. That'll change on Tuesday when the Royals host the Oakland Athletics in the American League wild card game at Kauffman Stadium.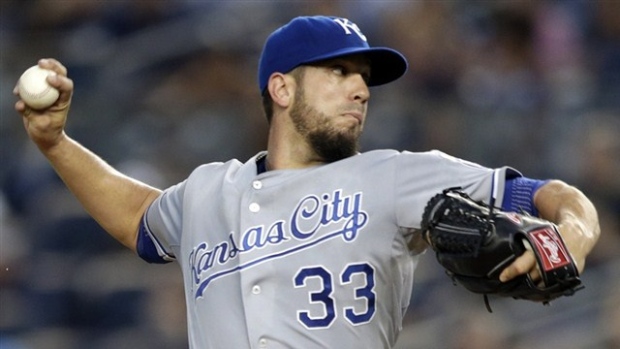 A generation of fans have never seen the Kansas City Royals play a postseason game. That'll change on Tuesday when the Royals host the Oakland Athletics in the American League wild card game at Kauffman Stadium.
There have been 713 playoff games contested in Major League Baseball since Kansas City beat the St. Louis Cardinals in Game 7 of the 1985 World Series. None of those games, though, have involved the Royals, who return to the playoffs for the first time in 29 years.
Kansas City ended the year 89-73, just one game back of the American League Central champion Detroit Tigers. The Royals actually had a chance to force a playoff game for a division title with a win and Detroit loss on the final day of the regular season, but the Tigers won their game against Minnesota to lock up the title.
"When I went into Spring Training, I felt like 90 wins would have a good chance of winning the division and we got 89 and, of course, Detroit got 90 and I was right," Kansas City manager Ned Yost said. "(Our players) are still ready for the challenge ahead. There have been teams that have won the World Series from the wild card game and they know that."
Thanks to a terrific starting staff and a mighty effort from the bullpen, the 89 victories by the Royals were the most since they won 92 in 1989.
Kansas City's bullpen trio of Greg Holland, Kelvin Herrera and Wade Davis is truly a formidable force, having combined for a 1.28 ERA and 258 strikeouts in 205 1/3 innings in the regular season.
That makes life a whole lot easier for Tuesday starter James Shields, who certainly earned his "Big Game" moniker down the stretch, as Kansas City won four of the right-hander's five starts in September. Shields also pitched to a 2.31 ERA in the final month, his second-lowest monthly mark behind the 1.60 ERA he posted in April.
"This is what it's all about," said Shields, who ended the year 14-8 with a 3.21 ERA. "This is what playoff baseball is all about. You've got to push aside some of your aches and pains and go after it."
Shields is no stranger to the postseason, having appeared in six games for the Tampa Bay Rays and has gone 2-4 with a 4.98 ERA.
"When I came over here, I knew exactly what was going on," said Shields. "I knew that this city's been wanting a championship team for a long time, and a playoff team. Hopefully we did the city proud. We've got a long way to go still, but we're going to keep grinding."
Oakland, meanwhile, is very lucky to be in this position, as it was one of the worst teams in baseball after the July 31 non-waiver trade deadline that saw the Athletics acquire left-hander Jon Lester from Boston for slugger Yoenis Cespedes.
Starting with a series loss in Kansas City from Aug. 11-14, the A's dropped eight of their final 14 series and 30 of their last 46 games. But thanks to a remarkable first half, they ended the year, 88-74
In fact, Oakland's post-All-Star break winning percentage of .433 is the lowest in MLB history for a team that reached the postseason.
"We went through some real challenges this year, but those things can make you tougher, too," Oakland manager Bob Melvin said. "It's a relief off everyone's shoulders that we're here now, took the journey that we did. We're in, and I know I'm going to sleep better tonight."
While the Royals are appearing in their first postseason game in decades, the A's are back in the playoffs for the third straight year and for the 26th time in franchise history.
Only the New York Yankees (51), Los Angeles Dodgers (28) and St. Louis Cardinals (27) have been to the postseason more.
"I've been saying the last two weeks, if we get in, the last two months would be forgotten. And now I can say that with confidence," said Josh Reddick. "All the naysayers and the negative vibes, they're all gone now. We got in. I've been saying it for months -- two division titles, out Game 5, get in with the wild card, Win the whole thing."
Oakland's struggles may be traced back to the Lester deal, but he certainly can't be blamed. The left-hander is probably the main reason the A's were able to hold on, as he went 10-7 after the deal with a 2.52 ERA.
"We had Jon targeted for this," said Melvin. "That's why you have a guy like that. When he takes the mound, the team's going to feel awfully good about their chances."
Plus Lester has owned the Royals over the course of his career, going 9-3 with a 1.84 ERA in 13 career starts against them, including 3-0 with a 2.61 ERA in three outings against them this season.
And he no-hit the Royals in 2008.
Lester owns one of the most impressive postseason resumes around, going 6-4 with a 2.11 ERA in 11 starts and two relief appearances in October. That includes two starts in the World Series last year in which he allowed one earned run in 15 1/3 innings.
"He's the top pitcher in the game right now to have in that spot," Reddick added. "We've all seen what he's done with the Red Sox. We've got nothing but confidence in him."
After 2,001 big league games, Oakland slugger Adam Dunn, who was picked up in an August deal with Chicago, will play in his first postseason game on Tuesday. He had held the distinction of being the active player with the most career games without a postseason appearance.
"To be honest with you, it's what you work for your whole career and I don't know how fair it is that I get there with the fruits of their labor, but beggars can't be choosers," said Dunn, who joined the A's on Sept. 1. "I'm happy."
Kansas City's nearly historic bullpen went 72-1 in the regular season when leading after seven innings and 79-1 when leading after eight. The A's, meanwhile, led the majors with 13 wins when trailing after seven and eight wins when trailing after eight.
"I think it's a similar matchup," said A's shortstop Jed Lowrie. "They have a really strong bullpen, I think we do, too, and it's going to be two frontline starters pitching for one big game. It should be a good game."
The A's and Royals have met once in the playoffs -- in the 1981 AL Division Series, which Oakland swept, 3-0. The Royals, though, won five of the seven regular season matchups this year.
Tuesday's winner will face the AL West champion Los Angeles Angels of Anaheim in the ALDS beginning on Thursday.