Playoff-record 32 points from Barber leads Shooting Stars past Honey Badgers
A historic performance from Cat Barber powered the Scarborough Shooting Stars to a 98-74 win over the shorthanded Brampton Honey Badgers on Friday night to open the CEBL Playoffs at Toronto Pan Am Sports Centre.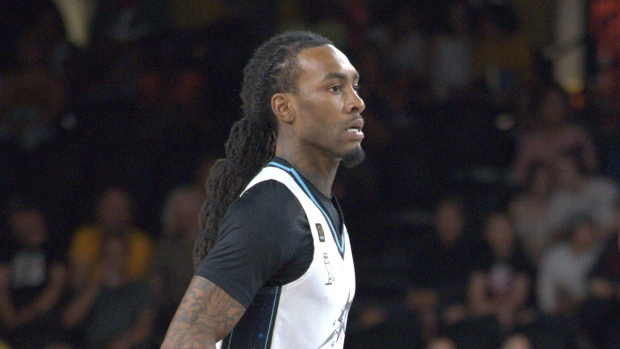 A historic performance from Cat Barber powered the Scarborough Shooting Stars to a 98-74 win over the shorthanded Brampton Honey Badgers on Friday night to open the CEBL Playoffs at Toronto Pan Am Sports Centre. Scarborough have punched a ticket to the Eastern Conference Semifinals where they will face the Ottawa BlackJacks at the arena at TD place in Ottawa this Sunday.
Barber collected three league records in a Shooting Stars' victory that avenged last summer's championship loss to the Honey Badgers and propelled the squad into the Eastern Conference semi-final.
The star guard's 32 points and seven threes were both single-game CEBL playoff records, which also pushed him past Ahmed Hill into first place in the league's all-time scoring race.
"It's the play-in game. I don't care what I gotta do. I feel like I gotta step up more. So I was turned up tonight and I'll be turned up the rest of the year," Barber said.
He was ultra-efficient in the blowout win, shooting 12-20 from the floor and 7-9 from three to go along with six rebounds, seven assists, three steals and a block.
"He's a high-level player and a high-level winner and all season he's been doing this stuff," Scarborough head coach Chris Exilus said.
The Shooting Stars also received major contributions from the rest of their starting lineup. Kyree Walker netted 25 points on 10-13 shooting from the field and 3-4 from long range while snagging a pair of steals. Isiaha Mike added 15 points, nine rebounds and three steals, while Zeke Moore chipped in 12 points.
Big man Kalif Young scored just six points but produced in other areas. Young tallied 10 assists, seven rebounds and two blocks in the victory.
On the other side, the Honey Badgers came into the game without three of their best players: Christian Vital, Koby McEwen and Jeremiah Tilmon Jr. Five players reached double-digit points in their absence but it wasn't enough to overcome Scarborough.
Shamiel Stevenson and U SPORTS player Callum Baker paced Brampton's offence with 16 points apiece. Baker added seven rebounds and four assists to his stat line while Stevenson blocked two shots. Big man Prince Oduro added 12 points while Cody John came off the bench for 11. Zane Waterman also secured a double-double in the loss with 10 points and 10 rebounds.
Three-point shooting was the difference for Scarborough in their fourth win over Brampton this season. The Shooting Stars connected on 15 trifectas at a 50 percent clip, while the Honey Badgers hit just four at 26 per cent. Brampton also had twice as many turnovers as Scarborough.
"I'll always believe that we.. had enough [talent] in [the game]. Whenever you miss some players, it's always hard," Brampton head coach Antoine Broxsie said. "But at the same time, you still have to prepare and you don't make excuses. Scarborough went out and they took us out of what we did."
In the first quarter, Oduro asserted himself in the paint for the Honey Badgers. Barber was quiet early in the opening stanza before he scored his first points through an and-one in transition. From there, Barber was unstoppable. He regained the lead for Scarborough with a mid-range jumper, but Brampton was able to trade blows. Ashley Hamilton drilled a three to tie the game before hitting one of two from the line to give the Honey Badgers a 19-18 advantage after 10 minutes.
Both teams found success attacking the rim in the first minutes of the second quarter. Stevenson, Waterman and Baker all completed tough finishes in the paint for the Honey Badgers while Mike connected on some easy buckets for the Shooting Stars. Baker looked like the star of the second quarter and drilled the first three of the frame for either squad to give Brampton a six-point lead.
However, Barber quickly took over the game and quieted any talk of Baker. He carried the Shooting Stars on a 21-6 run to close the half, during which he scored or assisted on 18 of those points. He caught fire from long range, hitting four threes including one that stemmed from a crucial block by Young on the other end.
Barber also found Walker cutting to the hoop twice to help Scarborough to a 45-36 lead at halftime. He led all scorers at halftime with 21 points to go along with three assists. Baker and Oduro led the Brampton attack with nine and eight points respectively.
Brampton started the third quarter strong and was able to cut the deficit to six points several times. The Honey Badgers limited Barber to just five points in the third, but the Shooting Stars found other contributors. Barber found Mike for a layup underneath to close the quarter with Scarborough's largest lead to that point at 70-58.
In the fourth, the Shooting Stars kept their foot on the gas. In front of their home fans, Scarborough stayed hot from three and went on a 12-2 run before target score time. They went into the final stretch with an 87-66 lead and a target of 96.
On the first possession of target time, Waterman was emphatically rejected at the rim by Mike to set the tone. Young finished inside for Scarborough before Barber made history. The Virginia native buried a stepback three that gave him the single-game CEBL playoff record for both points and three-pointers.
However, it was his teammate who closed the game. Walker drilled back-to-back triples to send the Honey Badgers packing with a 98-74 final.