Price sweeps at NHL Awards
Montreal Canadiens goalie Carey Price won all three of the major awards that he was nominated for on Wednesday, sweeping the Hart and Vezina Trophies and the Ted Lindsay Award. Price beat out Alex Ovechkin and John Tavares for the league's MVP honour.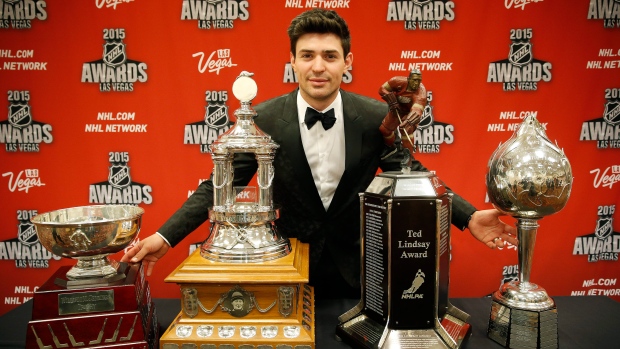 LAS VEGAS, Nev. - Carey Price felt grateful to win the Hart Trophy as the NHL's most valuable player and the Vezina Trophy as the best goaltender.
But the Ted Lindsay Award, the most outstanding player as voted by the players, meant the most to the Montreal Canadiens netminder.
"No offence to everybody else, but I'm very humbled by that because I compete against these guys," Price said Wednesday night. "We go to war out there, and for them to vote for me is really special."
Price became just the third goaltender to win the award and the first since Dominik Hasek of the Detroit Red Wings in 1998. The 27-year-old broke Jacques Plante's franchise record with 44 victories and led the Canadiens to first place in the Atlantic Division.
Price, who had a league-best 1.96 goals-against average and .933 save percentage, beat out Alex Ovechkin of the Washington Capitals and Jamie Benn of the Dallas Stars for the Lindsay.
"The Vezina and the Hart are huge, but there is nobody that can better evaluate a hockey player than another hockey player," Canadiens general manager Marc Bergevin said in French. "And to see that the players around the league picking Carey above the others is the ultimate recognition."
---
Follow @SWhyno on Twitter