Raptors' Lowry playing bigger than his height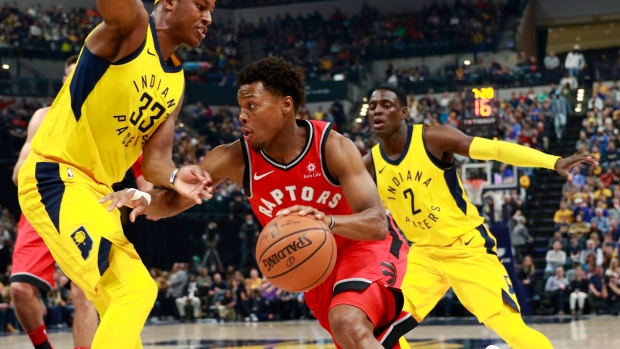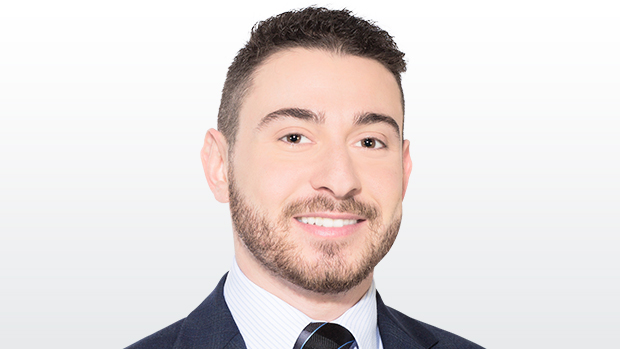 TORONTO – The most impressive of Kyle Lowry's career-high 13 rebounds came towards the end of the first half in Saturday's win over Atlanta.
With Serge Ibaka switching onto the speedy Dennis Schroder, Lowry picked up Hawks rookie John Collins in the pick and roll. Predictably, Schroder beat Ibaka off the dribble but the Raptors' forward recovered to get a piece of and alter his layup.
Giving up almost a foot to Collins, Lowry used his body and low centre of gravity to seal him off and collect the loose ball.
Generously listed at 6-feet tall, Lowry has always played bigger than his height.
"I think it's a Philly thing," said the Philadelphia native. "It's me trying to always be effective, always help my team. Those loose-ball rebounds are big. Those bouncers, those floor rebounds, those rebounds are always big. That's always been a way I've felt like I can help the team."
"Me going to get 'em, rebounding outside of my area is one of the things I've always been particularly good at."
Plays like those have become a staple of who he is on the court: a relentless competitor constantly looking for ways to leverage effort into any kind of advantage over those that are more physically gifted. In a league filled with some of the biggest, fastest and most athletic men on the planet, Lowry is none of those things.
He's a thinker and a worker, and he's parlaying it into one of the more unique careers the league has seen. For all the recent fascination with unicorns – physical freaks like Kristaps Porzingis, Giannis Antetokounmpo, Anthony Davis, Joel Embiid and Karl-Anthony Towns – Lowry is an ordinary looking player doing things that few his size have ever done.
Over the weekend, Lowry became the second player in NBA history listed under 6-foot-1 to grab 10 or more rebounds in three straight games, joining former Hawk Mookie Blaylock, who did it in 1997. Through 19 games, he's already recorded double-digit rebounds six times. No one at his size has ever accomplished that feat seven times in a single season.
Lowry has been one of the league's better rebounders at his position for years, but he's taken it to another level in his 12th season. Averaging 6.3 boards per contest, he's second on the team to 7-footer Jonas Valanciunas (7.0) and fourth in the NBA among guards behind Ben Simmons (six-foot-10), Russell Westbrook (6-foot-3) and Lonzo Ball (6-foot-6).
His rebounding rate (percentage of available rebounds a player grabs while on the floor) of 11.3 per cent is easily the best of his career. To put that into perspective, it's higher than the last Raptor to wear number seven, 7-footer and former first-overall pick Andrea Bargnani, recorded in any of his seven seasons with Toronto.
"I'm not sure the bigs are so happy with Kyle taking all their rebounds," fellow 6-footer Fred VanVleet joked, but Lowry was very complimentary of his teammates, particularly the bigs for boxing out and giving him opportunities to sneak in and grab those extra boards.
They're not just padding Lowry's stats. It's something that should be beneficial for a team that's trying to play faster. The Raptors are tied for seventh in fast break scoring, up from 18th last season and 25th the year before. By crashing the glass more often, the ball is finding Lowry quicker in the clock, leading to transition opportunities.
Rebounding often comes down to three things: size, technique – understanding timing, positioning and angles – and sheer will, with the latter two taking on a greater importance if you don't have the former to lean on. Lowry, a student of the game, prides himself on being in the right places at the right time, but there's something that draws him to the ball, something that can't be taught.
"Sometimes it's just wanting to go get it and being able to say 'I got it'," he admitted.
"It's whatever's in your chest, to be honest," VanVleet added. "Whatever you've got inside your heart that makes you want to go down there and get them."
"Another guy he reminds me of is Gary Payton," said Dwane Casey, who coached Payton in Seattle. "Where if a ball's in a scrum, Kyle's gonna come out with it, or Gary Payton's gonna come out with it. It's just something about those guys that have a nose and a knack for the 50-50 balls. And that's a huge skill to have. Kyle's toughness, his competitiveness, his anticipation, all those help him in those situations. It's huge."
Whether it's coming away with an unlikely rebound, standing his ground on a switch in the post or sacrificing his body to secure another possession, Lowry does it all in the name of winning, irrespective of the toll it takes on his body – a blessing and a curse if you have $100 million invested in him.
Not only does Lowry lead the league in drawing charges with 13, he's taken more than 10 entire teams to this point in the season. When a dude the size of DeMarcus Cousins (6-foot-11, 270 pounds, to be precise) is barrelling towards you at full speed, the first instinct most rational people would have is to get out of the way. Lowry's reaction is to plant his feet, take a breath and literally take one for the team.
Is there an art to taking a charge? Yes, says Lowry, it's called "hurting yourself."
"That's basically what you're doing, is hurting yourself," the 31-year-old said. "I've just always been a guy that's been able to take charges. I've always been strong enough to do it and I know it's a game changer. It's a momentum changer every time."
"I'm starting to feel it a little bit, but whatever helps to win games. At the end of the day, if we win games I don't care how I feel, I'm winning games."
Perhaps there's a connection between Lowry's reduced playing time and the additional energy he's able to expend going after loose balls and taking hits. Lowry is logging 32.3 minutes per game, 5.1 fewer than his average from last season, which was a career-high and ranked second in the NBA behind LeBron James.
The idea behind his dip in minutes was to preserve him for the playoffs, when he has burnt out and been a shell of his usual self the last several years. With that in mind, seeing Lowry throw himself around the court has to make some Raptors fans nervous.
However, the days of Casey holding his breath every time Lowry would hit the deck are over. Does playing that style of basketball come with certain risks? Absolutely, but it's what makes Lowry the player that he is.
"I love it," said Casey, asked if he cringes when Lowry is battling for a rebound or a loose ball. "Because that means we're probably gonna come out with the ball. He's a tough kid. It's one of those things where the other guy's probably gonna get hurt. I'll put my money on Kyle."