Report: Kings' Quick out 3 months with LBI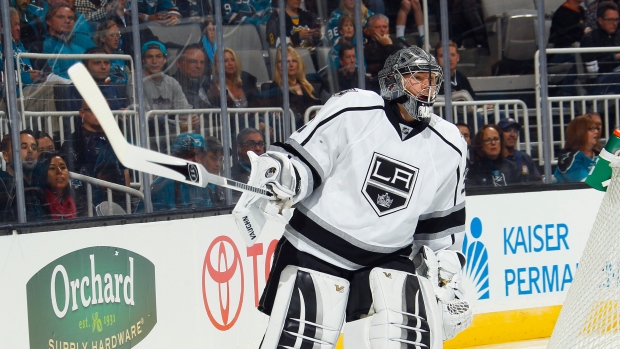 Los Angeles Kings general manager Dean Lombardi says star goalie Jonathan Quick will be out for "about three months" with the lower-body injury he suffered in the season opener, according to Lisa Dillman of the Los Angeles Times.
The 30-year-old American was pulled after the first period during the Kings' opener against the San Jose Sharks on Oct. 12. He appeared to hurt himself while stretching to make a save on Sharks forward Joe Pavelski.
The initial diagnosis by the team was "week-to-week." Quick will not need surgery.
Quick posted a 40-23-2 record with a 2.22 GAA and 0.918 SV over 68 games with the Kings in 2015-16, his ninth year with the club.
Jeff Zatkoff, who signed with the Kings this summer after spending three seasons with the Pittsburgh Penguins, is 0-3 with a 4.37 GAA and a .839 SV this season. LA originally selected him in the third round of the 2006 draft.