Royals hope to ride momentum into ALDS opener versus Angels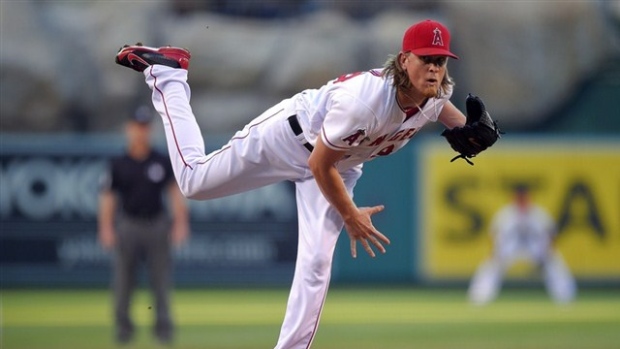 It's been 29 long years since the Kansas City Royals have been in this position. Who can blame them for wanting to stick around a little longer?
After one of the more thrilling games in baseball history the Royals continue their first postseason run since 1985 against Mike Trout and the Los Angeles Angels of Anaheim Thursday in Game One of the American League Division Series at Angel Stadium.
Kansas City outlasted Oakland in Tuesday's wild card game, as Salvador Perez's 12th-inning single scored Christian Colon to give the Royals a wild 9-8 come- from-behind victory in a contest that lasted 4 hours and 45 minutes.
"That's the most incredible game that I've ever been a part of," Royals manager Ned Yost said.
Oakland had scored five times in the sixth to take a four-run lead, but the Royals crossed the plate four times in the final two innings to send the game to extra innings.
The A's then put themselves in front with a run in the top half of the 12th, only to see the Royals score twice in the bottom half to secure their first postseason win since 1985.
"Everyone is screaming at the top of their lungs," said Eric Hosmer, who scored the tying run in the 12th after a triple. "I think we feed off their energy. You get a couple guys on base, you hear the crowd, everyone is on their feet like that, you feed off that energy. This team, this city, this crowd, everybody, they've showed no quit."
The victory may have taken Yost off the hook for his dubious use of the bullpen in what could have been a pivotal sixth inning. With starter James Shields at just 88 pitches, Yost opted to lift him after he put two runners on for rookie starter Yordano Ventura, who threw 73 pitches on Sunday, rather than Kelvin Herrera.
Ventura proceeded to give up a three-run homer and before the inning was done, the Royals trailed, 7-3.
"You know, when we have these games, we map out our pitching, and we try to cover all scenarios. If something happens early, we've got (veteran starter Jeremy) Guthrie. If we get it past the fifth inning, we're going with our power arms. ... We wanted to bring the gas for the sixth, and we wanted to bring the gas for the seventh with Herrera, Wade (Davis) and (Greg Holland) with a one-run lead. It just didn't work out."
With Shields unavailable, the Royals will turn to veteran left-hander Jason Vargas, who will be making his first-ever postseason start against the team he pitched for last season.
"You know, I feel great," Vargas said, "It's a lot of trust put in me, so I feel good about it. The fact that it's a team that I played for before and played for last year, I think all of us have friends throughout baseball, so when we get in between the lines, it's just us vs. them."
Vargas was 11-10 with a 3.71 ERA in his first year with the Royals, but stumbled to the finish line, going 0-3 with a 9.00 ERA over his final four starts.
"Like most of our guys, he's gone through really, really good stretches and then some struggles in sections of the season," Yost said. "What he does so well is commands his fastball in, commands his fastball down and away, has a tremendous changeup and a nice curveball. He keeps everybody off balance because when they start looking for the changeup, he'll pound you in. When you start looking in, he starts throwing you the changeup and mixing in his curveball every once in a while."
Vargas is certainly familiar with the Angels and is 5-4 with a 3.02 ERA in 15 games (14 starts) against them.
Los Angeles, meanwhile, steamrolled its way to an AL West title, going an MLB- best 98-64, to get back into the postseason for the first time in five years.
Things looked bleak, though, for the Angels on Aug. 20 when emerging ace Garrett Richards was lost for the season with a knee injury. However, rookie Matt Shoemaker and veteran Jered Weaver picked up the slack for an Angels team that eventually won the division by 10 games.
Shoemaker has his own injury concerns, but the ribcage strain that caused him to miss the final two weeks of the season appears to he healed and he should be ready to go in this series.
Weaver reverted back to ace form this season and will be on the hill Thursday. Weaver, a college teammate of Vargas, tied for the AL lead in wins and was 18-9 with a 3.59 ERA.
"We have that opportunity again to extend our season," Weaver said, "and it's up to us to try to decide on how far we want to go with this. We've got a great group of guys. It's been a fun clubhouse to be part of this whole season, and we're going to push on to get our main goal -- and that is to win."
Trout, of course, could be on his way to an AL MVP Award this season and will be making his postseason debut in this his third season. He hit .287 to go along with 115 runs scored, while setting career-highs with 36 home runs and 111 RBI. However, he did lead the AL with 184 strikeouts.
"Trout is a special player," Angels teammate and three-time NL MVP Albert Pujols said. "Players like him don't come often, maybe once every 30 or 40 years. This city is blessed to see a young player like Trout."
Trout could not have asked for a better opponent in his maiden voyage into the postseason. In 19 career games against Kansas City, Trout is hitting .361 with seven homers and a 1.154 OPS.
Los Angeles split six games with the Royals during the season with each team taking two of three in their ballpark.
This is the first postseason meeting between the Angels and Royals, former division rivals in the American League West from 1969-93.