Sabres name Bylsma head coach
A week after losing out on Mike Babcock, the Buffalo Sabres went with another experienced Stanley Cup winner by hiring Dan Bylsma to become their next coach. Bylsma replaces Ted Nolan and becomes the 17th head coach in Sabres history.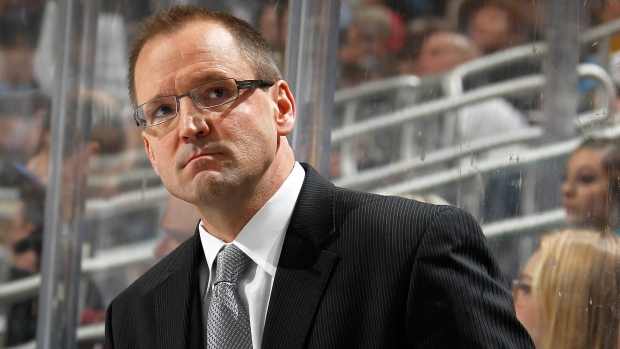 BUFFALO, N.Y. - The circumstances have changed for Dan Bylsma in taking over as coach of the young and rebuilding Buffalo Sabres.
The expectations have not for someone previously accustomed to coaching the Sidney Crosby-led Pittsburgh Penguins.
Bylsma's first objective is developing a winning attitude in Buffalo, on a team that has finished last in the standings in each of the past two seasons.
"The expectation for the winning culture and how we play is not going to change," Bylsma said during his inaugural news conference shortly after being hired Thursday. "And that's going to start, starting today. And it's going to continue as we go, as we develop this group."
And Bylsma acknowledged it won't be an easy task for a team that has lost a franchise-worst 51 games in each of its past two seasons, has purged much of its high-priced talent and is now on its third coach since Lindy Ruff was fired in February 2013.
"I don't think there's a time-frame that you're going to put on certain aspects of success of where this team's going to be," he said. "I know right now in our process of development as a team, we're looking to get better every day we step on this ice."
A week after losing out on hiring Mike Babcock, the Sabres turned their attention to another former Stanley Cup-winner to take over after Ted Nolan was fired last month.
The 44-year-old Bylsma led the Penguins to the Stanley Cup title in 2009 in his rookie season as coach. He eventually spent five-plus seasons in Pittsburgh, where he won a franchise-best 252 games and was the NHL's 2011 coach of the year, before being fired during front-office shake up a year ago.
Bylsma was hired by the Sabres after spending the past two days meeting with team owners Terry and Kim Pegula and general manager Tim Murray. And his hiring was delayed briefly after the Sabres were required under NHL rules to give up a 2016 third-round draft pick as compensation because Bylsma's contract with Pittsburgh ran through June 2016.
The hiring leaves the New Jersey Devils as the NHL's only team with a coaching vacancy.
"We've been trying to change the culture here every day, but this is a big swing to the positive," Murray said. "This is part of the process of getting better. We improved today by hiring him."
Though Murray had targeted hiring Babcock before the former Red Wings coach signed with Toronto, the GM noted that Bylsma was also high on his list. Murray said he first approached Bylsma about the Sabres' job about a month ago.
The two share a connection in Anaheim from 2002-04. That's when Bylsma was finishing his career as a fourth-line forward, and Murray served as the Ducks player personnel director.
After making the playoffs in each of his six seasons in Pittsburgh, Bylsma takes over a team that has missed the playoffs in each of the past four seasons, and hasn't won a playoff series since 2007.
The Sabres cupboard, however, is not entirely bare after spending the past three seasons adding youth and stockpiling high draft picks. Buffalo has the No. 2 choice in the draft next month for the second consecutive year and is expected to select Boston University centre Jack Eichel.
Bylsma got a firsthand look at Eichel at the World Championships in the Czech Republic this month. Bylsma was an assistant coach and Eichel a top-line forward on the United States team that finished fourth.
"He stacked up right up there with his skill and his size and ability to play the game," Bylsma said. "Jack's going to be a good pick for anybody who does take him."
Eichel's anticipated arrival will merely add to an emerging group of young players already in Buffalo's system. They include centre Sam Reinhart, who was selected with the No. 2 pick last year, and defenceman Rasmus Ristolainen and Nikita Zadorov, two 2013 first-round who enjoyed regular playing time as rookies in Buffalo last season.
"There is a bright future ahead for this team," Bylsma said.
Bylsma got his NHL coaching break in February 2009 during his first season with the Penguins' Wilkes-Barre/Scranton affiliate. He was promoted to Pittsburgh to replace Michel Therrien with 25 games left in the season. The Penguins finished out 18-3-4 to make the playoffs, and then went on to clinch the franchise's third championship by defeating Detroit in Game 7 of the Cup finals.
From Grand Haven, Michigan, Bylsma is a former NHL forward, who made his professional debut by playing two games with the Sabres' American Hockey League affiliate in Rochester in 1992-93. After bouncing around the minors, he eventually played parts of nine seasons with the Los Angeles Kings and Ducks before retiring in 2004.
___
AP Sports Writer Will Graves in Pittsburgh contributed to this report.