Sens need to open the vault for Stone
Ottawa winger has emerged as a face of the franchise, and the numbers show just how much he elevates the performance of those around him, Travis Yost writes.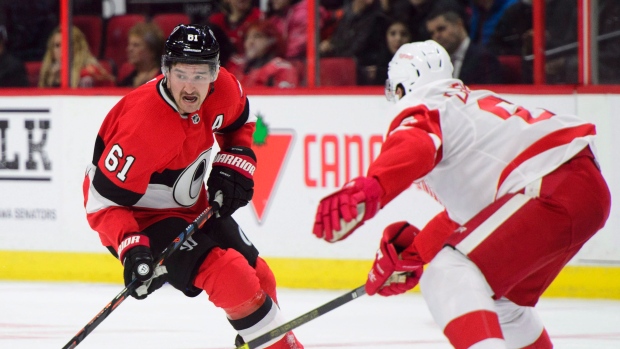 If you are caught up in the frenzy of this NHL regular season – well, I don't blame you. Pace of play and scoring are way up and we already have interesting divisional races building.
But we're also about six months away from what could be one of the more intriguing free-agent classes in quite some time. Some of these names will be extended as the season progresses, but right now names like Sergei Bobrovsky, Jordan Eberle, Matt Duchene, Joe Pavelski, Artemi Panarin, Semyon Varlamov, Jeff Skinner, William Karlsson, Anders Lee, Eric Staal, and Gustav Nyquist all need new contracts.
That's a lot of impactful names, and even if half of these guys end up extending before July 1 comes around, it will still be an interesting talent pool left to pick at for 30 other NHL teams.
Maybe the most interesting name on the list is Ottawa's Mark Stone. Stone, if you recall, signed a one-year deal last summer to avoid arbitration. The one-year deal was curious, particularly since Stone – with Erik Karlsson now in San Jose – has emerged as a face of the franchise. And because of that one-year deal, Stone and the Ottawa front office can't begin contract negotiations until the calendar flips over to 2019.
Stone's player profile is fascinating. When Stone entered the league, there were significant questions about his ceiling as a player – primarily related to concerns about his skating ability. Those concerns never manifested. Stone's not a lightning-quick skater, but his hockey sense and spatial awareness are exceptional. It's made him one of the league's most reliable defensive forwards. Combine that with his knack for the net – Stone, by season's end, will almost certainly have five consecutive 20+ goal seasons – and it's clear he's developed into one of the league's most capable forwards.
Stone is going to get paid a fortune, either by Ottawa or another team in the league. Matt Cane's salary projections heading into last summer projected him to take 10.8 per cent of the cap starting in 2018-19. Extend that by a year with reports of an $83 million salary cap in 2019-20, and a reasonable guess would see him lining up a contract around $9 million average annual value. This is the going rate, roughly, for a first-line winger in today's NHL.
The fascinating question is whether or not a rebuilding Ottawa team pays him. He will be competing with the aforementioned Duchene for big money from Ottawa, and although the Sens say their intention is to sign both, we still don't know how the story will end.
What we do know, though, is that Stone is going to make it awfully difficult for the Senators to say no. In his final year under contract, Stone has exploded. His team-leading 13 goals and 30 points are both in the top-25 league wide. Despite playing on a defensively nightmarish Ottawa team, the Sens are still somehow comfortably outscoring the opposition when on the ice. (Ottawa is getting 57 per cent of the goals with Stone on at 5-on-5)
Most notably, it's become very, very apparent when Stone is on the ice and when he isn't. Ottawa's young core tends to play tremendously well with Stone and tremendously poorly without him. For my money, the best thing you can say about a player is that he elevates the performance of those around him.
This season is essentially a repeat of what's happened every year in Ottawa since Stone entered the league. If you look at how Ottawa's Corsi% falls when a player is playing with Stone versus without, you can see how disparate the results are: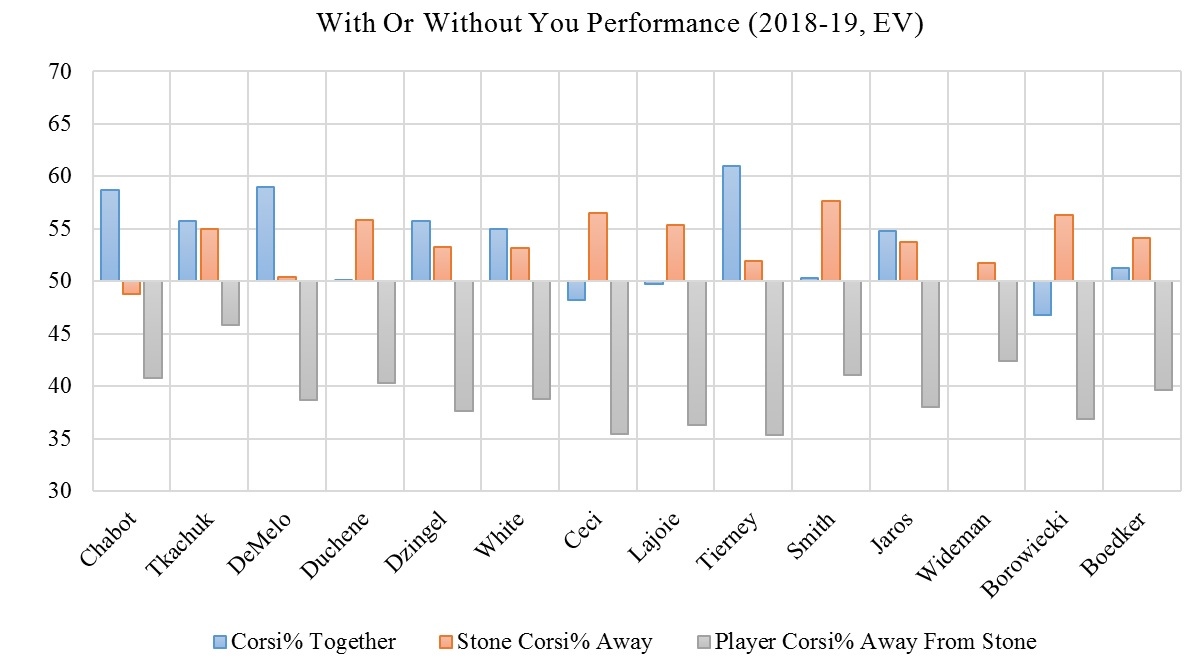 The results are stunning. Effectively every Ottawa player (sans Cody Ceci and Mark Borowiecki) sees favourable shot differentials when playing with Mark Stone. Some players, like Thomas Chabot, Brady Tkachuk and Dylan DeMelo, are getting Ottawa more than 55 per cent of the shots when paired with Stone. That's the type of performance that puts teams into the playoffs.
Notice that when Stone moves away from a given player – indicated by the red bars – his results really don't change. This shows Stone consistently drives play and generates positive results for his team, regardless of teammate quality, environment or deployment. This is what we would expect from a first-line forward.
The grey bar – how a player performs away from Stone – is where things get dicey. Every single Ottawa skater sees an exceptional drop in performance when Stone's not on the ice with them. Getting 40 per cent of the shots is woeful in today's NHL. What's incredible is that nine different players – DeMelo, Ryan Dzingel, Colin White, Ceci, Max Lajoie, Chris Tierney, Christian Jaros, Borowiecki and Mikkel Boedker – are seeing shot percentages in the 30th percentile. That's unspeakably poor and the biggest reason why Ottawa, despite their ability to seemingly score goals at will, are still at the bottom of the NHL standings.
In total, Ottawa is getting 54 per cent of the shots and 57 per cent of the goals with Stone on the ice. Take him off of the ice and use any other combination of skaters at the Senators disposal, and those numbers change to 39 per cent of the shots and 41 per cent of the goals. That's the difference between a bona fide playoff team and a bona fide lottery team.
Ottawa is becoming increasingly reliant on Stone and may have no choice but to pay up for his services. Based on his profile and how the market has behaved over time, that's likely going to be an incredible pay day for the Winnipeg native.