Short shifts key for Tavares in battle with Bergeron
Maple Leafs centre John Tavares has been coming out on top against four-time Selke Trophy winner Patrice Bergeron for most of their first-round playoff series and shorter shifts are a big reason why, Mark Masters writes.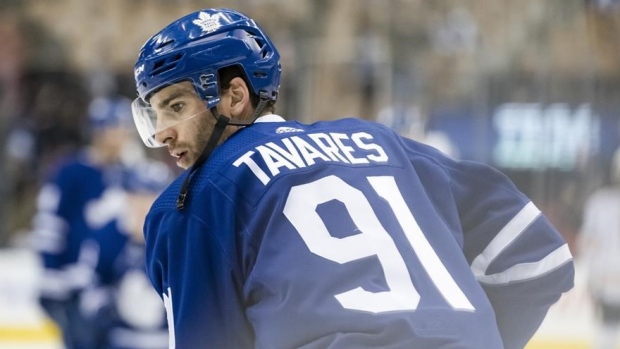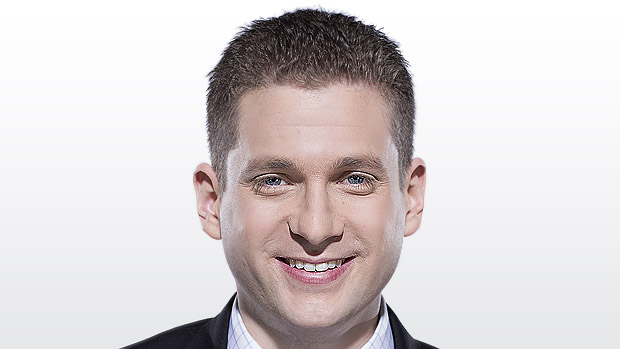 TSN Toronto reporter Mark Masters checks in daily with news and notes on the Maple Leafs, who practiced at MasterCard Centre on Tuesday while the Boston Bruins skated at Coca-Cola Coliseum.
Where has John Tavares improved defensively this season?
"Just his commitment to doing it," said Maple Leafs head coach Mike Babcock. "His sort outs in his own zone, his sort outs off faceoffs, being on the right side of the puck."
Tavares, who potted 47 goals in the regular season, has been going head-to-head with four-time Selke Trophy winner Patrice Bergeron for most of this first-round series against the Bruins and is coming out on top so far.
"You can't take a second off," Tavares said of the challenge going against the Bruins star.
Tavares is making every second count. He's averaging 19:10 of ice time per game in the playoffs, which is up only five seconds from the regular season. However, he's getting two more shifts per game (26.3) than in the regular season when he averaged 24.
"His ice time is almost the same, it's just his shifts are 10 seconds less," Babcock pointed out. "It's always interesting to me each night, we're talking about ice time, but what I do is I just look at their shifts and how many shifts they had and did they go long ... Our game, the way it is, if you play too long, you're building up lactic acid and you can't perform at the highest level. In order to play defence, you've got to be fresh. He's done a real good job of that."
Tavares, who finished with a career-high plus-19 rating, credits Babcock and Toronto's coaches for helping him take some steps defensively this season. And linemates Mitch Marner and Zach Hyman have also played a role.
"How good we are, I think, at just reading off one another and understanding each other's game and how to be responsible, but also to be productive offensively, just finding that balance has been really key," Tavares explained.
Monday night's game was the first home playoff game in Toronto for the Oakville, Ont., native.
"Seeing all the blue and white in the stands and driving in to Scotiabank (Arena) yesterday was phenomenal," he said.
And Tavares put forward an inspired effort, picking up a beautiful assist on the Andreas Johnsson power-play goal. He, Marner and Hyman teamed up with the defensive pair of Jake Muzzin and Nikita Zaitsev to hold Boston's top line – Brad Marchan, Bergeron and David Pastrnak – to seven shots and no points. In fact, Bergeron and Marchand were both on the ice for Toronto's two power-play goals.
"He's reliable, he's strong," Muzzin said when asked about Tavares. "We need a group of five against that top line. Obviously, they are dangerous. With Hymie, Mitch and Johnny, we've done a pretty good job of shutting them down and we're going to have to continue getting better for the next game."
After torching Toronto a year ago, Boston's top line has contributed just one even-strength goal (Marchand in Game 2) in the series so far.
Tavares even got the better of Bergeron in the faceoff circle on Monday winning 10 of 16 draws against him. Overall, Tavares has won 59 per cent of his faceoffs in the series, which is up from 54.4 per cent in the regular season. Meanwhile, Bergeron is down to 49.2 per cent in the series after winning 56.6 per cent of his faceoffs in the regular season.
"It's not easy," Tavares said of his success at the dot. "When you see someone consistently over a series they get more and more comfortable with you. I kind of compare it to almost a (pitcher) and a batter so there's always adjustments being made. You have to be prepared for every, single second you're out there against them."
----
For the third straight playoffs, Auston Matthews entered Game 3 without a point and for the third straight time he came through on home ice. Last year, he described his Game 3 tally as a relief, hoping it may lead to a more relaxed approach and more goals. But he didn't manage another goal the rest of the series and the Leafs fell in seven games.
So, Babcock was asked if last night's power-play marker may loosen up the 21-year-old centre.
"Actually, I think, to be honest with you, this playoff I don't think he was feeling the pressure," Babcock said. "You know, you're a year older, you've been around, you know, you look around the league and you see other real high-end players with no points. That's playoff hockey. "Sometimes your teammates have got to buy you some time. I believe if he plays real well without the puck he's going to have the puck a ton and, in the end, he'll score. I thought Johnsson made two really good plays and, in the end, he got a goal and an assist out of those plays. Obviously, it was good for our power play, our power play hadn't been dangerous in the first two games and, suddenly, it was really dangerous last night. It gives you energy and anybody who scores and is a scorer wants to score and feel good. I imagine he feels lighter. In the same way, I think he's going and it's not bugging him."
----
Frederik Andersen is off to a strong start to the series with a .939 save percentage through three games. What does Babcock notice about his goalie right now?
"Well, I mean, we're three games in," the coach said before knocking on a wood panel behind him.
Andersen's career playoff save percentage is .914.
----
At the start of every practice, the players congregate at centre ice for a stretch and usually someone scoots into the middle to lead it. On Tuesday, no one was at the dot, leading Babcock to loudly ask who should get in the middle.
A couple players yelled, "Naz!"
That would be Nazem Kadri, who is suspended for the rest of the series.
Kadri smiled and moved to the centre of the team. He was a full participant in practice, but did not speak to reporters afterwards, which is unusual. Per a team spokesperson, Kadri won't address the media until he's done serving his suspension.
"To me it's just like an injured player," said Babcock. "​He's not available, the rest of us are moving on here. Ideally, if we play well enough, Naz will join us again."
----
With Kadri out, William Nylander shifted over to the third-line centre spot.
"He was good," Babcock said. "I'm actually going to meet with him here in a bit and show him a lot of good clips in the defensive zone. We need him to really commit defensively, that's way different job than being a winger. To have success, he's got to be good without the puck."
----
Lines at Tuesday's Leafs practice:
Hyman-Tavares-Marner
Johnsson-Matthews-Kapanen
Marleau-Nylander-Brown
Ennis-Gauthier-Moore
Petan, Kadri
Rielly-Hainsey
Muzzin-Zaitsev
Gardiner-Dermott
Rosen-Marincin
Holl-Ozhiganov
Andersen
Hutchinson