Tampa Bay's path to assembling a super team
Here's a scary thought: The Lightning have the cap space, future draft picks and prospects it would take to create a trade package for Erik Karlsson, Travis Yost writes.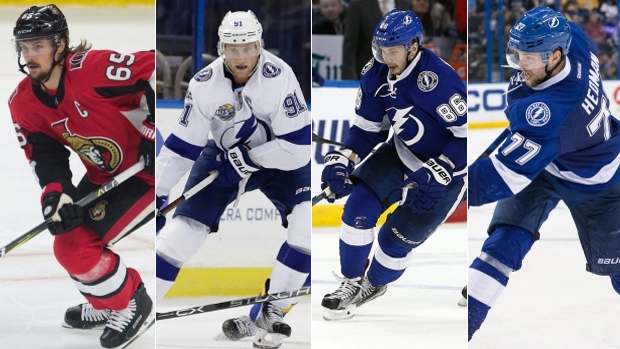 In 2006, the Anaheim Ducks acquired superstar defender Chris Pronger from the Edmonton Oilers for a package of players and future assets. One year later they won a championship.
At the time, Pronger was the league's preeminent shutdown defender. Not far behind, if at all, was Ducks defender Scott Niedermayer. Having both blueliners on the same roster created matchup nightmares for virtually every opponent. Some nights then head coach Randy Carlyle would play the two together, creating a nearly impenetrable defensive unit. On other nights, Carlyle would split the two up, creating two high-powered defensive pairings that could soak up the vast majority of even strength minutes.
Anaheim had every reason to move "all in" during that summer. Their core was at its peak – the right mix of productive players on cheap entry-level contracts and franchise players in their prime. They also parlayed Edmonton's unfortunate bargaining position into a title.
This brings us to Tampa Bay, Erik Karlsson and the plausibility of the NHL's first modern-era super team.
You may think Karlsson is going to extend in Ottawa. You may think Karlsson is going to leave Ottawa, be it by trade or when his contract expires in 2018-19. All situations remain in play. But we do know that the following factors are at play here:
- Ottawa is not a contender and faces significant cost issues, including but not limited to extensions for Mark Stone and Karlsson
- Karlsson will not take a hometown discount
- Karlsson will make north of $10 million per year, and possibly as high as $11mm per year
- Karlsson has already submitted a no-trade list
- Ottawa's owner and general manager have both said that they would at least entertain trade talks at some point, though both have walked back those claims
- His current cap hit is $6.5 million (15th amongst NHL defenders), which would be manageable for most teams
- Losing Karlsson via free agency, with no returnable assets, would be a doomsday scenario for the Sens
It's hard to envision a scenario where Ottawa trades Karlsson and improves. He's been the league's best defender for the past five years and may be a bigger face of the franchise than Daniel Alfredsson was. Ottawa could, and should, exhaust every possible opportunity to try and extend him long-term.
But let's say that Ottawa is bearish on a contract worth north of $80 million. Or that Karlsson expresses a disinterest in signing. To that end, Ottawa must start thinking about trade opportunities. Move him at this year's trade deadline and you maximize your return, particularly since the buying team would have two chances at a title push with Karlsson's current team-friendly contract. Move him this summer and you may have more clarity on Karlsson's contractual situation, but less time to work with.
No team is better positioned for this trade than Tampa Bay. On the negative side of the ledger, they are in the same division as Ottawa – historically, this has been something of a hurdle for teams interested in selling a star. But on the positive side of the ledger, they check all of the boxes.
The Lightning have $5.6 million in cap space today under a $73 million cap, which nearly covers all of Karlsson's contract. (To say nothing of the fact that they could easily dump an expiring contract on another team.) They are loaded with future picks and prospects, which should incentivize a team looking to rebuild. They are a clear Stanley Cup contender – even in a status quo scenario, the Lightning may have the best odds of any team in the league at reaching the championship round. And Karlsson, of course, talked up playing with Lightning players over and over during the All-Star break.
Young, cheap talents like Brayden Point and Mikhail Sergachev would be the most interesting to Ottawa. In most cases Tampa Bay would probably consider one or both of these players untouchable in a trade, but I suspect that wouldn't be an issue when trading for a two-time Norris Trophy winner.
We could discuss and debate what a hypothetical 'fair' trade would look like all day long, but the reality is Tampa Bay is saturated with talent and futures. If they want the trade, they could have it. What's more interesting is how Tampa Bay would look with Karlsson in the lineup. It would be, in one word, terrifying.
I paralleled Pronger here because it's the most recent example, but I think that's partially unfair to Tampa Bay here. Karlsson is a better player than Pronger was at the time of the deal. And Hedman is probably better today than the 34-year-old Niedermayer was at the time of their victory. The move would take Tampa Bay from serious Stanley Cup threat to prohibitive favourite in the blink of an eye.
One thing holds true for Karlsson and Hedman – they fantastically impact their team's likelihood of generating shots, scoring chances, and goals. In fact, no player has influenced territorial control more over the past four years than Karlsson. But Hedman isn't far behind.
The below table shows the defenders who have most notably impacted their teammate's shot rates from 2014-18. One thing to note is this analysis takes into consideration the quality of each player's teammates over that period. (Data via Corsica)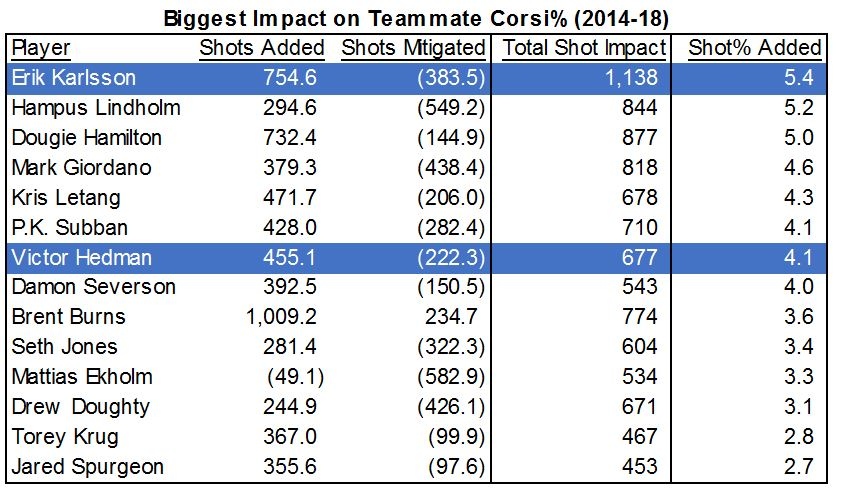 On the right, you can see how many shots Karlsson and Hedman added to Ottawa and Tampa Bay, respectively. Karlsson's numbers are just outrageous. On a unitized basis and taking teammate quality into account, Karlsson is worth 5.4 percentage points in shot advantage to his team, nearly double that of Los Angeles' Drew Doughty. Hedman is at 4.1, which was seventh best over the measured period. Hedman, clearly, is a superstar. And he isn't particularly close to Karlsson here.
Let's focus on this year's Bolts now for a moment. Think about the impact this could have on the Lightning roster. They already generate about 53 per cent of the shots and score 59 per cent of the goals at 5-on-5. They are doing this with the following distribution: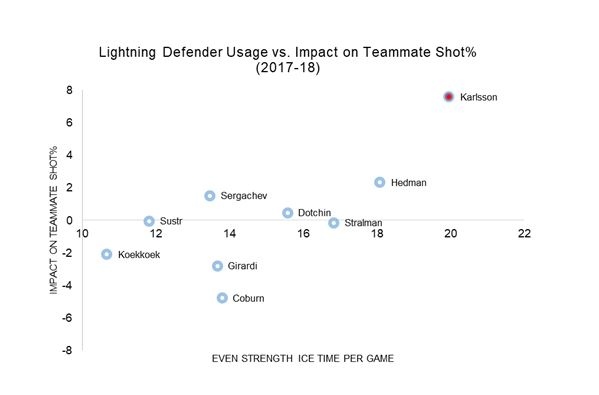 One takeaway is that Tampa Bay would genuinely benefit from pushing some of their depth guys further down the lineup. It may not matter in the regular season because of how talented and deep the roster is, but against higher-calibre competition in the playoffs, the second and third-pairings would appear much more vulnerable.
Even with Hedman carrying a big piece of the load and Sergachev being a surprise, there are weaknesses on the backend. Slater Koekkoek, Andrej Sustr, Dan Girardi, and Braydon Coburn all are having neutral or negative impacts on team performance. Even in sheltered minutes, that's a lot of lost ice time.
That leads me to Karlsson. For all of the talk about Karlsson having a down year (and he is – his skating still doesn't appear 100 per cent and Ottawa's had goals against issues all year long), he's still having a massively favourable impact on the team. He is adding more than 7 percentage points to Ottawa's Shot%, which is even better than his career average. (It's also the third highest number amongst defenders, just behind Colin Miller in Vegas and Hampus Lindholm in Anaheim.) Slide him onto one pairing, Hedman on another, and you have about 40 minutes a night where the opponent doesn't have much of a chance.
For Tampa Bay and any other interested team right now, acquiring Karlsson today seems unlikely. But Ottawa's not acting from a position of strength, and they're going to start running out of runway shortly. Tampa Bay may be one of only a handful of teams that could create a trade package that would seriously interest Ottawa.
With the Lightning's core at or near their peak performance years and the financial flexibility to acquire one more superstar, you do have to wonder if general manager Steve Yzerman will pick up the phone and make a call as we head towards the trade deadline.
That's a scary, scary proposition if you are any other team in the Eastern Conference.