There's room for Laine's goal totals to grow
Winnipeg's super shooter could find the net even more frequently this season with the right opportunities at even strength, Travis Yost writes.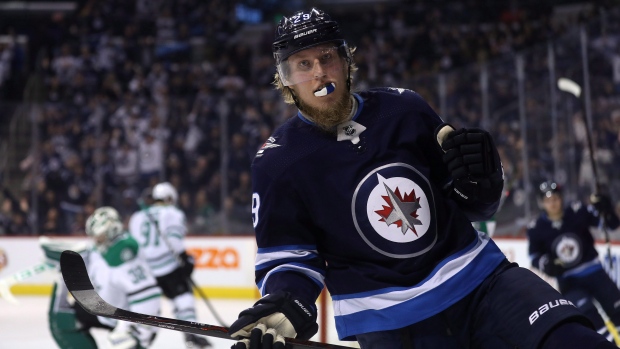 Jets sniper Patrik Laine is entering year three of his professional career and expectations are sky high after a wondrous 2017-18 campaign.
Laine was a key fixture in Winnipeg's surge to the top of the Western Conference last year. An elite shooter of the highest order, most of Winnipeg's offence at even strength and on the power play tends to run through him. Laine ended his sophomore season with 44 goals, second only to the all-world Alexander Ovechkin.
The interesting thing about Laine is how he built up those 44 goals. Like most high-end shooters, he capitalizes on power-play opportunities. Forty-five per cent of his goals – 20 in total – came by way of the man advantage, which was the highest number in the league.
It was a slightly different story at 5-on-5. He managed to beat goaltenders there 22 times – high-quality production, but not nearly as impressive as his power play performance. His 22 goals were tied for 10th best in the NHL, with names like Claude Giroux, Eric Staal, and Rickard Rakell. (On a rate basis, Laine's scoring per-60 minutes was still 10th best in the league.)
It's impossible to complain about a guy who was the league's second best goal scorer but you do wonder if Winnipeg and Laine are leaving a handful of goals on the table. More than anything, it has made me wonder if there are certain forwards in the Jets lineup who have skill sets that are more complementary to Laine's game, and whether or not head coach Paul Maurice has any opportunity at shuffling his lineup a bit.
One of the notable differences between the two game states is that Laine (like Ovechkin, or Stamkos, or Kovalchuk) can really isolate his focus on positioning and angles in the offensive zone when up a man. His teammates can do some of the grunt work to push the play into the offensive zone and Laine can get into his sweet spot at the top of the shooting circle. Put the puck on his stick with a goalie chasing an angle, and a goal feels automatic.
Even strength is obviously a different animal with a lot of time and energy spent on both ends of the ice. Even when a player of Laine's calibre gets into the offensive third, it's difficult to frequently create time and space. But playmaking linemates can create opportunities for great shooters – even in tight spaces.
It made me wonder what types of forwards Laine has had success with over the first two seasons of his career. The below plot shows Laine's production as a shooter from 2016-18 with regular Jets' linemates. On the x-axis you have Laine's goal rates with a given teammate, on the y-axis you have Laine's shot rates with a given teammate, and the size of the bubble indicates the total amount of ice time the two have played together.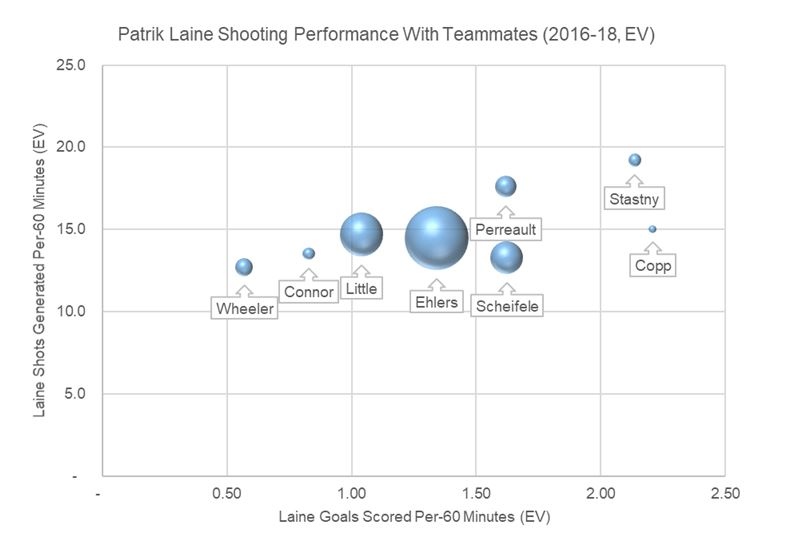 It's interesting to see that Laine seems to be more in 'attack mode' when playing with Winnipeg skaters who are pass-first by nature. The recently departed Paul Stastny and Mathieu Perreault are really distributing centre types and have made their living finding open shooters for close to a decade now. To that end, it's not surprising to see that Laine's scoring rates and shot rates spiked when playing with either of these forwards over the last two years. Stastny in particular drove huge numbers for Laine down the stretch last season, and it's probably one of the big reasons why Winnipeg wanted to bring him back this summer.
The good news is that Laine sees fairly similar results when playing with superstar Mark Scheifele. Scheifele is notorious for making everyone better in the lineup and that holds true for Laine. Laine has scored 1.6 goals per-60 minutes with Scheifele; his career average, for point of reference, is about 25 per cent less effective.
One other data point that is interesting: Laine has been relatively quiet when paired with Blake Wheeler. I find this fascinating because it's not as if Wheeler is stealing shots away from Laine. Nikolaj Ehlers, Laine's most common linemate by a considerable margin, also happens to be the most aggressive 5-on-5 shooter the Jets have. And those two have made their relationship work well with only one puck on the ice.
Perhaps this is something that is clouded by randomness – after all, the duo has only played together for a few hundred minutes over the last two seasons. But from what we have available, we know that Laine seems to play more of a secondary role when paired with the Jets captain.
It's also curious because Wheeler (who appears to be a poor match for Laine) and Scheifele (who appears to be a great match for Laine or anyone else for that matter) also play together an awful lot. At some point, you wonder if Maurice will play with his top six a little bit, flexing Laine on to the top line and dropping Kyle Connor onto the second line with Bryan Little and Ehlers. It feels a bit more top-heavy, but it also feels like a trio that could be the most dangerous group in the NHL.
Either way, I'm curious to see what Winnipeg does with their forward deployment this year. Year three could be a monstrous one for the Finnish super shooter. With the right opportunities at even strength, you could see Laine pass his incredible goal total from one year ago.