Ticats release Olympic medalist Haynes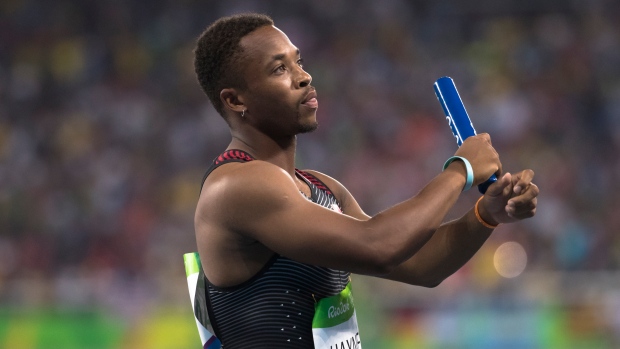 HAMILTON — Akeem Haynes won't be realizing his football dream with the Hamilton Tiger-Cats.
The Olympic bronze medal-winning sprinter was among four players released by the Ticats on Thursday. Haynes, who had not played football since graduating from high school in 2010, was attempting a comeback with Hamilton.
The Jamaican-born Haynes, who resides in Calgary, served as the leadoff runner for Canada's bronze medal-winning 4x100 relay team at the 2016 Rio Games. The 26-year-old was attempting to crack Hamilton's roster as a receiver and/or kick returner.
Speed was definitely Haynes' forte. In 2015, he ran a personal-best 10.15 seconds over 100 metres. Haynes was also a track all-American at Alabama.
Hamilton also released defensive backs Caleb Duncan and Keon Lyn as well as receiver Art Riles. Defensive backs Dante Blackmon and Justin Rogers, offensive lineman Will Freeman, linebacker Geoff Hughes and defensive lineman Ryan Mueller all retired.
The Ticats also announced the signing of receivers Andrew Turzilli, Chris Hubert, Bryce Wilkerson and Jarvis Baxter.