Tiger's back, but there's a lot to be addressed
Bob Weeks, TSN Senior Golf Reporter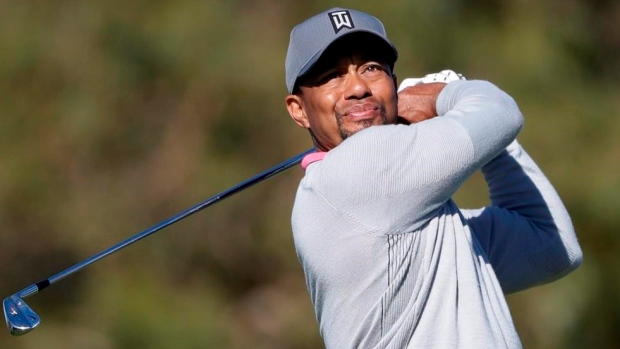 Tiger Woods is back.
The 14-time major champion announced this week that he'll return to competitive action at the Hero World Challenge beginning Nov. 30.
His appearance at the event in the Bahamas that benefits his foundation became less and less of a surprise after Woods continued to post videos of his swing and as word leaked out that he was playing regular rounds at home in Florida.
It's a smart spot to return to, seeing as how he's guaranteed four rounds in a somewhat relaxed environment. This isn't Sunday at a major championship.

A year ago, Woods also chose to make his return at this event and led the field in birdies although he still finished 15th in the 18-player field. He's comfortable there, and at ease with the course and surroundings.
Now that we know when Tiger will tee it up again, there are two big questions that remain to be answered.
The first is easy. How will he play?
In the videos he's posted on Twitter, Woods' swing looks free, easy and without any indication of pain. Although the swings are in slow motion, it does seem that he's going at the ball with relatively good force. Those are all good signs as far as Woods is concerned. And he still has a month before the first tee shot so there's even more opportunity to improve.
But as Woods has said in the past, it's a big step to go from the range or even rounds with your pals to a competitive event. You have to play every shot, no matter where it lands and you have to use your head a lot more than in a $20 nassau game at the Medallist.
Woods hasn't played a full season on the PGA Tour since 2013, when he won five times. He's played a total of 18 tournaments in the last four years, withdrawing in three of those and missing the cut in seven more.
Even if he does hit the ball great, it may take him some time to get his tournament-playing chops back.
There's also the fact that Woods is not a kid any more. He turns 42 on December 30 and while he is in excellent shape, his body has been on the operating table almost as much as a medical school cadaver.
"Is anybody in here who is in their 40s ever going to feel like they did in their 20s?" Woods asked the press corps at the Presidents Cup a month ago.
Taking on kids such as Jordan Spieth, 24, Justin Thomas, 23, and Rickie Fowler, 28, is no easy feat. Just ask fellow 40-somethings Phil Mickelson or Ernie Els or Jim Furyk. Tempus fugit.
The second question is also easy to ask but not so easy to answer. When will he play next, after the Hero event?
The Hero Challenge is a fun stop but it's not the PGA Tour and Woods will no doubt want to get back out and play for real. A year ago, he started at Torrey Pines and the Farmers Insurance Open but he missed the cut at one of the tougher tracks on tour.
That still might be where he goes again seeing as how he's won there eight times including the 2008 U.S. Open, his last major. But a betting man might look ahead to the Genesis Open, another tournament that supports his foundation. Woods was slated to play that tournament at Riviera Country Club a year ago before re-injuring his back.
Woods has said he wants his return to be slower to ensure he doesn't hurt himself again. It's doubtful he'll chase a big cheque in the Middle East as he did last year when his back once again gave out.
Whatever schedule he comes up with, you know that it will be geared towards ensuring he is as ready as possible for the Masters. No matter what comes before, when he plays or how he plays up to that point, you can pretty much count on him arriving in Augusta in April ready to play.