Raptors beat Knicks to stay perfect at home
Pascal Siakam scored 23 points, including three three-pointers, and the Toronto Raptors remain undefeated at home after a 128-112 victory over the New York Knicks on Saturday.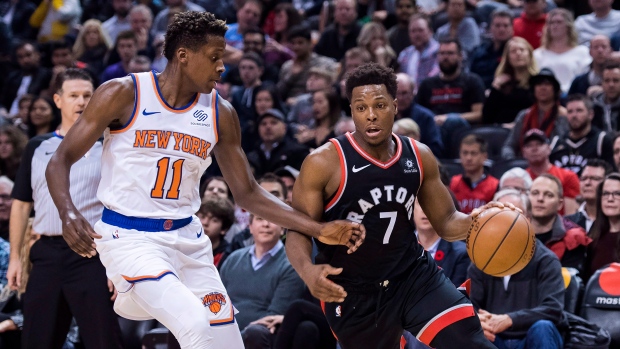 TORONTO — On an afternoon Kawhi Leonard and Kyle Lowry might have been feeling some "West Coast grog," the Toronto Raptors relied on their depth to remain undefeated at home.
Pascal Siakam scored a career-high 23 points, including three three-pointers, to lead the league-leading Raptors to a 128-112 victory over the New York Knicks on Saturday.
Leonard and Lowry were held to five field goals and 22 points between them.
Toronto's victory comes on the heels of a 4-0 western road swing, and a combination of the afternoon start and being back on Eastern time showed, particularly in the team's sluggish start.
"I was kind of expecting a little bit of a West Coast grog, it's common," Nurse said. "I think it takes a little while to get your focus and your legs back underneath you."
Nurse became the first coach to win 12 of his first 13 games since Lawrence Frank started 13-0 with the New Jersey Nets in 2004.
"I thought we were playing hard, that was the main thing," he said, summing up win No. 12.
"We were playing a little careless on offence, we weren't rebounding the ball very well, but we took care of both of those things in the second half and the second unit played really well."
That it did. Jonas Valanciunas had 19 points, OG Anunoby contributed 16, and Delon Wright finished with 12 for the Raptors (12-1).
"We have so many threats," Danny Green said. "On any given night, any guy can lead the team in scoring or come up big for us, even if it's not scoring, it could be rebounding. Getting double-digit points could change the flow of the game for us. Every piece is very important to the puzzle we're trying to build."
Tim Hardaway Jr. had 17 points to top the Knicks (4-9).
Toronto got off to a rough start, plagued by turnovers and missed shots. Leonard's first field goal didn't come until 46 seconds left in the first half.
But by the time they went into the fourth quarter up 100-82, the game was seemingly well in hand. And when Valanciunas connected on a three-pointer with 1:33 to play, a few hundred of the 19,800 fans had already beat a hasty exit from Scotiabank Arena.
"(The Raptors) are a tough cover," Knicks coach David Fizdale said. "When they go to the bench, it just keeps coming at you: a lot of speed, a lot of skill, a lot of shooting."
Green's three long bombs on the night gave him 1,000 made three-pointers for his career. Lowry was the last Raptor to accomplish this feat in December of 2016.
"I got a text after the game. 'You got a thousand, man.' 'A thousand what?'" Green said. "It's awesome. It shows I've been playing for a long time. Obviously, a lot of that goes to my teammates finding me. I try to do the job to the best of my ability, hopefully it goes down and I keep fooling people and stay on a roster."
The game tipped off a couple of hours after news broke that Minnesota had traded Jimmy Butler to Philadelphia, potentially turning the 76ers into a team that could make some serious noise in the Eastern Conference.
"It certainly brings a really good player into our gym a few more times, so we look forward to that," Nurse said of the deal.
The Raptors had four turnovers in the first five-and-a-half minutes, and it was more than four minutes before they got their first field goal — a Green three. Still, the Raptors managed to keep it close, and Wright's putback with two seconds left sent the game into the second quarter tied at 25-25.
Anunoby led the way with nine points in the second, and an 11-2 run by Toronto's bench gave the Raptors a seven-point lead.
"That's why they're so good. They have that supporting cast that comes in the game and they take care of business," Hardaway Jr. said. "It's as simple as that."
A pair of Leonard free throws put Toronto up 64-53 at halftime.
Siakam had 14 points in Toronto's decisive third quarter.
The Raptors host the New Orleans Pelicans on Monday, and then Dwane Casey returns to Toronto on Wednesday with his Detroit Pistons.