Toronto to join third tier English rugby league
Toronto's newest team is the Toronto Wolfpack, which plans to play in the third tier of English rugby league come 2017. The owners are billing it as the first transatlantic professional sports team.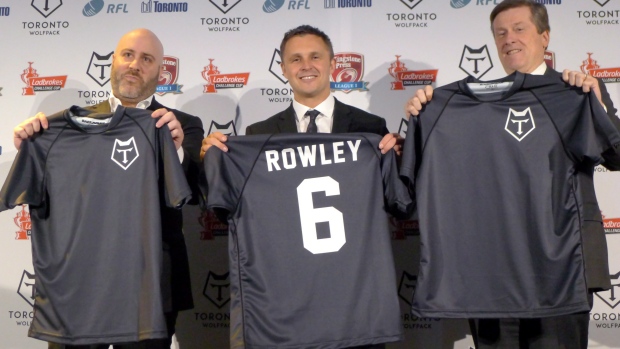 TORONTO - The Toronto Wolfpack, a fledgling franchise with big dreams and even bigger travel plans, took its first steps Wednesday.
Billing itself as the first major-league transatlantic pro sports team, the Wolfpack plans to play in the third tier of English rugby league come March 2017. The Toronto club will be the 16th entry in the Kingstone Press League 1, which currently has 12 teams from England, two from Wales and one from France.
The challenge that awaits is both immense and intriguing.
"It's a leap for faith for all concerned," said Nigel Wood, chief executive officer of the Rugby Football League, the governing body for rugby league in the United Kingdom.
Can the third-tier of rugby's lesser-known code succeed in what the NFL or NBA has yet to try?
"That's a very legitimate question," said Wood, a hulking former rugby league player. "To a large extent, this could spiral anywhere ... I think there's every chance (at success). I think there's more reasons to celebrate than there is to be fearful."
"The world is shrinking," he added.
It helps that the Wolfpack will reportedly pay the travel costs of other teams to get here.
The new franchise will play a 22-game regular season, with 11 games at home on the artificial turf of the 9,600-seat Lamport Stadium. It will also take part in the knockout Challenge Cup.
In truth, the team will be based in England. Head coach Paul Rowley, a former England hooker, says the team will share a training base with the Bradford Bulls, who play in the second-tier Kingstone Press Championship below the elite First Utility Super League.
The Wolfpack will play in three-week chunks, flying to Toronto to host visiting teams and then returning to train and play away games against the likes of the South Wales Scorpions, University of Gloucestershire All Golds, Barrow Raiders and Toulouse Olympique XIII.
Rowley says while the bulk of his roster will be English, he expects to have some North Americans on his roster. The team will hold open tryouts in Montreal, Toronto and Vancouver as well as U.S. cities beginning mid-August.
While most teams in the third tier are made up of part-timers, the Wolfpack says it will have full-time players.
Rugby league is a 13-man game, as opposed to 15-man rugby union, that is primarily played in England, Australia and New Zealand. Unlike rugby union, rugby league stops when a tackle is made and the team in possession launches a new attack. Possession changes on the sixth tackle.
A try is worth four points with a conversion and penalty worth two points.
"I believe rugby league in itself is just the best-kept secret," said Rowley. "It's out there in the corner shop, we need to put it in the supermarkets."
The game is ultra-physical with big men gang tackling. But its influence has bled into rugby union in recent years, both on defence and attack.
"My teams entertain, we're known for entertaining," said Rowley, a former coach of the year in England's second tier. "They'll be bloodshed, there'll be collisions."
Off the field, sleep doctors and experts from Liverpool John Moores University will help the team fight jet lag.
"We'll make sure no stone is left unturned," said Rowley.
The 41-year-old Rowley, who makes his home in Manchester, resigned as coach of the Leigh Centurions in January. Leigh owner club owner Derek Beaumont subsequently accused him of trying to lure staff away from his club, a charge Rowley denied.
There are other leagues that span the globe.
Super Rugby, rugby union's elite club circuit in the Southern Hemisphere, features teams from Argentina, Japan, New Zealand and South Africa.
European soccer's Champions League and Europa League cup competitions involve teams from Albania to Wales.
Wolfpack CEO Eric Perez, a longtime supporter of the sport in Canada, says the team ownership consists of 10 people, some Canadian and some not, who made their money in mining and resources.
He would not detail the expansion fee other than to say it was "significant."
Judging from Wednesday's launch, which drew nine cameras, Toronto Mayor John Tory and an enthusiastic crowd to Real Sports Bar and Grill, the franchise knows how to put on a news conference.
The team has already laid down a social media foundation via Twitter, Facebook and Snapchat and has publicists on both sides of the pond.
Wood says in Rowley and director of rugby Brian Noble, a former Great Britain coach, the Wolfpack already has first-class rugby league credentials.
The Wolfpack also has some star power in club director Adam Fogerty, a jumbo-sized bullet-headed former pro boxer and rugby league player. The English-born Fogerty's acting resume includes roles of Gorgeous George in Guy Richie's "Snatch" and Big Pat in the Kray Twins movie "Legend."
Follow @NeilMDavidson on Twitter