TSN.ca TradeCentre Blog: As it happened
The trade deadline has come and gone, but follow along with TSN.ca as trades still trickle in.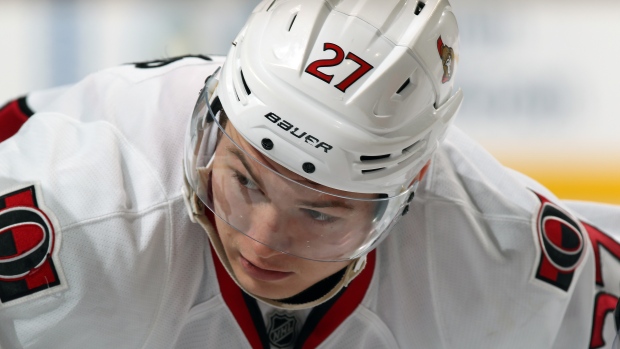 The trade deadline has come and gone, but follow along with TSN.ca as trades still trickle in.
--
4:00pm - END OF THE ROAD: The TSN.ca TradeCentre Blog is done for 2017. Thanks for following along.
--
3:31pm - TRADE ALERT: Stars trade Lauri Korpikoski to the Blue Jackets for Dillon Heatherington.
--
3:30pm - TRADE ALERT: Jets send Drew Stafford to the Bruins for a conditional sixth-round pick.
--
3:28pm - Oilers are done: The Oilers are done. Nothing more to add.
--
3:20pm - TRADE ALERT: Burn your Mark Streit Tampa Bay Lightning jerseys. He's been dealt to the Pens.
--
3:17pm - Uh, what?: The Flyers will retain 4.7% of Mark Streit's salary.
--
3:11pm - NO TRADE ALERT: Shane Doan has not been traded.
--
3:10pm - TRADE ALERT: Leafs acquire Eric Fehr from the Penguins. He has one year and $2 million left.
UPDATE: Steve Oleksy and a fourth will also come to the Leafs. Frankie Corrado heads to Pittsburgh.
--
3:05pm - Sabres stay put: The Sabres are among the teams who have announced that they have not made any moves.
--
3:00pm - THE NHL TRADE DEADLINE IS OVER - Trades will still trickle in, though.
--
2:51pm - TRADE ALERT: Ottawa has traded Curtis Lazar to the Calgary Flames. More to come.
UPDATE: It's a second-round pick and Jyrkki Jokipakka.
UPDATE #2: Mike Kostka also heads to Calgary.
--
2:50pm - TRADE ALERT: P.A. Parenteau is going to Nashville for a sixth-round selection.
--
2:28pm - TRADE ALERT: Mark Streit is headed to the Tampa Bay Lightning from the Flyers. It's Valtteri Filppula is going the other way.
--
2:14pm - Vegas is open for business: The NHL has emailed teams letting them know that the Vegas Golden Knights are open for business.
--
2:06pm - TRADE ALERT: Habs make a minor deal. Sven Andrighetto is sent to the Avalanche for Andreas Martinsen.
--
2:04pm - TRADE ALERT: Kyle Quincey is headed to the Blue Jackets for Dalton Prout.
--
2:01pm - TRADE ALERT: It's a minor deal involving the Oilers. Taylor Beck heads to the Rangers in exchange for Justin Fontaine.
--
2:00pm - ONE HOUR REMAINING TO TRADE DEADLINE
--
1:58pm - Vrbata on the move? Well, we don't know, but he's left the ice at Coyotes' practice.
--
1:43pm - TRADE ALERT: Don't get excited. The Panthers and Bolts have swapped minor-league goalies. Mike McKenna heads to Tampa for Adam Wilcox.
--
1:38pm - Neil out "weeks": Not a trade, but the Sens will be without Chris Neil for "weeks" with a broken finger.
--
1:26pm - Duchene unlikely to move: Adrian Dater says the Avs are unlikely to move Matt Duchene today.
--
1:00pm - TWO HOURS REMAIN UNTIL DEADLINE
--
12:56pm - Flyers lock up pair: The Flyers officially confirmed the extension for Michal Neuvirth and also announced an extension for Pierre-Edouard Bellemare.
--
12:47pm - TRADE ALERT: It's not done, but Jarome Iginla could be on the move to the Kings.
UPDATE: It's a conditional pick going to the Avs
UPDATE #2: That pick is a fourth rounder in 2018.
UPDATE #3: The condition is on whether or not Iginla re-signs in LA and has playoff-related implications.
UPDATE #4: If the Iginla conditions aren't met, the pick disappears.
--
12:41pm - Oilers not finished?: Ryan Rishaug says the Oilers still have some deals in the offing, but let's see what comes to fruition.
--
12:28pm - Quiet deadline for the Canucks?: Might the Hansen trade be the most significant deal from the Canucks at the deadline?
--
12:27pm - Habs are not done: LeBrun says the Habs have other irons in the fire.
--
12:20pm - TRADE ALERT: The Habs have landed Dwight King from the Kings for a conditional fourth in 2018.
UPDATE: No salary retained in the deal.
--
12:05pm - Canucks make a waiver claim: Joseph Cramarossa has been claimed by Vancouver.
--
12:03pm - Dorion working the phones: Pierre Dorion is still trying to find a new home for Curtis Lazar.
--
12:02pm - Josh Ho-Sang's week could be about to get weirder?: He got called up, then sent down and called up again. Now Josh Ho-Sang could be about to get traded, reports Joe McDonald.
--
12:01pm - Halak staying put?: Arthur Staple reports the likelihood of Jaro Halak going anywhere is fading.
--
12:00pm - THREE HOURS REMAIN UNTIL DEADLINE
--
11:55am - TRADE ALERT: It's a real one. Thomas Vanek is heading to the Florida Panthers in exchange for Dylan McIlrath and a 2017 third-round pick. The Wings will retain 50 per cent of his salary.
--
11:40am - All Quiet on the Stafford front: Per TSN's Gary Lawless, there is currently no movement in Winnipeg on the Drew Stafford trade front.
11:15am - Action picking up on Vrbata: Darren Dreger reports that talk around Vrbata is heating up and the Habs are involved. Will this open the floodgates?
--
11:14am - Borwiecki back: The Sens' injury crisis was a temporary one. Borwiecki is back on the ice.
--
11:08am - Iggy looking west?: Does Jarome Iginla have interest in the Kings?
--
11:02am - Sens injury concern: Mark Borowiecki appeared to injure his left shoulder at practice this morning after crashing into the boards.
--
11:00am - FOUR HOURS REMAIN UNTIL DEADLINE
--
10:56am - Burrows gets his linemates: It appears that Alex Burrows will be playing on a line with Kyle Turris and Mike Hoffman, while Viktor Stalberg slots in alongside Tommy Wingels and Chris Kelly.
--
10:40am - TRADE ALERT: I'm so sorry for this, but a trade is a trade. The Avs have sent Joe Whitney to the Coyotes for Brendan Ranford. I'm told these are real people.
--
10:39am - Blackhawks not done: After locking up Jordin Tootoo and Michal Roszival and re-acquiring Johnny Oduya, the Blackhawks are turning their attention to a forward.
--
10:36am - New faces at Sens skate: All three of the Ottawa Senators' new acquisition are on the ice this morning.
--
10:30am - Stamkos at morning skate: It's not a trade, but it's noteworthy - Steven Stamkos is on the ice with the rest of the Bolts at morning skate.
--
10:25am - Neuvirth sticking around?: LeBrun reports that the Flyers are close to signing goaltender Michal Neuvirth to a one-year extension. Likely, this is an expansion draft consideration.
--
10:20am - A note on Hansen: Pierre LeBrun notes that the Canucks will still be on the hook for 20 per cent of Jannik Hansen's remaining salary for his full contract after their deal with the Sharks. He has one year and a $2.5 million cap hit remaining.
--
10:10am: A pair of big signings by TSN
TSN Hockey Insider Bob McKenzie reports TSN has acquired Jay Onrait and Dan O'Toole back after a stint in the USA. The duo are expected to debut in the SportsCentre lineup this fall.
9:59am: Who's in on Vrbata?
Once Radim Vrbata is dealt, other trades are expected to follow.
Craig Custance of ESPN reports the Flames, Bruins, Panthers, Penguins and Islanders are all interested in Vrbata.
Vrbata, 35, owns 15 goals and 47 points in 62 games this season. He is slated to become a free agent this summer.

9:39am: Winging It?
TSN's Ryan Rishaug reports the Edmonton Oilers have shifted their sights to a rental winger for their third or fourth line. He reports cap hit could be an issue, though.
9:32am: Isles call up Ho-Sang... Again
For the second straight day, the New York Islanders have called up Josh Ho-Sang on emergency conditions from the AHL.
Ho-Sang was called up and then sent down again yesterday.

9:22am: More waiting on Vrbata?
Pierre LeBrun noted earlier the market for Thomas Vanek may not form until Radim Vrbata is dealt.
Now, it looks like Winnipeg Jets forward Drew Stafford may be in the same spot. ESPN's Craig Custance reports Stafford may also have to wait for Vrbata to be moved.
Custance notes that there is no current movement on the Ondrej Pavelec trade front.
9:15am: Penguins still looking for defence
LeBrun notes the Pittsburgh Penguins are still in the market for the defence, but nothing is close at the moment.
The Penguins added Ron Hainsey last week to help deal with a rash of injuries to their blue line.
9:06am: Senators GM Pierre Dorion speaks on TradeCentre
Dorion said the team will only deal Curtis Lazar if it's a "hockey trade." Dorion said the team has invested a lot in the 2013 first-round pick.
He added the team is still open to making more trades.
Dorion then suggested a trade for TSN... "We'd like to trade Brent Wallace for Sara Orlesky.''
8:56am: What about the West?
Farhan Lalji, Ryan Rishaug, Jermain Franklin and Sara Orlesky shed light on what can be expected on trade deadline day from each of the Canadian teams in the Western Conference.

8:38am: Atlantic Expectations
John Lu, Mark Masters and Brent Wallace set up trade deadline day for the Canadiens, Maple Leafs and Senators and break down what's expected from each of the Eastern Conference Canadian teams.
8:25am: Panthers set to pounce?
Craig Custance of ESPN reports the Florida Panthers were in on Jannik Hansen before he was traded to the San Jose Sharks and remain interested in adding a scoring winger.
Custance believes the Panthers could go after Thomas Vanek or Radim Vrbata, if the price is right.
8:15am: Price for Lazar remains high
Bruce Garrioch of the Ottawa Sun reports the Ottawa Senators have received an offer of a second-round pick for Curtis Lazar, but won't move him for that return.
Garrioch believes the team would move the former first-round pick for a first-rounder, while Dreger notes a quality prospect could get a deal done.
8:05am: Hamonic's staying put
TSN Hockey Insider Darren Dreger reports the New York Islanders will not be trading Travis Hamonic, who pulled his trade request last summer.
Dreger reports that the Islanders are, however, in the market for a forward today. The Islanders sit one point back of the Maple Leafs for the second wild-card spot.
8:02am: One domino, then another?
LeBrun notes Thomas Vanek's market will begin to form once Radim Vrbata is traded. Vrbata has 15 goals and 47 point this season to Vanek's 15 goals and 38 points. Both are set to become free agents this summer.
8am: Canadiens not done yet
According to TSN Hockey Insider Pierre LeBrun, the Habs are looking to more size, despite adding Steve Ott in the early hours on Wednesday.
7:28am: Leafs looking for defence?
TSN Hockey Insider Bob McKenzie reports the Toronto Maple Leafs are looking to add defence ahead of the deadline.