TSN delivers exclusive coverage of Biosteel All Canadian Basketball Game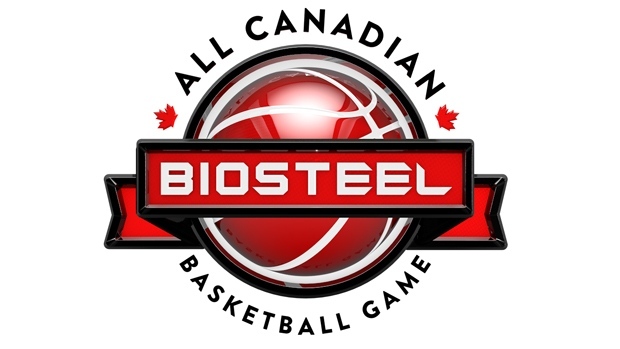 TORONTO (March 14, 2018) – TSN is set to again bring Canada's next generation of basketball stars to viewers, as Canada's Sports Leader today announced broadcast details for the fourth annual BIOSTEEL ALL CANADIAN BASKETBALL GAME. Airing exclusively on TSN on Monday, April 9 at 8 p.m. ET, the BIOSTEEL ALL CANADIAN BASKETBALL GAME features 24 of the top Canadian high school basketball stars, and airs live from the University of Toronto's Goldring Centre for High Performance Sport.
The players participating in the 2018 BIOSTEEL ALL CANADIAN BASKETBALL GAME will be revealed during the halftime show of the NBA ON TSN when the Toronto Raptors host the Oklahoma City Thunder at the Air Canada Centre this Sunday, March 18 at 1 p.m. ET on TSN1, TSN3, and TSN4.
In addition to the BIOSTEEL ALL CANADIAN BASKETBALL GAME, numerous events are set to take place at the Athlete Institute in Orangeville, Ont., on Sunday, April 8 as part of the Nike Skills Challenge. Returning are the BMO Slam Dunk Competition, Sport Chek 3-Point Shootout, and the BioSteel All Canadian Futures Game, with the BioSteel All Canadian Women's Showcase making its debut this year. Additional details, including participants, will be announced in the coming weeks.
"I'm more excited than ever about the BIOSTEEL ALL CANADIAN BASKETBALL GAME", said John Celenza, BioSteel Co-Founder and CEO. "We are beginning to see previous All Canadians performing well at the NCAA and NBA level. Our game has proven to be a great stage for 'Who's Next?' The fact that we were able to add a women's component to this year's game only heightens the excitement. It's definitely a great time for Canadian basketball!"
"As we mark the fourth year of bringing the BIOSTEEL ALL CANADIAN BASKETBALL GAME to viewers across the country, we're proud to again partner with BioSteel and PRSE on this marquee basketball event and showcase the next generation of Canadian basketball talent," said Shawn Redmond, Vice-President of Content Strategy and Business Operations, TSN.
"This year's game stands to be stronger than ever. The 2018 rosters are extremely talented and we are happy to see that all participants are more than excited to showcase themselves in front of their country," said Jesse Tipping, President of Pretty River Sports & Entertainment. "Being four years into the event, we are now able to see past BACG alumni excelling in the NCAA and NBA. It will be amazing to see what the next 10 years will look like with the amount of talent that is coming out of Canada. The BACG team puts in a lot of effort year round in order to make each event better than the last and this year is no different."
The slate of sponsors for the fourth annual BIOSTEEL ALL CANADIAN BASKETBALL GAME includes new and returning partners, headlined by presenting sponsor BMO, as well as Nike, Sport Chek, and AMJ Campbell.
Alumni of the BIOSTEEL ALL CANADIAN BASKETBALL GAME currently in the NBA include Denver Nuggets guard Jamal Murray and Milwaukee Bucks power forward Thon Maker.
Selection Committee
An eight-person selection committee will determine the athletes competing in this year's BIOSTEEL ALL-CANADIAN BASKETBALL GAME. The committee is comprised of a cross-section of Canadian basketball stakeholders; including provincial and territorial representatives, clubs, coaches, and scouts from across the country. Additional information regarding the selection process is available through the official website.
The selection committee includes:
Pasha Bains – DRIVE Basketball, BC
Dan Becker – Basketball Manitoba
Ryan Dickison – Basketball Nova Scotia
Greg Francis – Canada Basketball
Charles Hantoumakos – Athlete Institute, ON
Shane James – Canada Elite, ON
Joey McKitterick – Brookwood Elite, QC
Michael Meeks – Canada Basketball