An analytical preview of the Eastern Conference playoffs
Travis Yost takes a closer look at the key performance indicators for each first-round series of the Stanley Cup playoffs, beginning with the Eastern Conference matchups.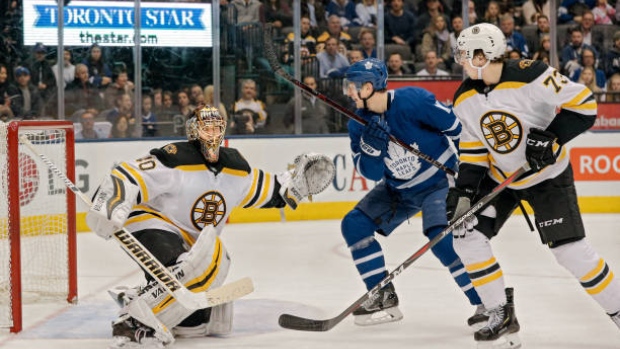 After six months and 1,230 regular-season games, we finally have hockey's version of a Sweet 16.
In what's become an annual tradition here at TSN, I'm here to breakdown each first-round series matchup from an analytical perspective. We start with the Eastern Conference today and will post the Western Conference on Tuesday.
I'll be sharing key performance indicators for each series as well as my own personal thoughts about each matchup. And yes, I'm just as excited as you are about the coming weeks.
Let's start in the Metropolitan Division with the Washington Capitals and Columbus Blue Jackets: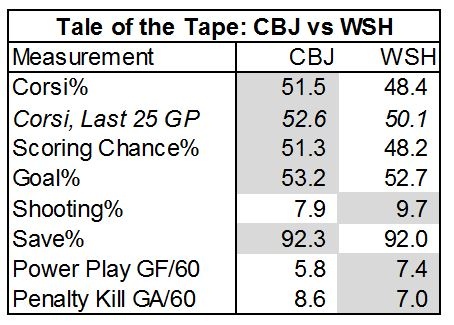 I've mentioned this in the past few weeks but if there is one team that's on fire down the stretch, it's the Columbus Blue Jackets. And, if a bad matchup is able to present itself, you know the Washington Capitals are going to find it.
There are a lot of teams playing well of late but no team has seen greater material improvement across the board than John Tortorella's Blue Jackets. Early in the season this was a team still trying to make sense of what their lineup really looked like. By game 82 the answer was clear. What makes them such a terrifying draw is that they check most of the requisite boxes for a team that can make a playoff push – they have depth at the forward position, perhaps the best defensive pairing (Seth Jones and Zach Werenski) in the National Hockey League, and a likely Vezina Trophy finalist in Sergei Bobrovsky. At a minimum, for 25 to 30 minutes a night the Blue Jackets are a terrifying team to play against.
There should be little doubt in anyone's mind that Columbus is the better even-strength hockey team here. The Blue Jackets have been better from a shot perspective, scoring chance perspective, and goal perspective all season long, and in many cases by a considerable margin. In the last 25 games – a predictive measure for playoff success – their Corsi% has taken another jump forward into what I'd consider elite territory, hovering just under 53 per cent. The depth on the team is driving a lot of this, I think, but having a star in Artemi Panarin (playing primarily with Cam Atkinson and one of Josh Anderson or Pierre-Luc Dubois) is helping move the needle quite a bit, too.
If this entire series were to be played at even strength, I'm just not sure how the Capitals get through. But that's the beauty of hockey. Penalties matter, and what makes this series so compelling is that the Blue Jackets have a dreadful power play and equally bad penalty kill. The Capitals, meanwhile, generate goals on the power play at a rate that only a few other teams in the league do – and a lot of that has to do with the seven-time Rocket Richard winner, Alexander Ovechkin.
The Capitals score 41 per cent more frequently on the power play than the Blue Jackets do, which is a pretty massive advantage. But the Blue Jackets have been surprisingly disciplined this year – their 600 total penalty minutes were third best in the league, behind only the Hurricanes and Maple Leafs. That might help marginalize Washington's decisive special teams advantage by a fair bit.
So if you're looking for a first-round upset, this has to be one that you circle. The Blue Jackets are generally a stronger team in the most important game state and could marginalize the one big advantage that the Capitals have.
Prediction: Blue Jackets over Capitals
--
Pittsburgh Penguins vs. Philadelphia Flyers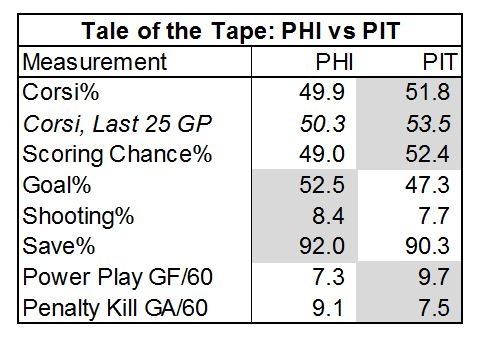 Just about everything broke right for the Flyers this season. Claude Giroux had a Hart-worthy season, Sean Couturier exploded in a more offensive role and their highly touted young defensive crop – anchored by Shayne Gostisbehere and Ivan Provorov – gelled quicker than expected.
But there's no doubt they are running into a buzz saw here. The Penguins started the season incredibly slow – 42 games into the season, they were still -18 in goal differential. Since then, they have been obliterating the competition. And whether you're looking at more recent data or the full-season picture, the Penguins match up quite well with this Flyers team.
One thing that should scare you if you are a Flyers fan is that the penalty kill really hasn't ever been sorted out. The Flyers were 29th in the league at suppressing goals against down a man, and a lot of that seems attributable to a defensive corps that is really better suited to play other phases of the game. Provorov, Radko Gudas, Andrew MacDonald, and Robert Hagg have soaked up most of the minutes on the kill, and that group on four has given up an average of 9.2 goals against per-60 minutes. (For a point of reference, the average NHL team gives up about seven goals against per-60 minutes there.)
That's bad news against any team but doubly bad against Pittsburgh, who comfortably owned the league's most productive power-play unit in the 2017-18 season. It's difficult to think about defending Mike Sullivan's first unit – they throw Sidney Crosby, Evgeni Malkin, Phil Kessel, into premier shooting areas, let big-bodied Patric Hornqvist work the interior, and utilize one of Kris Letang or Justin Schultz to whip the puck around from the blueline. It's a dreadful matchup for any team, but I just don't see what the Flyers can do outside of playing an ultra-disciplined game.
One thing I think the Flyers will do with some degree of success is the harass Penguins goaltender Matt Murray. Murray did not have a strong season – he ended up finishing with a 90.7 per cent save percentage in all situations, well below his regular season and playoff marks in 2015-16 and 2016-17. The Flyers have a knack for scoring goals in the dirty areas and I expect to see an awful lot of traffic in front of the Pittsburgh crease for as long as the series lasts.
But I don't think the series will last all that long. The Flyers, I think, would have much preferred a series against any other Metropolitan team. The Penguins are just too talented at the top of their lineup and have the type of weapon in their phenomenal power play that can single-handedly crush an opponent.
Prediction: Penguins over Flyers
--
Moving over to the Metropolitan Division now, let's take a look at Tampa Bay and New Jersey: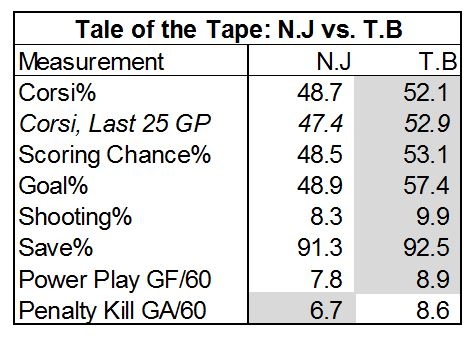 There are teams that can expose some of Tampa Bay's weaknesses, and there's no doubt that the speed in New Jersey's top-six is going to give the Lightning blueline some issues. That said, Tampa Bay probably has the highest likelihood of any team in the East to advance in Round 1. Depending on how you rate Nashville's chances against Colorado, perhaps the highest chance of any team in the league.
The Devils really are a tale of two teams. With Taylor Hall's line on the ice they have been wondrous, putting 51 per cent of the shots and 59 per cent of the goals in New Jersey's favour. When he is off of the ice, those numbers slide down to 47 per cent of the shots and 44 per cent of the goals. That's the part where you see shades of what the Devils were supposed to be this year – a rebuilding team that's still probably a year or two away. If anything it speaks to how good Hall and company have been.
The problem that New Jersey will run into here, of course, is that Tampa Bay can just throw wave after wave of bodies at Hall and then beat up on what's left of the Devils depth. If Tampa Bay is fully healthy, one of the two lines is going to get significant ice-time against the Devils depth: Kucherov-Miller-Stamkos, or Palat-Point-Kucherov.
I think the Lightning are sitting pretty comfortable regardless of what happens on the injury front, but there has to be some degree of concern about the status of Steven Stamkos, who hasn't played since an April 1 game against Nashville. Head coach Jon Cooper has said that the goal is to get him practising and up to game speed in time for this series, but his availability for Game 1 is still an unknown.
With or without Stamkos though, the Lightning really are terrifying. Offensively the Bolts comfortably – and I mean comfortably – led the league with 3.5 goals per game. If you back out Stamkos' 27 markers this year (and assume a replacement player wouldn't score a single goal in his absence), Tampa Bay's goals-per-game average drops to 3.2 goals per game. That'd still be hovering around top-five in the NHL.
New Jersey is one of the more fun stories the league has had in a while and I think their team speed is going to make Tampa Bay comfortable at times. But the Lightning are too electric in the offensive zone and have pounded teams at even strength and on the power play all year long. This is a tough ask for the Devils.
Prediction: Lightning over Devils
--
Boston Bruins vs. Toronto Maple Leafs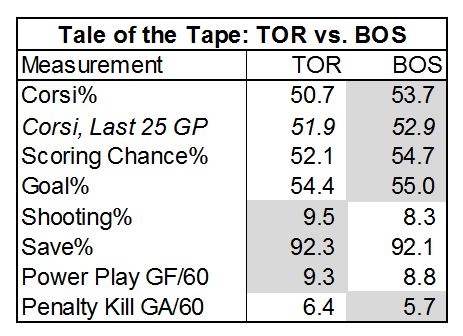 Five years after one of the most stunning playoff eliminations in recent history, the Maple Leafs have a shot at redemption against their old foe. Publicly, they'll say they are up for the task. Privately, I think they are probably upset at the draw.
As is the case every year with the NHL's ridiculous divisional-based playoff format, some teams get put into really tough draws and other teams inexplicably earn easier matchups. Toronto is definitely in the former category. Keep in mind that Mike Babcock's team finished seventh in the NHL in points and third in the Eastern Conference. In any other league, that's grounds for a semi-comfortable first-round draw against an inferior opponent.
But because Tampa Bay, Boston, and Toronto – three of the league's top-tier teams – all play in the Atlantic Division, two of them inevitable had to face one another. So Toronto's reward for the most winning season in franchise history is playing a Boston team that finished fourth in the NHL and second in the Eastern Conference. It makes little sense.
This matchup is worthy of a second or third-round series. Toronto and Boston are both elite 5-on-5 teams – look at their chance rates or goal rates itemized above if you need confirmation of that. They also boast two of the top-five power plays and two of the top-seven penalty-kill units. Starting goaltenders Freddy Andersen and Tuukka Rask have both been fantastic this season.
There's no doubt that these two teams are evenly matched. Out of curiosity, I went and looked at how the two teams fared during the regular season against one another and the results were pretty close. Toronto won three of the four games, but credit some of that to special teams. At 5-on-5 they were -2 in goals, -9 in scoring chances, and -10 in shots. That's a pretty competitive four-game series.
This certainly feels like the closest of the eight series to be played in the first round. I'm not sure Toronto will have any sort of answer for the Bergeron line (who does?), but I'm also not sure Boston has any answer for the depth that Toronto possesses. This Bruins team is a completely different animal from one season ago, but one thing we learned last year is that if a team can just somehow stay afloat against Boston's top line, the team can be beat.
Toronto is one of the very few teams that have this type of arsenal at their disposal. Although it feels like a coin flip, I'm going to roll with the Leafs here in a long series.
Prediction: Maple Leafs over Bruins