Brodeur, rest of 2018 HHOF class get rings
NHL commissioner Gary Bettman, goalie Martin Brodeur, diminutive winger Martin St. Louis, league trailblazer Willie O'Ree, Canadian women's star Jayna Hefford and Russian great Alexander Yakushev received their Hall of Fame rings today in Toronto.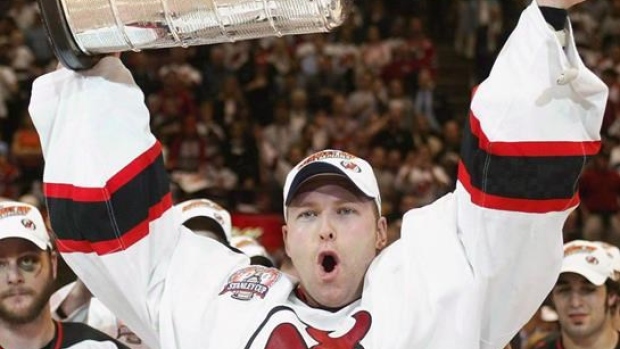 TORONTO — Martin Brodeur's father took pictures of many of the greatest players in NHL history.
His son's plaque now sits amongst those legends in the Hockey Hall of Fame.
Three-time Stanley Cup champion Martin Brodeur and the rest of the class of 2018 received their Hall of Fame rings Friday to kick off a weekend of festivities that will culminate with Monday's induction ceremony.
Team photographer for the Montreal Canadiens during their glory years, Denis Brodeur snapped shots of Jean Beliveau, Guy Lafleur, Patrick Roy and countless others throughout his own storied career.
"It's kind of a surreal moment for me to live this," Martin Brodeur said of being enshrined in the hall. "When you play the game, you never really think about these things."
Brodeur won the Vezina Trophy as the NHL's top goalie four times with the New Jersey Devils, took home the Calder Trophy for rookie of the year, owns two Olympic gold medals and is the NHL's all-time leader in victories (691) and shutouts (125).
"I was asked a lot of questions about a lot of different things when I played," said the 46-year-old, who retired in 2015 and owns or shares 12 league records. "But when you take a step back after you retire, you understand a little bit where you stand in hockey."
Denis Brodeur, who died in 2013, took Martin for the first skate of his young life on the ice at the old Montreal Forum when he was a toddler.
Now his son is in the hall.
"With my dad being so close to the hockey world, I got to meet a lot of these guys," Martin Brodeur said. "I was fortunate to play with a lot of guys that are in the Hall of Fame — Doug Gilmour, Dave Andreychuk, (Viacheslav) Fetisov and (Igor) Larionov. I was coached by Larry Robinson and Pat Burns and Jacques Lemaire ... I forgot about Lou (Lamoriello).
"I was fortunate to be around a lot of guys that made their mark in hockey."
NHL commissioner Gary Bettman, diminutive winger Martin St. Louis, league trailblazer Willie O'Ree, Canadian women's star Jayna Hefford and Russian great Alexander Yakushev are the other five 2018 inductees announced back in June.
Brodeur and St. Louis were eligible to be selected by the 18-member committee for the first time. Nominees require 75 per cent of the vote to make the cut.
"Until we were flying up today as a family, it really didn't really start to hit," Bettman said. "It's started to take a more real quality to it."
The NHL has grown from 24 to 31 teams since Bettman took over as commissioner in 1993, with annual revenue ballooning to nearly US$5 billion. He's also overseen three lockouts, including the cancellation of the entire 2004-05 season, with another work stoppage potentially looming in either 2020 or 2022.
"We have the greatest game in the world, we have the greatest athletes in the world playing our game, and our fans are the greatest," said Bettman, 66. "And when you put that combination together, the sky's the limit as to how much more we can even grow this game."
St. Louis went from not being drafted to a 17-year NHL career that included 1,033 points and a Hart Trophy as league MVP. The five-foot-eight winger won the Stanley Cup with the Tampa Bay Lightning in 2003-04 and was on Canada's men's Olympic team that brought home gold in 2014.
"You're thinking of trying to get another game, trying to find your place in the league," St. Louis said. "Your goals change as you progress as an athlete. I didn't start thinking about the Hall of Fame until I retired."
The 43-year-old won two scoring titles and is one of just six undrafted players in NHL history with 1,000-plus points.
"My goal has always changed throughout my career," said St. Louis, who spent parts of two seasons with the Calgary Flames before being cut loose in 2000. "I like setting short-term goals.
"If you start thinking big picture, you kind of get lost."
O'Ree became the NHL's first black player when he was called up by the Boston Bruins in 1958. He had a long career in the minors, but played just 45 NHL games. O'Ree returned to the league's fold in 1996 as an ambassador.
Named to the Order of Canada in 2008, the 83-year-old said the Hall of Fame ring is a symbol of the barriers he broke down and the doors he opened.
"The hard work I've done over there years, there's a meaning to it," he said. "I'm just very happy and very grateful."
A giant in the women's game, Hefford won four Olympic gold medals and seven world championships for Canada.
"It's a huge honour," said the 41-year-old. "It's an opportunity to celebrate my whole career, but also celebrate the people that were a big part of it.
"I'm just trying to take it all in."
Yakushev, meanwhile, starred for the USSR at the 1972 Summit Series against Canada, scoring seven goals to tie for the tournament lead. The 71-year-old won Olympic gold in 1972 and 1976, led his country to seven world titles and was elected to the IIHF Hall of Fame in 2003.
"The Summit Series was very important the hockey world," Yakushev said through an interpreter. "Russian hockey and Canadian hockey became better."
___
Follow @JClipperton_CP on Twitter