Surge hold off Stingers to earn first win
The Calgary Surge led start to finish in a 74-70 win over the Edmonton Stingers in their inaugural game at WinSportEvent Centre on Saturday (May 27).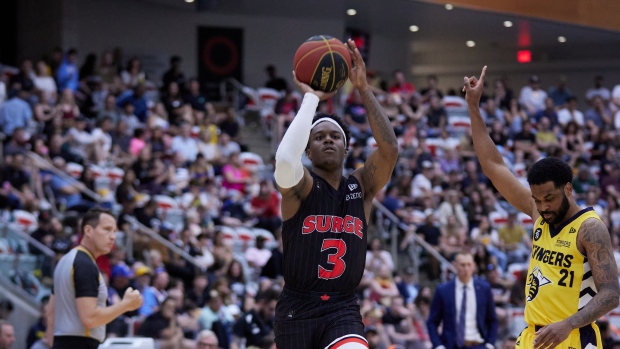 The Calgary Surge led start to finish in a 74-70 win over the Edmonton Stingers in their inaugural game at WinSportEvent Centre on Saturday (May 27).
Calgary took a 12-point lead into target score time in the first-ever battle of Alberta, but Edmonton crawled back before Stef Smith closed the contest at the charity stripe.
"With all of the energy in the building...I was just pleased that our guys channelled it into defence and finding a way to get those rebounds and stops at the end," Surge head coach Nelson Torreba said. "Sometimes you got to win ugly and when you win ugly, it's a beautiful thing."
A balanced offensive attack powered the Surge to victory with four players reaching double-figures. Simi Shittu led the way for Calgary with a double-double in his CEBL debut. He scored 17 points on 7-12 shooting and snagged 14 rebounds in the win.
"That's my game. I want to be a two-way player," Shittu said. "Rebounding is a big thing for our team and I want to be able to attack and show every facet of my game." Smith also contributed an all-around performance to the Surge with 16 points, 6 rebounds, 4 assists, 4 steals and the game-winner. Additionally, Admon Gilder chipped in 15 points and Sean Miller-Moore tallied 14 for Calgary in the win.
Meanwhile, Adika Peter-McNeilly and Martynas Varnas each scored a team-high 14 points for the Stingers in Jordan Baker's debut as head coach. Baker's former teammate with Edmonton, Brody Clarke, also notched 9 points and 13 rebounds in the loss. The Stingers' top three scorers shot a combined 28 per cent from the field on 45 attempts.
Edmonton struggled offensively overall at just 32 per cent from the field and 10 per cent from three. However, they made up for their shooting woes by attempting 23 more field goals than Calgary through 21 offensive rebounds and forcing 31 turnovers. Calgary fared better from the field and shot 47 per cent as a team, but struggled in specific areas. They shot 15 per cent from beyond the arc and 57 per cent from the free throw line.
"I thought the effort was good but the execution definitely could have been a lot better," Baker said. "But it's game one and we've got a lot of new faces in the building with only a short time to get together."
Calgary started the game strong on an 8–0 run and held Edmonton scoreless for the first four minutes on 0-12 shooting. Shittu scored the first basket in Surge history and showed off his athletic ability with a dunk early in the quarter. Miller-Moore showed off his bounce as well with a high-flying transition jam later in the quarter. Despite the slow start, Edmonton climbed back into the game and trailed 21-17 after 10 minutes.
Both teams struggled offensively in the second quarter with neither team reaching 10 points. There was just one combined basket in the first five minutes of the quarter off of a Chandler Vaudrin putback for Edmonton. The Surge went on a small run to extend their lead to seven points but Varnas and Peter-McNeilly cut the deficit down to 29-26 heading into halftime.
Edmonton shot just 23 per cent from the field and 13 per cent from three in the first half. Calgary shot 50 per cent from the field but just 14 per cent from three and turned the ball over 17 times.
Calgary's Trevon Scott started the second half with a steal and slam before Miller-Moore unleashed a driving dunk of his own on the Stingers moments later. An 11-2 run to begin the third quarter put the Surge ahead 40-29, but the Stingers made a run to cut the lead back to five. The two squads traded free throws late and Calgary carried a 49-43 lead into the final frame.
The Alberta squads traded runs to start the fourth quarter, with Calgary extending the lead to nine before Edmonton answered with a 6-0 run to make it a one-possession game. Smith and Gilder struck back for the Surge and forced a timeout from Baker. The Surge were able to extend their lead to 65-53 heading into target score time after a big three from Bourcier and a transition slam from Smith.
In target time, the Stingers stayed resilient and climbed back, cutting the lead to 69-65 after a Geoffrey James and-one. Smith and Miller-Moore put the Surge one point away from victory with a pair of free throws each. However, Calgary had three consecutive turnovers with a chance to win and Edmonton cut the lead to three. Smith was fouled on a rebound and put the game away at the free throw line.