Canada's Greatest Curlers: Jones honoured as best skip in history
Jennifer Jones and Sandra Schmirler. They are the only skips to capture the three pinnacles of Canadian curling – the Scotties Tournament of Hearts, the world championship and Olympic gold.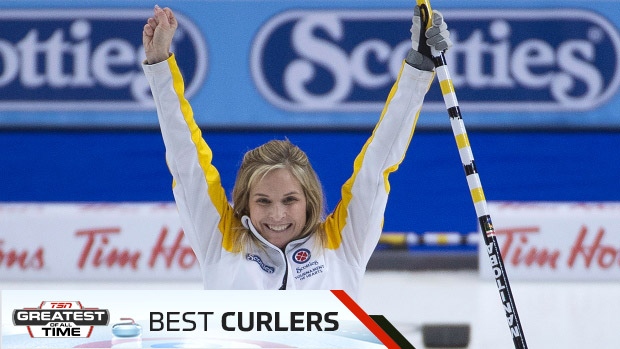 Jennifer Jones and Sandra Schmirler.
They are the only skips to capture the three pinnacles of Canadian curling – the Scotties Tournament of Hearts, the world championship and Olympic gold.
So it would make sense that the pair would finish in the top two for the Greatest Canadian female skip of all time. Jones received 16 first-place votes – a panel comprised of 31 curling personalities including broadcasters, reporters and elite-level curlers voted in the survey – to Schmirler's nine and finished with 176 total points, 44 more than Schmirler.
Panel members cast their votes using a weighted point system. Eight points were awarded for a first-place vote, four points for a second-place vote, two points for a third-place vote and finally one point for a fourth-place vote.
Six-time Scotties champ Colleen Jones finished third with five first-place votes and a score of 95 while Rachel Homan grabbed fourth with a score of 25. Manitoba's Connie Laliberte, winner of three Canadian championships, also received a single first-place vote.
Jones and Schmirler have had countless shining moments in their careers with their brightest coming when it mattered most – a hallmark quality for any legendary skip. Whatever the situation, the prairie skippers were able to see a shot that an average skip wouldn't even dare think of taking. And then they would make it.
For this reason, Jones and Schmirler have rightfully earned their spots on the top of the curling mountain.
The Greatest Canadian Female Skips

Stats
| Name | Rank | Totals Score | Years | Scotties | Worlds | Olympics | Totals |
| --- | --- | --- | --- | --- | --- | --- | --- |
| Jennifer Jones | 1 | 176 | 2005-2019 | 6 | 2 | 1 | 9 |
| Sandra Schmirler | 2 | 132 | 1993-1998 | 3 | 3 | 1 | 7 |
| Colleen Jones | 3 | 95 | 1982-2004 | 6 | 2 | - | 8 |
| Rachel Homan | 4 | 25 | 2013-2019 | 3 | 1 | - | 4 |
The "Years" column is the range of seasons from their first gold medal at an Olympics/Worlds/Scotties to their last. If they're still active, the second year will be 2019.
Jennifer Jones (Manitoba)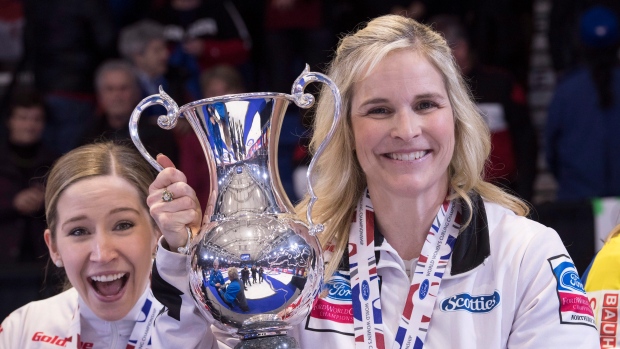 From her Hail Mary game-winner at the 2005 Scotties to standing atop the Olympic podium in 2014, it should come as no surprise that Jennifer Jones has been voted the greatest Canadian skip of all time. After all, she's still considered to be one of the best curlers in the game today at age 44.
Over a career that spans nearly three decades when you include juniors, Jones has amassed six national championships, two world titles, nine Grand Slams and one Olympic gold medal, making the Winnipeg native one of most decorated curlers in history.
A seventh Scotties victory in Sydney, N.S., later this week will give Jones the most of all time, passing Hall of Famer Colleen Jones and longtime teammate Jill Officer.
Jones's magic touch is a major reason why she earned so many first-place votes. Whenever a situation seems dire, Jones has the rare ability to make the most difficult shots to keep her team alive or even win.
This was no more apparent than when most of us were introduced to Jones at the 2005 Scotties in St. John's. She made a pressure-packed in-off to beat Ontario's Jenn Hanna for her first Canadian championship. Fourteen years later, the mother of two hasn't missed a beat. Jones made a raise double takeout against Kerri Einarson to secure a record fourth Canada Cup title earlier this season.
Whatever the shot, Jones, at the very least, has a chance of making it and that's why she's earned the right to be called the greatest Canadian skip of all time.
Sandra Schmirler (Saskatchewan)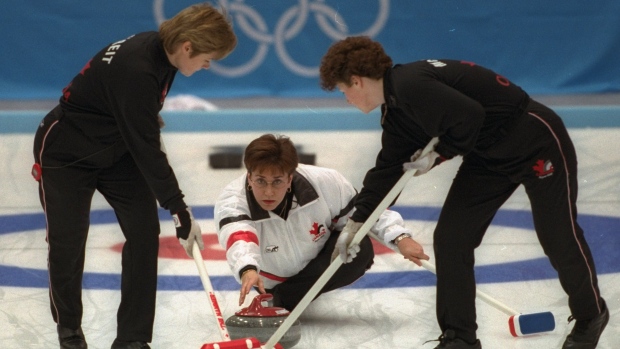 No curler has had a larger or more impactful legacy on the game than Sandra Schmirler.
The Biggar, Sask., native first started throwing rocks in Grade 7 and competed in her first provincial playdown in 1983. By 1987 she was at the Canadian championship playing third for a rink led by Kathy Fahlman.
However, Schmirler didn't truly hit her stride until the 1990s following the formation of a rink including third Jan Betker, second Joan McCusker and lead Marcia Gudereit. The Regina-based foursome won three Scotties Tournament of Hearts titles and three world championships from 1993 to 1997.
It was a truly remarkable stretch of winning, but Schmirler the Curler wasn't done yet. She was saving her best performance for the '97 Olympic trials. After giving birth to her first child, Sara, a few weeks prior, Schmirler needed to breastfeed before multiple games during the week in Brandon, Man.
Despite dealing with the stress and responsibilities of being a new mom, Schmirler found herself in the final against Alberta's Shannon Kleibrink. In the seventh end, the skip faced the reality of making a supremely difficult in-off to score three and prevent a steal. She made it flawlessly as the shot still holds true today as one of the best in history.
A few months later, Schmirler was an Olympic champion after outlasting the competition in Nagano, Japan.
Schmirler competed in her last Scotties Tournament of Hearts a few weeks later in Regina.
In August of 1999, she was diagnosed with cancer. The tragic and shocking news made front page headlines across Canada. Schmirler died in her sleep at the Pasqua Hospital Palliative Care Unit in Regina on March 2, 2000, at the age of 36.
Then Prime Minister John Chretien released a statement following her passing.
"All Canadians have been touched by the untimely death of Sandra Schmirler. Most of us came to know her through her exploits as a champion curler and as an exemplary sports ambassador for Canada," Chretien said. "But what really set her apart was her bright, engaging personality and her incredible zest for life, qualities that were so clearly in evidence as she fought so valiantly against her illness. She will be sorely missed."
Six-time Scotties champ Colleen Jones and other curlers also paid their respects to one of the most well-liked athletes in the sport's history.
"When you played her you were in awe," Jones told TSN's Bob Weeks. "You knew she was better. You knew she was going to beat you. It was like playing against Gretzky."
Schmirler was inducted into the Canadian Curler Hall of Fame in 1999 before her death and her Olympic squad was named team of the year in 1998 by The Canadian Press. She was posthumously inducted into both the Canadian Sports Hall of Fame in 2000 and the World Curling Federation Hall of Fame in 2009.
Today, Schmirler the Curler's legacy lives on with the Sandra Schmirler Foundation which raises funds to purchase life-saving equipment for babies born prematurely.
Colleen Jones (Nova Scotia)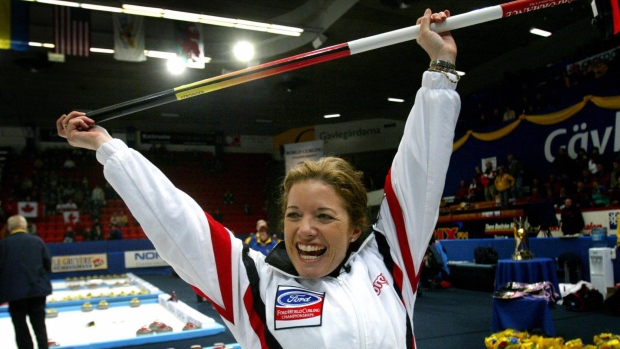 This summer, the Nova Scotia Hall of Fame named their top 15 athletes of all time.
Not surprisingly, three-time Stanley Cup champion Stanley Crosby was named the best athlete in the province's history. And who was behind Sid the Kid? Curling legend Colleen Jones.
Part of this prestigious honour can be attributed to Jones's longevity on top. Going over two decades between winning your first and your last national championship doesn't seem realistic. Expect it if you're the Halifax native.
In 1982 at the age of 22, Jones became the youngest skip in history to win the Scotties Tournament of Hearts, edging Manitoba's Dorothy Rose 8-7 in the final all while shooting an impressive 86 per cent.
Despite winning numerous Nova Scotia Scotties, Jones was unable to stand atop the podium at nationals throughout the rest of the 1980s and almost all of the '90s.
Things changed when she formed the crew of third Kelly Law, second Mary-Anne Arsenault and lead Nancy Delahunt as the foursome captured the Canadian championship in 1999.
That was only the beginning.
From 2001 to 2005, Jones became the first and only skip in history to win four straight national titles, capping it all off at age 44 in Red Deer, 22 years after winning her first in Regina. She added world titles in 2001 and 2004.
Jones was inducted into the Curling Canada Hall of Fame in 1989 and continued finding success following her Scotties days, winning the World Senior Championship in 2017.
Rachel Homan (Ontario)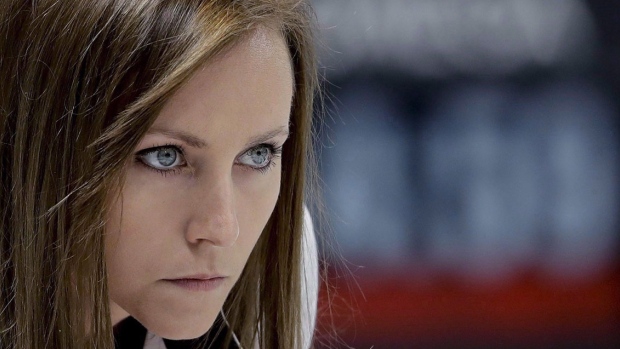 Rachel Homan might end up being the greatest skip of all time when her career is all said and done. For now, she'll have to settle for fourth.
Homan started curling competitively with third Emma Miskew in 2002 and the pair have been together ever since, growing into one of the strongest back-end duos in curling.
At just 29, Homan has already captured three Canadian championships, one world title and a record 10 Grand Slam victories. And with at least two (maybe even three) opportunities to represent Canada at the Olympics left in her career, Homan has a real chance at adding more hardware to her mantel.
The steely-eyed skip is just entering the prime of career and isn't going anywhere anytime soon.
Canada's Greatest Curlers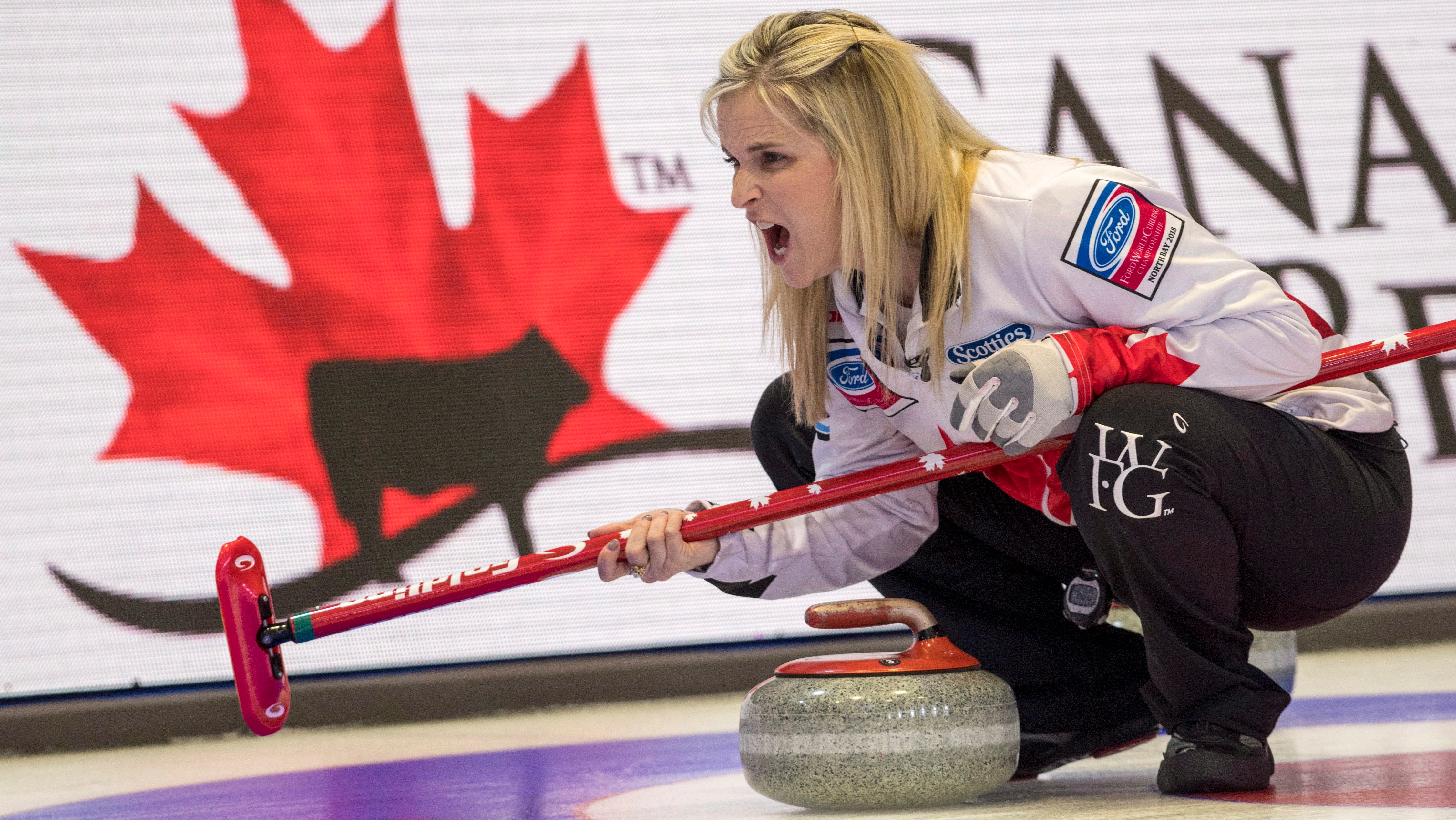 Who is your pick for the greatet Canadian female skip of all-time?