Canadian player profile: Stephanie Labbe
Canada's No. 1 goalkeeper is set for her first World Cup as a starter.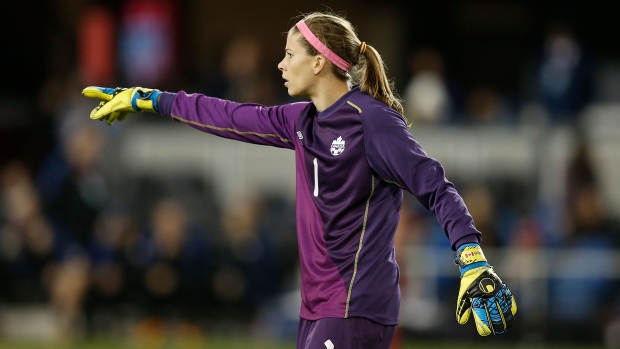 The Canadian national women's soccer team kicks off its 2019 FIFA Women's World Cup campaign on June 10 against Cameroon. TSN will profile Canada's 23 players in the 23 days leading up to their tournament opener.
STEPHANIE LABBÉ
Age: 32
Hometown: Stony Plain, Alta.
Position: Goalkeeper
Club team: North Carolina Courage (NWSL)
This will be Stephanie Labbé's third Women's World Cup, but her first as a starter. In fact, Labbé has yet to play a single minute at a senior World Cup.
She has had experience at youth-level world championships. She was called into action in the third minute of the quarter-final match against China at the 2004 FIFA U-19 Women's World Championship after starting goalkeeper Stacey Van Boxmeer picked up a red card. Canada would lose the game 3-1.
Two years later, she started in all three group games for the Canadians at the U-20 Women's World Championship in Russia as Canada failed to advance to the knockout round.
Labbé was 21 when she made her national team debut on July 27, 2008, and for almost a decade, she was relegated to the role of third-string goalkeeper, unable to supplant Erin McLeod or Karina LeBlanc. From 2008 to 2016, Labbé made 25 appearances for Canada. Over that same stretch, McLeod played in 67 games, and LeBlanc featured in 47.
Then McLeod tore her right ACL for a third time while playing for her club, FC Rosengård, shortly after Canada qualified for the 2016 Rio Olympics. With LeBlanc retired, Labbé was suddenly thrust into the starter's role just six months before the Olympics.
She started in five of Canada's six games during the Rio Games, earning two clean sheets and helping Canada to its second straight bronze medal.
Since assuming the No. 1 position, Labbé has started in 35 games for Canada, and has recorded 16 clean sheets. She has yet to concede a goal in the four games she has started this year.
Labbé also made headlines last year when she tried out for Calgary Foothills F.C., a men's club formerly of the Premier Development League. While Labbé earned a spot on Calgary's roster, the PDL shot down the opportunity, citing "gender-based" requirements.
Despite the setback, Labbé wrote in a blog post that her confidence was "higher than ever." Labbé joined the women's side of the Foothills club for the remainder of the season. This year she signed with North Carolina Courage, the defending NWSL champions.