Carey captures second Canadian championship after Homan's misses
Rachel Homan had two opportunities to win the fourth Canadian championship of her career. She missed them both. Alberta's Team Chelsea Carey outlasted Ontario's Team Homan, 8-6, in an extra-end thriller that turned out to be one of the best Scotties Tournament of Hearts final in years.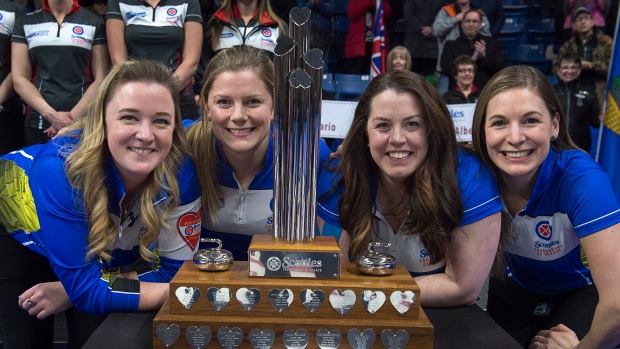 SYDNEY, N.S. – Rachel Homan had two opportunities to win the fourth Canadian championship of her career.
She missed them both.
Alberta's Team Chelsea Carey outlasted Ontario's Team Homan, 8-6, in an extra-end thriller that turned out to be one of the best Scotties Tournament of Hearts finals in years.
Homan could have won the title with draws to the four-foot in both the 10th and extra end, but came up short both times, giving Carey the second Scotties championship of her career.
"I don't think I even know what just happened. I'm still in shock," said Carey after the game. "We wanted to make her throw that draw because that path is pretty slow and so we set it up at the start of the end and managed to do it, but I still expected her to make it.
"It hasn't hit me yet for sure, but I'm sure I'll be very excited when it does."
Homan was quick to get to the point in a post-game interview immediately following the game.
"Obviously disappointed. We wanted to win that one and just came up short when we had every opportunity to win," said Homan. "We just missed a few too many."
Sunday night's clash at Centre 200 in Sydney was a tale of two different halves.
Ontario controlled the first half of the game with consecutive steals in the first two ends before grabbing a three-spot in the fourth, giving them a 5-1 advantage.
Things got interesting after the break, however.
In the sixth, Homan missed a raise takeout before missing a tap an end later, both resulting in steals of one.
Then in the 10th, Homan had a chance to win the championship with a draw to a piece of four-foot but came up just short for Carey's third stolen point in five ends.
Homan had the same opportunity in the extra to win it and once again was light in one of the more stunning moments in Scotties history.
A player of Homan's calibre doesn't miss shots like that, especially twice in the same game. The Ottawa native shot 75 per cent Sunday, the lowest of her four career Scotties finals appearances.
At 29, Homan could have become the youngest skip in history to win four Scotties titles.
Third Emma Miskew supported her skip after the game saying the ice was tricky along that path all game long.
"It's a very inconsistent surface, and it was hard to know where to put the broom and exactly how much weight to throw. I wouldn't have wanted to throw it myself," said Miskew.
Head coach Marcel Rocque pointed to slight misses on tough shots in the sixth and seventh ends as the reason for being forced to draw later in the game.
"She missed a couple (of) shots by millimetres to put it away and then they got us late in the game to have to make those draws," explained the former lead for the famous Ferbey Four. "Credit to Rachel, she didn't overthrow and gave it to the sweepers. That's the way you're supposed to do it. She wasn't off by much and you play this game long enough, you know that happens."
Carey, who also won the national championship in 2016 as a skip of a different rink, knew they needed some misses from the other side if they were going to make a comeback in the last five ends.
"We knew we needed some misses. We said let's put as much pressure on her as we can if we don't get misses we're not going to win," said Carey.
Carey has had some especially tough losses over the past few years. Homan beat her in the final of the Roar of the Rings Olympics trails in 2017 after Carey went a perfect 8-0 in the round robin. Then the Winnipeg native fell in the Wild Card game at the Scotties in Penticton, B.C.
The 34-year-old formed a new squad this season with Sarah Wilkes at third and sweeping buddies Rachel Brown and Dana Ferguson playing the front ends positions.
After being up against it in the first half, Carey turned things admirably and started putting the pressure back on Homan.
Carey was far too heavy with her last stone in the ninth that would have tied the game at 6-6, forcing them to do it the hard way.
And they've had to do it the hard way all week long; something Carey attributes for their success in Sydney.
"We just grinded it out," said Carey. "We've done that all week. We've grinded out this whole week."
Brown admitted they were in "trouble" getting down against a team like Homan's.
"I'm not going to lie. Their team is one of the best in the world. They're so good at hitting, you get down to them, you're in big trouble," said Brown. "Everyone knows that. We were just like we have to keep on lobbing them in. We just got to be gritty and we felt like we were gritty and we just stuck with it. It paid off."
Carey won the Sandra Schmirler award as the Scotties MVP.
Team Homan, the No. 1 ranked squad on the planet, have easily been the best in women's curling this season.
They won the opening leg of the Curling World Cup back in September then captured three consecutive Grand Slam titles. They hold the top spot, by a wide margin, on the Canadian Team Ranking System and World Curling Tour money list too.
Although their losses have been making just as big of headlines following their rough outing at last year's Olympics in Pyeongchang, South Korea and now this Scotties heartbreaker in Sydney.
Carey's rink out of the Glencoe Club in Calgary will represent Canada at the women's world curling championship next this month in Silkeborg, Denmark. Carey finished a disappointing fourth at the 2016 worlds in Swift Current, Sask., losing to Russia's Anna Sidorova in the bronze medal game.
The event runs from March 16-24 with such names as Switzerland's Silvana Tirinzoni, USA's Jamie Sinclair and 2018 Olympic champion Anna Hasselborg of Sweden having already qualified.
Best buds and a broom toss
This was the third Scotties final that best friends Brown and Ferguson played together. They were both part of the Val Sweeting's squad that lost back-to-back finals in 2014 and 2015.
Now, they can call themselves Canadian champions.
"I only knew losing so I didn't know what it felt like to win and it's a lot better feeling for sure," said Ferguson.
Brown missed the start of the season as she was looking after her newborn. She says it was extra special to finally reach the top of the mountain with Ferguson.
"Even to be in the final with her is so special. The other two as well," said the lead. "The whole team fought so hard this week, and it just means the world."
Brown celebrated the victory by throwing her broom in the air, a toss Joey Bats would be proud of.
"I kept moving back and was like 'it's not there, it's not there,' and I just got rid of my broom and apparently it almost took out a rafter," said Brown.
It will be interesting to see if there are any more broom tosses for this foursome in the near future.