CEBL championship weekend tips off with River Lions and Shooting Stars in Eastern Conference Final
Tonight in Vancouver, the Scarborough Shooting Stars (+140) will look to secure a spot in back-to-back CEBL championship games as the Niagara River Lions (-200) seek revenge for last year's elimination.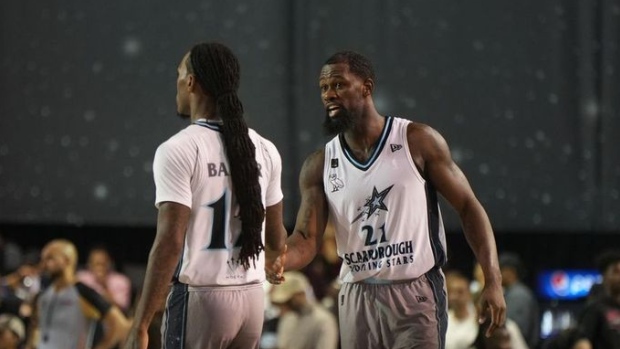 Tonight in Vancouver, the Scarborough Shooting Stars (+140) will look to secure a spot in back-to-back CEBL championship games as the Niagara River Lions (-200) seek revenge for last year's elimination.
The Eastern Conference Final will tip off CEBL Championship Weekend at Langley Events Centre on Friday at 8 p.m. ET.
The game will be live on TSN and available for streaming on TSN+, CEBL+ powered by BetVictor and on the CEBL Mobile app available on iOS and Android devices.
During the 2022 Championship Weekend in Ottawa, Scarborough eliminated Niagara with a 93-81 victory before falling to the Hamilton Honey Badgers in the title game.
River Lions' head coach Victor Raso and Shooting Stars' head coach Chris Exilus both helmed last year's squads as well.
"My expectations are to win," Raso said. "I think that's all of our expectations. To do that, we need to play within ourselves for 40 minutes. So we need to play as hard as we possibly can. We have a base of fundamentals that really developed over the course of the season and we just need to do that hard for 40 minutes and play through mistakes, play with the ups and downs."
Exilus also has high hopes for Championship Weekend after the Shooting Stars sparkled last weekend in the Play-In with a 98-74 defeat of the Honey Badgers and the Eastern Conference Semi-Final with a 77-72 win over the BlackJacks.
"I expect our team to be at their best. We're very excited to play in this semifinal game. Our aspirations and goals are always championships and this is another step in that journey," Exilus said.
To earn a win on Friday, Exilus says it's important to play team basketball as they have been for the better part of the season.
However, neither coach is losing sight of the headliners for Friday's playoff tilt. Scarborough point guard Cat Barber and Niagara point guard Khalil Ahmad each earned First Team honours at the CEBL Awards on Wednesday night.
After winning league MVP in 2022, Ahmad had another terrific campaign this summer. He averaged 19.6 points, 6.1 assists and 2.4 steals during 16 regular season games. His active hands on defence and reliable performances in crunch time helped him win both Clutch Player of the Year and Defensive Player of the Year at awards night as well.
Meanwhile, Barber has balled out in both the regular season and the playoffs. He averages 20.4 points, 4.9 assists, 4.5 rebounds and 1.9 steals entering Championship Weekend. In the Play-In against Brampton, Barber posted single-game CEBL playoff records for both points and threes before newly-minted MVP Teddy Allen broke the points record later the same night.
Exilus says the matchup between Barber and Ahmad on Friday is key. Niagara won two of three games against Scarborough this season with varying degrees of success in guarding Barber. In their wins, they held him to 13 points and one point respectively, before Barber followed it up with 28 points in the last meeting that the Shooting Stars won.
"You always need to have bodies in front of [Barber] in transition," Raso said. "We're gonna force him to go weak and we're gonna try to get the ball out of his hands every time there's a ball screen and really attack him when he's on defence."
Both teams also feature strong supporting casts that they will rely on to contribute. Scarborough's Isiaha Mike scored a game-high 24 points against Ottawa to help them to victory last Sunday while Kyree Walker stepped up with 25 points on 10-13 shooting against Brampton. Big man Kalif Young anchors the paint for the Shooting Stars with elite shot-blocking and rebounding while sharpshooter Kassius Robertson is a threat from the perimeter.
"Many of our players have done a good job throughout different parts of the game and that's helped us. We're gonna need everybody. Everybody has to do a good job of staying locked in," Exilus said.
On the other side, Niagara boasts the highest-scoring offence in the CEBL. They lead the league in points per game at 91.7 while finishing top-three in field goal percentage, three-point percentage and assists per game.
Sharpshooter Jahvon Blair has proven to be a great fit beside Ahmad in the River Lions' backcourt this season, averaging 15 points on 44 per cent shooting from long range. Edward Ekiyor has come off the bench to make an impact, while Antonio Davis Jr. has also been a consistent offensive presence.
"I think both teams are really good in transition, so the game will be fast," Raso said. "I think the team who can slow the other down the most and make them play in the half court [will have success] – that's definitely what we want to do to them. But it'll be physical. It will definitely be physical."
Raso expects the Shooting Stars to have a plan defensively, especially for Ahmad.
"I know they'll be organized on transition defence and emphasizing it because that's what they've done in the past but they will have a plan. And we're gonna have to be able to counter it," Raso said.
Defence has been crucial in Scarborough's pair of playoff victories so far. They proved they could shoot the lights out against the Honey Badgers but also win a defensive battle against Ottawa.
"I think we've had some real key defensive stops [this playoffs]," Exilus said. "Everything starts for us with defence. So we want to continue to buckle down and get stops. That kind of pushes everything and helps our transition offence. I want to continue on that same page and make sure we're defending at a high level."
Niagara will enter Championship Weekend well-rested after winning the Eastern Conference with a league-best 13-7 record. Meanwhile, the Shooting Stars have played four games since the River Lions last hit the court.
"It's an advantage because you get to win your way here and then it's a disadvantage because you haven't played against an opponent in 12 or 13 days," Raso said. "The disadvantage, I guess, is if you're not prepared to play right off the bat – it [could] take you a quarter or however long it takes. But I think we'll be alright."
Raso says Scarborough is talented and will have their wins throughout the course of the game, but if Niagara plays hard for 40 minutes, then he expects to win. Meanwhile, Exilus is also not underestimating the opponent but has championship aspirations.
"They're a really good team – well balanced and I think they play really hard. We expect a really good game," Exilus said.
The winner of Friday's conference final books a trip to the CEBL Championship on Sunday at 7 p.m. ET.