Conners set for PGA Championship and more
If things go right, the Canadian should tee it up in all four majors as well as World Golf Championship events this season, Bob Weeks writes.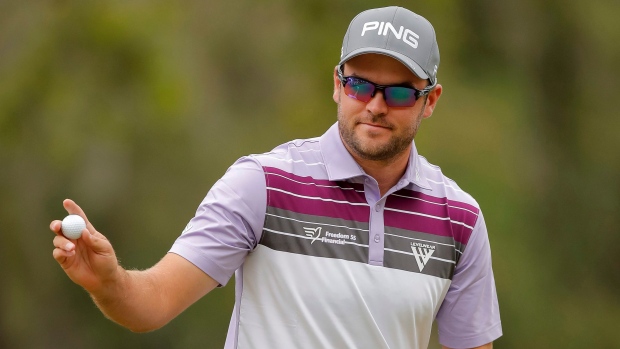 Corey Conners' fine play this year means he's moving up in class. And that starts next week when he'll make his maiden run at the PGA Championship.
The Listowel, Ont., product won the Valero Texas Open last month and, along with two other top-10 finishes this season, now sits in 20th spot on the FedEx Cup points list.
That means his schedule has changed considerably from the start of the year when he was playing with limited status, having to resort to Monday qualifying.
Now, if things go right, he should tee it up in all four majors as well as World Golf Championship events. He may even earn a spot on the International team at the Presidents Cup.
"My goal is to be one of the best players in the world and these are all the tournaments where the best players are playing," he stated. "I think the PGA Championship is a great opportunity for me to play my way into more of these events. It's going to be an awesome rest of the year with the events I have lined up."
Conners will head to Bethpage Black on Sunday to get his first look at the challenge that waits at the year's second major. He did admit he might take a virtual peak at the course via PlayStation ahead of that, but from what he's heard, he's heading to the Long Island layout on a positive note.
"I've got high expectations," said the 27-year-old. "I feel like my game is in a really good spot. I think the golf course is going to set up well for me – a tough driving course, tough approach shots and I'm putting well, so I hope I can keep the good play up and I think it will be a great test."
Conners hasn't had much chance to catch his breath since his win in Texas. He went directly to the Masters and then played the next two weeks. He finally headed to his home in Florida for a break last week. Part of his week off included a trip to Churchill Downs to take in the Kentucky Derby.
He called that a bucket list journey with the only downside being that he had tickets on Maximum Security, the horse that crossed the finish line first only to be disqualified a short time later.
Conners admitted that the break from golf was also the first time he was able to truly understand what an accomplishment his win was. His victory made him just the 14th Canadian to notch a win on the game's top circuit.
"I know how difficult it is to win on the PGA Tour, so being able to look back on that and be a tour winner is awesome," he said. "But it's definitely also motivating to keep that going and I'm looking forward to another good stretch of golf here."
That run will include a home game of sorts. Conners will tee it up at the RBC Canadian Open three weeks after the PGA Championship. He stopped by the Hamilton G&CC this week to get a look at the historic layout that will play host to the national championship.
"The course was in awesome shape being just the start of May," he observed. "You can tell it's going to be pristine come tournament time. The golf course is going to be very challenging, there's a lot of undulation. There are a lot of approach shots where you can't see where the ball is landing. [I'm] really going to have to be accurate with the tee shots and the iron shots and that plays into my strength."
Hamilton is about a 90-minute drive from Listowel, so there will no doubt be a large contingent of family and friends there to cheer him on. Conners is used to that.
What may be different for him this time is that with his win, he's likely to garner a lot of attention from fans from all over Canada. Although it will be his sixth appearance at the RBC Canadian Open, it will be his first as a winner on tour.
This year will mark 65 years since Pat Fletcher became the last Canadian to win the national open, a fact that every Canadian to play in the Open knows well. The pressure on the contingent of home-country players gets ratcheted up for that week and it often takes them some time to learn how to deal with it. Conners, who will make his sixth start on home soil, feels prepared.
"I know how much it would mean to Canadian golf fans to be cheering on a Canadian at the top of the leaderboard," he said. "I've started to think about what it might feel like out there with the added support and added excitement around a Canadian coming off a PGA Tour win playing. It's going to be an awesome experience and definitely something I'm ready for. I've learned a lot over the last couple of years and I think I'm ready to get myself into the mix."