Countdown to TradeCentre: Big move for the Bolts?
Check out some updated trade rumours and speculation from around the NHL beat, including the latest on which defencemen are expected to be available and the biggest need of the New York Islanders.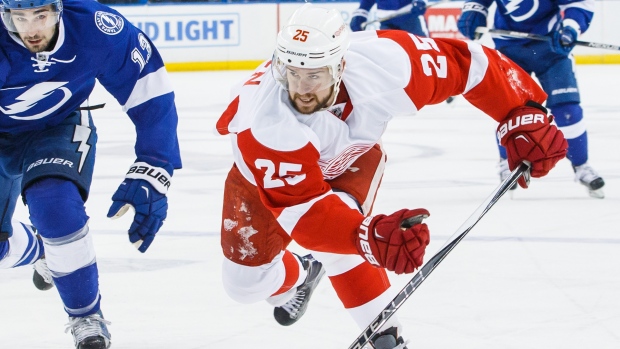 The National Hockey League's Trade Deadline is on Monday, Feb. 26 and teams will be making decisions on whether to buy or sell and decide which players can make the biggest difference and hold the greatest value. Check out the latest trade rumours and speculation from around the NHL beat.
---

Who's on the Market
On Tuesday's edition of Insider Trading, LeBrun listed Mike Green, Jack Johnson and Paul Martin as defencemen who could be moved ahead of the trade deadline.
LeBrun notes that Green holds power in any trade due to his no-trade clause, but added the NHL-leading Tampa Bay Lightning could be among the interested parties.
"Let's start with Mike Green who right now isn't on the market because the Detroit Red Wings have not given up on their season just yet," LeBrun said. "But at some point in time the math will catch up and they'll have to go through Green's people at Newport Sports. He's got a full no-trade clause. For a right-handed power-play guy, a lot of teams are going to line up. He's got a $6-million cap hit that the Wings will eat a bunch of that to make a trade happen. One team I think you have to keep an eye on is Tampa Bay, who I think would like an upgrade in their Top 4. Although again they haven't talked to anyone yet.
"Jack Johnson, we know he's asked for a trade. Several teams I'm told have reached out to Columbus since he did ask for that trade over the weekend. Tough part for Columbus is they want a forward back. They don't want to make a rental deal where they get draft picks in return, so that will be a tough thing to do for Jarmo Kekäläinen.
"Finally Paul Martin, who cleared waivers on Tuesday, now it's a good thing he wants to play in the AHL to show other NHL teams what he's got to create a better market for himself. A couple of contenders have called but they want to see him play."
---

Area of Need?
TSN Hockey Insider Pierre LeBrun said Tuesday he believes the New York Islanders are looking to upgrade their blueline ahead of the trade deadline.
The Islanders rank last in the NHL in goals allowed this season with an average of 3.63 per game. LeBrun believes the Islanders' issues go beyond the struggles of Thomas Greiss and Jaroslav Halak, who have a combined .895 save percentage this season.
"There's no question from what I've been hearing over the last couple of weeks that Garth Snow absolutely, if he thinks his team has a chance to make it, would like to upgrade the Top 4," LeBrun told TSN Radio Montreal 690. "Definitely needs help on defence.
"And I know that a lot of people are saying, 'The Top 4? What about his goaltending?' But I think you're going where I was talking about last night during the Habs telecast on TSN. Of course some of it is goaltending, but look at last night. Now granted, the Islanders are injury-riddled right now and they're missing a bunch of guys – including [Johnny] Boychuk and [Calvin] De Haan – but even when healthy I think they had an issue where they weren't good enough. Nick Leddy is having an outstanding year, but they need help there. And that, I believe, is absolutely their point of focus this year.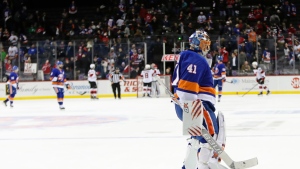 "And it has to be because they give up way too much. They get bottled up too long. They break down defensively. And they're basically trying to win games on the backs of John Tavares and Mathew Barzal. I mean, they're just trying to get into a 1980s contest every night. And some nights it's been good enough. They're sitting in a playoff spot. But it's not a recipe to make the playoffs, and if they do make the playoffs it's not a recipe to win a playoff series certainly. Most people know that.
"So yeah, I would keep an eye on Garth Snow trying to upgrade his defence, no question about it."
The Islanders, who are one point back of the Pittsburgh Penguins for the final wild-card spot in the Eastern Conference, have two picks in both the first and second round of June's draft.
---

Not on the Block?
Craig Morgan of AZ Sports poured cold water on recent reports that the Arizona Coyotes have made three of their top defencemen available.
Morgan wrote Tuesday that rumours of Oliver Ekman-Larsson, Niklas Hjalmarsson and Jason Demers being available - or that the Coyotes had set their asking price for them - were baseless.
Ekman-Larsson's name has been brought up throughout the season as he will become eligible to sign an extension on July 1. The team, however, has consistently shut down talk that he could be moved.
Demers and Hjalmarsson both joined the team this past off-season via trade. Demers has three goals and 14 points in 46 games with the team this season. Hjalmarsson, a three-time Stanley Cup champion with the Chicago Blackhawks, had four assists in 20 games.
Demers is signed through the 2020-21 season at a $3.94 million cap hit, while Hjalmarsson has one season remaining at a $4.1 million cap hit.
The Coyotes also have four pending unrestricted free agents in Brad Richardson, Luke Schenn, Kevin Connauton and Antti Raanta.
---

Time to Sell?
John Niyo of The Detroit News believes Red Wings general manager Ken Holland should be shopping several of the team's veterans, -not just Green.
While Green will draw the most interest, Niyo writes Gustav Nyquist, Tomas Tatar, Tervor Daley and Jimmy Howard should also be placed on the trade block by Holland as the team looks to stockpile draft picks and prospects.
Howard, who has outstarted Petr Mrazek 36-13 this season, owns a .914 save percentage and a 2.73 goals-against average. While the list of contenders looking for a starting goaltender will be short, Niyo points to the Islanders and Blackhawks as two teams who could have interest.
Howard is signed through next season at a $5.3 million cap hit.
---
Not So Crazy?
TSN Hockey Insider Darren Dreger reported Tuesday the Buffalo Sabres are seeking as many as four assets in return for winger Evander Kane.
While many fans balked at the price for the pending free agent, LeBrun noted Tuesday that both Andrew Ladd and Martin Hanzal has moved at the previous two trade deadlines for prices that stunned the hockey community.
"I know that they've told teams that they'd like to get a first-round pick, a prospect, a conditional pick, and Darren Dreger added this evening on our Insider Trading segment that even maybe an NHL player in there as well," LeBrun told TSN Radio 690 Montreal. "Potentially up to four pieces for Evander Kane, and why not set the bar high at this point.
"The problem I think the Sabres have at the moment is that there's a bunch of teams have told them, 'We have interest, but we just don't know yet if we're going to make the playoffs.' There's so many teams with one leg in, one out. They might have a team that's seven or eight up or seven or eight out and a lot of them have to come back to them about a month from now.
"So I don't think the Kane thing is going to move fast. I think that it's something that's going to happen in February at the earliest because of the amount of teams that have to play more games here to make sure that they're willing to pay that price.
"But I guess the question I would have is I've yet to hear from a team that even off the record comfortably believes they're ready to meet that price. And I guess we shouldn't be surprised if it does happen because every year we get shocked. I mean, Martin Hanzal went for a lot last year. Andrew Ladd went for a ton two years ago. So maybe the Sabres will indeed get their price met.
"But so far, and maybe it's all a game of poker, some of the teams that I know have interest in him aren't ready to give up a first-round pick as part of it."
Kane, 26, has 16 goals and 36 points in 44 games with the Sabres this season.
---