Countdown to TradeCentre: Habs' best asset at the deadline?
Follow the latest trade rumours and speculation leading up to the Feb. 25 trade deadline with TSN.ca's Countdown to TradeCentre. Friday's roundup includes the Canadiens' advantage at the deadline, why the rental market may be limited, options for Ryan Dzingel in Ottawa, and the price for Jake Muzzin.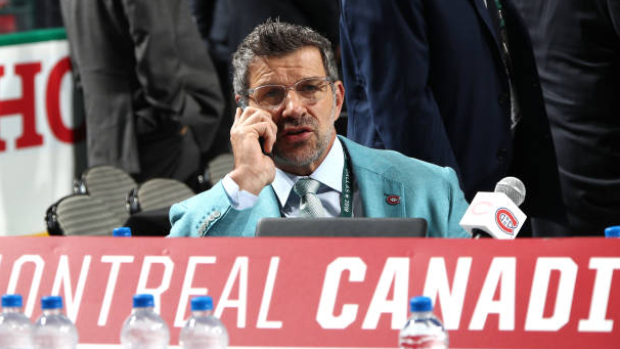 The National Hockey League's Trade Deadline is 3pm et on Monday, Feb. 25, and teams will be making decisions on whether to buy or sell and decide which players can make the biggest difference and hold the greatest value. Check out the latest trade rumours and speculation from around the NHL beat.
---
Room to Maneuver?
TSN Hockey Insider Pierre LeBrun said Thursday that the rental market could be limited ahead of the trade deadline as those who don't believe they can contend for the Stanley Cup opt against trading away pieces for a short-term fix.
LeBrun said teams are adopting the mindset of Montreal Canadiens general manager Marc Bergevin, who said earlier this month he would not add a rental at the trade deadline for his team's playoff push.
"I do sense from the teams that don't truly deep down think that they can win the Cup, but yet have a very good chance of making the playoffs - so that's a pretty big group of teams, right? Basically eight teams that make it think they can win the Cup and the other eight are kind of happy to be there, let's be honest," LeBrun explained to TSN Radio 1200 Ottawa. "In other years, teams trying to make it or underdog teams who knew they were going to make it, they would add.
"I'm sensing more and more, like Marc Bergevin announced at his mid-season news conference, teams that are not truly elite Cup contenders acknowledging the fact that it makes zero sense to spend assets on adding a rental. Now they might make a hockey trade, I think the Canadiens have been talking to teams and will continue to do so, but it will be a hockey deal if they make one."
LeBrun shot down the idea of the Canadiens pursuing a defenceman such as Jake Muzzin, who has term left on his deal, since the Los Angeles Kings are currently asking for a first-round pick and a top prospect. He said, however, that the Canadiens are open to using their $9.7 million in cap space to their advantage ahead of the deadline.
"One thing for sure that I know Marc Bergevin and his staff have talked about internally is the fact that they can once again try a Joel Armia trade," LeBrun said. "The way they got Joel Armia, simply by having cap space, is something that I believe they've communicated to teams that they're open for business with their cap room. It's smart because they're in a position where it's not like they're the only team that has cap room, but there's a lot of teams in and around them that have cap room for a reason; because they don't want to spend more.
"The Canadiens are in a place with a lot of teams with cap room, except that they're willing to spend it if it means they can improve their roster. That's something to keep an eye on, if not before February 25, then once again in June."
The Canadiens acquired Joel Armia in June from the Winnipeg Jets along with goaltender Steve Mason, a fourth-round pick and a seventh-round pick for 2015 sixth-round pick Simon Bourque as the Jets worked to create cap space. Mason was bought out by the Canadiens in the hours following the trade and counts for $1.37 million against their cap this year and next.

---

Under the Radar?
Mark Stone and Matt Duchene have been leading the headlines as pending unrestricted free agents with the Ottawa Senators, but TSN Hockey Insider Darren Dreger wonders if the team's other pending UFA forward may draw interest on the trade market.
"I'm a little bit surprised that there isn't more talk about Ryan Dzingel," Dreger told TSN Radio 1200 Ottawa on Thursday. "He's a 20-plus goal scorer in back-to-back seasons and players that score aren't easy to find. I think if Ottawa gets to that place where Pierre Dorion says 'Alright, well I want to maybe get ahead of the curve here,' then Ryan Dzingel is probably going to be one of the first to go out. And there will be a market for him. I think there are a number of teams that will explore interest and probably have with Pierre Dorion.
"Teams also follow the speculation, right? And Cody Ceci's name is kind of in and out of that speculation but you can be darn sure that teams in the market for good defencemen are making sure that they're keeping tabs and staying in tune with what's going on there. Beyond that, it's hard to say but so much of the focus is on, obviously, targeting Duchene and Stone at this stage. But, as we come out of the All-Star break, there's going to be all kinds of, if not action, certainly activity on the trade front.
"That's the message I'm getting, yesterday and today, from general managers who are looking forward to this break, but knowing things are going to change when the break is over."
Dzingel is in the final season of the two-year deal signed with the Senators in 2017 and carries a $1.8 million cap hit. His 20 goals sit tied for second on the Senators with Duchene and he's the team's fourth-leading scorer with 38 points in 48 games this season.
Ceci, 25, is a pending restricted free agent and carries a $4.3 million cap hit this season. He has five goals and 15 points in 46 games this season while averaging 22:38 of ice time per game. TSN Hockey Insider Bob McKenzie said earlier this month that "the notion of trading Cody Ceci is within the realm of possibility" for Ottawa.

---
Waiting for the Price
TSN Hockey Insider Bob McKenzie acknowledged the high price tage from the Los Angeles Kings for Jake Muzzin on Friday and said teams may wait until closer to the deadline to see the if price drops, or wait for other teams to set the market.
"Right now the word on the street is that the prices for guys like Muzzin, and maybe Muzzin in particular, are really, really high - like astronomically high," indicated McKenzie on TSN Radio 1290 Winnipeg. "And why wouldn't they be. The trade deadline is still four weeks away. I think the prices are really high.
"So I would assume that the Kings will be saying, 'We want a first-round pick, and we want a really good blue-chip prospect or young player,' and that's what the asking price will be.
"Now, whether it gets met or not, depends how many teams want him, what the other options are. And to your point, it's early yet. You've got to see some other deals drop to know the actual market value for players like that is going to get set at. We don't even know what the rental prices are going to be.
"But there's no question in my mind that L.A. will be looking for a haul - and probably more quality than quantity, but a little bit of quantity, too.
"Do you have to give up a really good young defenceman and a first-round pick to get Jake Muzzin? I think that would be the starting asking price for what the Kings would be after."
The 29-year-old blueliner carries a $4 million cap hit through next season and, at No. 17, he is the highest ranked player on the last-place Kings on the TSN Trade Bait Board.