Countdown to TradeCentre: Buyers not willing to wait on Stone?
Follow the latest trade rumours and speculation leading up to Monday's trade deadline with TSN.ca's Countdown to TradeCentre. In today's roundup, why Mike Hoffman may be on the move again, the price for Gustav Nyquist, the future of pending UFAs in New York and what the Capitals are up to.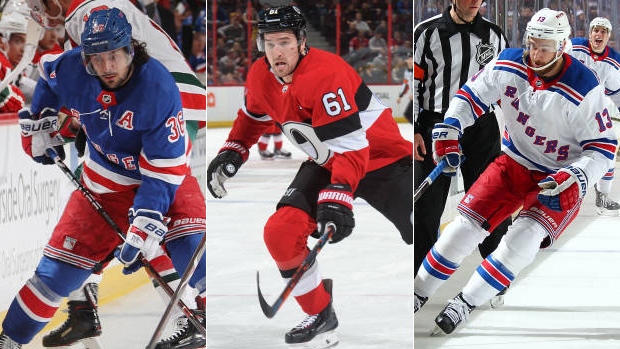 The National Hockey League's Trade Deadline is 3 p.m. ET on Monday and teams will be making decisions on whether to buy or sell and decide which players can make the biggest difference and hold the greatest value. Check out the latest trade rumours and speculation from around the NHL beat.
---

Not Coming Back?
According to Larry Brooks of The New York Post, extension talks between the New York Rangers and pending free agents Mats Zuccarello and Kevin Hayes stalled due to length, not salary, and neither player should be expected to sign back with the Rangers in free agency after likely being dealt at the deadline.
Brooks reports Zuccarello, 31, is seeking a five-year extension, while Hayes, 27, is looking for a five or six-year term on his next deal. He adds that the trade market for the two forwards is also being held up by big names Artemi Panarin, Mark Stone and Matt Duchene.
TSN Hockey Insider Pierre LeBrun reported Thursday, however, that some teams are concerned over how long the Stone situation is taking to play out in Ottawa and are now turning their attention to secondary targets such as Zuccarello and Hayes.
LeBrun notes that teams don't want to risk waiting until Monday to bid on a player and wind up with nothing.
TSN Senior Hockey Reporter Frank Seravalli wrote Wednesday that both players could potentially both draw first-round picks on the trade market, noting Zuccarello has boosted his value with seven goals and 22 points in his last 14 games.
Hayes has 14 goals and 42 points in 50 games this season and is the second-highest ranked centre on the TSN Trade Bait board, behind Duchene.
Zuccarello, who sits one spot back of Hayes at No. 7 on the Trade Bait Board, has 11 goals and 37 points in 45 points this season, his ninth with the Rangers.

---
Back on the Block?
According to Bruce Garrioch of Postmedia, the Florida Panthers are listening to offers for off-season acquisition Mike Hoffman.
Garrioch cites two sources informing him that Hoffman could be dealt for the third time in nine months after moving from the Ottawa Senators to the San Jose Sharks to the Panthers last June.
Hoffman has 26 goals and 49 points in 58 games this season and is on pace to top his career-highs in both categories. Garrioch believes the Panthers may be looking to clear cap space to pursue unrestricted free agents this summer. The Panthers have been linked to both Artemi Panarin and Sergei Bobrovsky in recent weeks.
The 29-year-old is signed through next season at a $5.19 million cap hit and has a 10-team no-trade list.
Hoffman was first traded by the Senators to the Sharks last June along with Cody Donaghey and a 2020 fifth-round pick for Mikkel Boedker, Julius Bergman and a 2020 sixth-round pick. Later that day, the Sharks flipped Hoffman, along with their seventh-round pick, to the Panthers for a 2019 second-round pick and fourth- and fifth-round picks in 2018.

---

Waiting Game
TSN Hockey Insider Pierre LeBrun wrote in The Athletic Wednesday that the market for Detroit Red Wings forward Gustav Nyquist is being held up by Artemi Panarin, Mark Stone, Matt Duchene.
LeBrun writes that "in a perfect world" the Red Wings would trade Nyquist for a solid offer and try to re-sign him on July. He adds however, that the Red Wings would like a first-round pick for Nyquist and will not trade him for a third-rounder.
Nyquist, 29, has 15 goals and 48 points in 60 games this season. The pending free agent carries a $4.75 million cap hit and has a full no-trade clause in his contract. He told the Detroit News on Tuesday that the Red Wings had opened negotiations on a contract extension, but declined to say how productive they have been.
"Little bit, just talking," Nyquist said of the talks his camp have had with Holland. "Instead of saying too much, or too little, I'm just going to go with no comment.
"It has to work for either side. That's about as much as I will say."
---

What Comes Next?
The Washington Capitals are in the spotlight after making a last-minute change on Wednesday morning, placing Devante Smith-Pelly on waivers instead of Dmitrij Jaskin.
Capitals head coach Todd Reirden said the team changed their mind on who to waive, before adding, "There are lots of moving parts right now in a number of different spots."
TSN Hockey Insider Bob McKenzie said Wednesday on NBCSN that it's clear the Capitals are working towards and a deal, and that the team needed to clear cap space to get it done.
"This was a bizarre one," McKenzie said. "Because the Caps basically announced while practice was on Dmitrij Jaskin is going to be put on waivers at noon. And then all of the sudden in the middle of practice, Devante Smith-Pelly got called off the ice, went in, and was told, 'You're going on waivers. Jaskin is not on waivers.'
"And it's pretty obvious, and the Caps basically admitted, 'Yeah, we've got a lot of irons in the fire. We've got something cooking here.'
"There's all sorts of speculation that they do have a deal pending, but they've got to wait for Devante Smith-Pelly to either clear waivers tomorrow, so they can send him to the minors and bury most of his $1 million salary and have most of it come off off the cap, or have him claimed and lose it entirely. But in any case, they need that to happen before the trade can be facilitated.
"Now, we don't know specifically what the trade is, but there is lots of speculation today that the trading partner potentially is the Los Angeles Kings, and that the goal from the Washington Capitals side is to move Devante Smith-Pelly out of the lineup and upgrade with a depth, veteran forward.
"So as you look through the veteran forwards on the L.A. Kings, you've got Carl Hagelin, who's on an expiring contract, but has a $3.5 million cap hit. And then you've got guys who have a year remaining on their contract after this year - Kyle Clifford and Trevor Lewis - both guys who have won Stanley Cups and would fit the profile of the kind of players the Washington Capitals are looking to deal with.
"Although someone is going to point out Devante Smith-Pelly also won a Cup, very recently, for that team. And there are a lot of Caps fans that are upset because they saw what Smith-Pelly meant in the playoffs. And now he's potentially gone."
Smith-Pelly is a pending unrestricted free agent and carries a $1 million cap hit. He has four goals and eight points in 54 games with the team this season and contributed seven goals in the playoffs last year to help the Capitals win their first Stanley Cup.

---