Countdown to TradeCentre: How do Oilers free cap space?
Follow the latest trade rumours and speculation leading up to the Feb. 25 trade deadline with TSN.ca's Countdown to TradeCentre. Wednesday's roundup includes how the Oilers clear cap space this season and beyond, the Canadiens-Cam Fowler speculation and if the Predators could still make a big splash.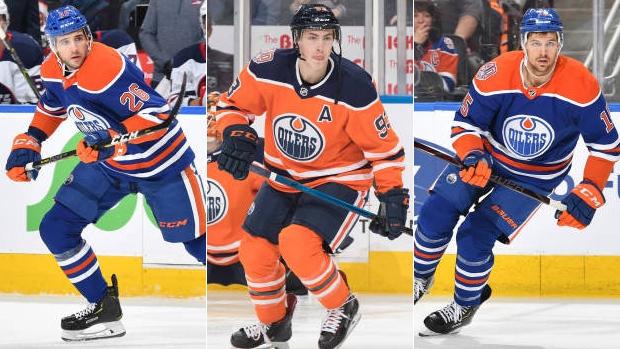 The National Hockey League's Trade Deadline is 3 p.m. ET on Monday, Feb. 25, and teams will be making decisions on whether to buy or sell and decide which players can make the biggest difference and hold the greatest value. Check out the latest trade rumours and speculation from around the NHL beat.
---

Freeing Space
The Edmonton Oilers are in a cap crunch, needing to free $1.97 million in space to activate defenceman Andrej Sekera from long-term injured reserve after his conditioning stint.
TSN Senior Hockey Reporter Frank Seravalli believes the Oilers' "cleanest option" could be to place both Brandon Manning and Alex Petrovic on waivers and demote both players to the AHL if they clear.
Seravalli notes that waiving the two players would free the neccessary space - as Petrovic carries a $1.95 million cap hit as a pending free agent and Manning counts for $2.25 million with one year left on his deal.
Both players were acquired in late December in the final two trades of general manager Peter Chiarelli's tenure with the Oilers. Petrovic was acquired from the Florida Panthers for Chris Wideman and a conditional third-round pick, while the Oilers traded Drake Caggiula and Jason Garrison to the Chicago Blackhawks for Manning and defenceman Robin Norell.
After this season, the Oilers have $70.99 million committed towards the salary cap with five unrestricted free agents and four restricted free agents from this year's roster.
TSN Hockey Insider Darren Dreger was asked Wednesday on TSN Radio 1290 Winnipeg whether the Oilers could consider trading centre Ryan Nugent-Hopkins. Trading the 25-year-old would clear $6 million in cap space, but Dreger believes the team will instead move out other smaller contracts this off-season.
"Can't imagine. I can't imagine, unless it's just a jaw-dropping offer," Dreger said of trading Nugent-Hopkins. "Because when I look at the Edmonton Oilers, you can count on probably six - maybe seven - fingers how many players are players of substance - with all due respect to those who are earning a living as NHL players. And I'm not trying to be disrespectful.
"What I'm talking about is what separates a very average team to slightly below average team to a team in the West that is trying desperately to compete with the big clubs. And Edmonton just cannot do that.
"Ryan Nugent-Hopkins is one of those pieces. He's one of their top three players, along with Draisaitl and Connor McDavid - and when Oscar Klefbom is healthy you can throw him into that mix as well.
"I can't imagine. Now, I do think that whether it's Keith Gretzky or a management team or the new GM when he's hired, he's going to have to be very, very creative. I don't think that it's out of the realm of possibility that Edmonton could be a big player in free agency, but to do it - man, they're going to have to move out so many contracts. Look at anyone who's earning around $2 million or $2.5 that's employed by the Edmonton Oilers - that player is probably going to have to go for next-to-nothing coming back. And that's difficult to sell. You'd have to be very, very creative.
"But yeah, it's just a pool of negativity in Edmonton. Man, it just cannot get better. They cannot shake it. And it was interesting for me today to see Ken Hitchcock up in the stands while Glen Gulutzan took over practice for the Edmonton Oilers from a coaching perspective.
"So who knows what's happening next there."
The Oilers are winless in their past six games, but remain just three points out of the final wild card spot in the Western Conference.

---

About those Habs Rumours
TSN Hockey Insider Darren Dreger threw some cold water on speculation linking the Montreal Canadiens to Anaheim Ducks defenceman Cam Fowler on Thursday morning.
Speaking to TSN Radio 690 Montreal, Dreger, citing his sources, said the Ducks are "highly, highly unlikely" to trade Fowler, but added that with the Ducks struggling as much as they are, all things should still be considered.
"When you look at poorly the Ducks have played and how miserably they've been playing on this more recent tour, then I think that almost just about anything has to be considered," Dreger said. "If you're not going to fire your coach and try to salvage the season, and it appears that this organization is more interested now in a draft pick, if not a lottery pick. Then, you've got to be willing to move out some assets to acquire something in return.
"I was told that Fowler wasn't available, or highly unlikely, but again, look through that roster aside from pieces like Adam Henrique, I mean it's unlikely they'd consider young D like Josh Manson, but Bob Murray's got to have something up his sleeve at some point soon."
Fowler, 27, is in the first year of an eight-year contract with a $6.5 million cap hit.
Sean Gordon of The Athletic pointed Wednesday out that Canadiens general manager Marc Bergevin scouted the Ducks both in Winnipeg and then in Toronto before watching them take on the Canadiens in Montreal on Tuesday.
Gordon speculated that Bergevin could be looking at the Ducks with an eye in finding a defence partner for Shea Weber and pointed to Fowler as a potential target. He noted that the Canadiens were also linked to Fowler in the summer of 2016.
Fowler, 27, has three goals and 11 points in 31 games this season with a minus-11 rating. The Windsor, Ont., native submits a four-team approved trade list as part of his contract.
Bergevin said last month he has no interest in pursuing rental players at the deadline, but did not rule out trading for a player with term.
The Ducks appear to be shaping up as sellers ahead of the deadline and have just two wins since Dec. 18, dropping to three points out of the playoff picture in the Western Conference.
The Canadiens, 30-18-6 this season, are tied with the Boston Bruins for third in the Atlantic Divsion with 66 points and own an eight-point cushion over the Buffalo Sabres and Carolina Hurricanes on a playoff spot.
---

Not Done Yet?
The Nashville Predators made two trades to improve their depth at forward on Wednesday, acquiring Brian Boyle for a second-round pick and later trading a seventh-round pick for Cody McLeod.
TSN Hockey Insider Bob McKenzie told NBCSN that while the trade excited sellers around the league, the Predators made the move out of need. He added the Predators may not be done yet, and will at least check on the prices of the top players available at the deadline.
"First off, from a league perspective people sat up and took notice when the Predators got Brian Boyle from the New Jersey Devils for a second-round pick," McKenzie said. "And the reason they sat up and took notice is because of the price. Brian Boyle is a depth player, depth forward - but a high quality depth forward nonetheless - in a second-round pick. So there's a lot of people, a lot of teams, that have rental players with players that are playing higher up in the lineup than Brian Boyle. So they're getting excited because, 'Okay, if Nashville is willing to give up a second-round pick for Brian Boyle, we've got a rental market set. We're going to get first-round picks for all our guys.'
"But the reason Nashville made this trade is because they obviously do need depth, and they need some grit and some size. Austin Watson is not in their lineup indefinitely. He's suspended without pay right now as part of the NHL/NHLPA Substance Abuse and Behavioral Modification Program for some alcohol-related issues. Zac Rinaldo is out for the next couple of months with an injury. So getting a guy like Brian Boyle, who can play on the power play, kill penalties, take faceoffs - he's a valuable guy.
"But also bringing back Cody McLeod from the New York Rangers, a real prototypical tough guy that can fight and hit and create some energy on your fourth line. That sort of fits in with what the Predators need at this time because of injuries and Austin Watson's absence.
"But I think that you heard David Poile, the general manager, say, 'You know what, if we have to go to the playoffs with our lineup exactly the way it is now, perfectly happy. That said, if we can improve our team we will.'
"Those are the two things every general manager says at this time of year and I think the Nashville Predators, because they are a Cup-contending team who are kind of on the clock, their biological clock is not ticking too loud, but the window is right open for them right now.
"I could see David Poile trying to do some big game hunting. And whether that's Artemi Panarin in Columbus, or if Matt Duchene or Mark Stone become available in Ottawa, at least give it a go to see what the cost would be.
"My suspicion is Nashville would have to be willing to part with a first-round pick and perhaps a real high-end prospect like Eeli Tolvanen or others if they're going to get into the big game hunting. But I think that's something Poile's going to at least look at because he'd like to win that Stanley Cup sooner rather than later."
Tolvanen, selected 30th overall by the Predators in 2017, has eight goals and 17 points in 32 games with the AHL's Milwaukee Admirals this season.
The Predators are three points back of the Winnipeg Jets for first place in the Central Division and have made the playoffs in each of the previous four seasons.

---