Countdown to TradeCentre: Jets back in on Brassard?
Follow the latest trade rumours and speculation leading up to the Feb. 25 trade deadline with TSN.ca's Countdown to TradeCentre. In Sunday's roundup, who the Winnipeg Jets might target in the rental market and the latest with Matt Duchene's contract situation.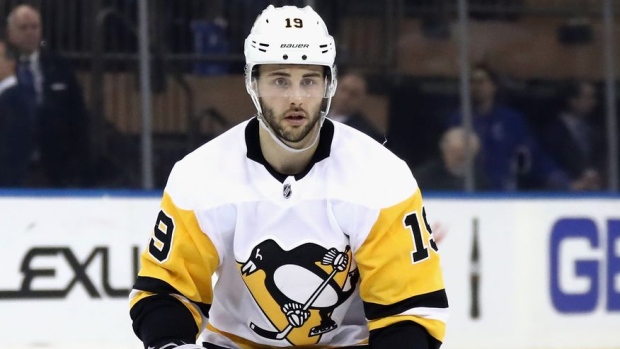 The National Hockey League's Trade Deadline is 3pm et on Monday, Feb. 25, and teams will be making decisions on whether to buy or sell and decide which players can make the biggest difference and hold the greatest value. Check out the latest trade rumours and speculation from around the NHL beat.
---
Who might the Jets target as a rental?
The Winnipeg Jets and the Nashville Predators sit tied atop the Central Division with 64 points apiece. Both clubs made big splashes at the trade deadline last season, with Winnipeg bringing in Paul Stastny in exchange for a first-round pick and the Predators acquiring Ryan Hartman for a similar price tag. Could both teams, particularly the Jets, make some more big moves this time around? The TSN Hockey Panel weighs in:
"Both these general managers – David Poile and Kevin Cheveldayoff – once again are ready I think to trade a prime asset for a rental player at this deadline. I asked David Poile this weekend whether he can let himself be affected by what the Winnipeg Jets do. He said 'No, you have to do your own thing, you can't react to what other teams around you are doing,' and yet he did say over the years, there has been a domino effect once he jumps in first before the trade deadline. No question to me will not only both these teams add, but both these teams – Winnipeg and Nashville – will be looking at similar players on the market which makes it even more intriguing because let's face it, they're probably going to play again in the second round," TSN Hockey Insider Pierre LeBrun said.
"One player of note, Derick Brassard, I think Winnipeg has already kicked the tires on him with the Pittsburgh Penguins. I don't think they liked what they heard at this point, but it's early. There's lots of players the Jets are looking at, he's one of them," LeBrun added.
"Derick Brassard was in fact their No. 1 target [at last year's deadline] and I think the Winnipeg Jets were a little bit disappointed that they didn't land him last year. Stastny of course ended up being a way better fit and a significant contributor in their playoff run the way that he was able to slot their centres out for them. He gave them tremendous depth. I wonder if they do circle back to Brassard, who obviously hasn't been a fit there in Pittsburgh," TSN Hockey Insider Frank Seravalli said.
TSN Hockey Analyst Dave Poulin wonders if there might be some other options out there for the Jets.
"Kevin Hayes is a name we've heard. And certainly Wayne Simmonds is someone that would fit very well with the Winnipeg Jets. But last year, when Stastny was the guy, that was such an unexpected surprise. I mean no one saw that coming. No one saw St. Louis trading him, they were right on the cusp of the playoffs, and no one saw Winnipeg in that game. So are there are a couple other names out there that we really haven't heard? Gustav Nyquist, 43 points in Detroit, he's had a really nice year for them. And Marcus Johansson who when healthy is an elite offensive player and could really help a team. His problem has been his health, but he's someone who's a UFA who could be moved out of New Jersey."
What's the latest with Duchene?
With the clock ticking toward Matt Duchene's looming free agency, what might happen next?
"As we said recently, I mean we understand that those discussions will pick up again over the next week between Pat Brisson and Pierre Dorion and I think at some point there has to a fish or cut bait time around Feb. 10, sometime around a week or two weeks out from the trade deadline. If for whatever reason Matt Duchene does not re-sign with the Ottawa Senators , I think they have to think about this: the fact that he might be willing to sign an extension with a team that trades for him. So I don't know if you want to call it a sign and trade or a trade and sign, but I think the potential for the Senators in that scenario is that they get more in return instead of trading away a rental player. The other way to go about it is what Buffalo did with Evander Kane a year ago which is if he re-signed with the Sharks then the second-round pick became a first-round pick for Buffalo. So you can throw on a condition in there if you're the Ottawa Senators," LeBrun said.
"Listen, right now their only focus is signing Matt Duchene in Ottawa. But these are some of the scenarios I know that with the Matt Duchene camp that they're examining just in case.
As Poulin points out, a sign-and-trade would give them the ability to go eight years on a contract, something Duchene and his camp wouldn't be able to do if he signed elsewhere on the open market.
"At the time when teams are shying away from long-term deals it seems that no one wants to go eight years. There was only one seven-year deal [during last summer's free agent period]. So I don't see that as a real option," Poulin added.