Countdown to TradeCentre: Kane's price dropping?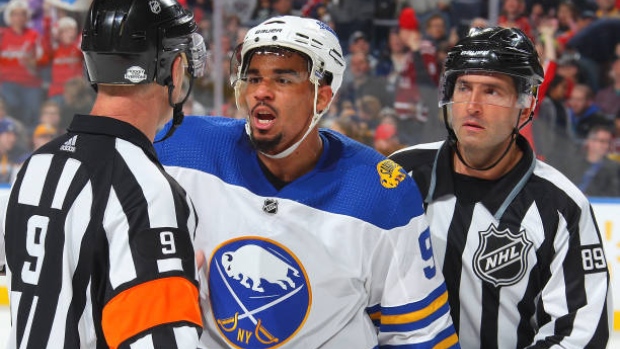 The National Hockey League's Trade Deadline is on Monday, Feb. 26, and teams will be making decisions on whether to buy or sell and decide which players can make the biggest difference and hold the greatest value. Check out the latest trade rumours and speculation from around the NHL beat.
---

Price Drop?
TSN Hockey Insider Darren Dreger reported during Thursday's edition of Insider Trading that the Buffalo Sabres may be willing to loosen their demands for winger Evander Kane.
The Sabres were believed to be seeking four assests for Kane, but Dreger says the ask may no longer even include a first-round pick.
"In Buffalo, you've got Evander Kane, there's developing interest in Kane and a willingness among the Buffalo Sabres to maybe loosen things up a little bit," Dreger said. "So if it's not a first, maybe it's a second and a better prospect."
The price for Kane may wind up falling into a similar category as to what the New Jersey Devils paid for Michael Grabner, who was moved from the Rangers for a second-round pick and 2016 fifth-round pick Igor Rykov.
TSN Hockey Insider Pierre LeBrun reports the Nashville Predators could be a landing spot for Kane by Monday's deadline.
"David Poile, we know he's checked in on Rick Nash, I mean he checked in on Erik Karlsson, why not?" LeBrun asked. "You're David Poile, that's what he does. Keep an eye on David Poile, absolutely a total wild card. The Predators are close, he wants to add and I think he will by Monday."
---

Talking Contract?
Columbus Blue Jackets defenceman Jack Johnson has seemingly been on the trade block for more than a month after admitting to requesting a trade from the team.
Johnson cited playing time and the importance of his next contract as reasons for the trade, but it appears he may not be on the move after all.
According to Aaron Portzline of The Athletic, the Blue Jackets have opened extension talks with the 31-year-old defenceman. He adds the Johnson turned down a seven-year, $22 million extension offer from the Blue Jackets during the summer. Portzline wonders if a lack of trade options have led the Blue Jackets towards extending Johnson rather than risk losing him for nothing in July.
Johnson is averaging 19:52 of ice time per game this month, raising his season average to 19:38. He has three goals and five assists in 61 games this season.
Portzline's report on Thursday led to Johnson dropping to four spots on No. 14 on the TSN Hockey Trade Bait board.
A pending free agent, Johnson carries a $4.35 million cap hit for the remainder of the season.

---

Five Teams In The McDonagh Race
TSN Hockey Insider Darren Dreger said Thursday the Tampa Bay Lightning, Boston Bruins and Toronto Maple Leafs are all interested in bringing New York Rangers defenceman Ryan McDonagh to the Atlantic Division.
TSN Hockey Insider Pierre LeBrun reported earlier on Thursday that McDonagh's 10-team no-trade clause does not include the Maple Leafs, but Dreger cautioned the Leafs may not be willing to meet the Rangers price.
"Again, you're talking about three, four pieces [for McDonagh]," Dreger told TSN Radio 1050 Toronto. "And it's always the standard first-round draft pick, top prospect, another pick, and this and that and all of those things. Now, it depends on the young pieces that a team is willing to throw in, so there's negotiating on that end.
"I believe there are at least five teams that are in on Ryan McDonagh. I would put the Tampa Bay Lightning near the top of that list, or at the top of that list. I think that they're intrigued and are certainly going to do everything within their power to exhaust the possibility of Erik Karlsson. But again, that's a top contending team in Tampa Bay. Are they going to lessen their chances, give up key core pieces to acquire Erik Karlsson. Are they further ahead to do that, or are they better off to take a lesser deal in Ryan McDonagh. So that's, I'm sure, what Steve Yzerman and company are wrestling with around the Tampa Bay Lightning.
"And the New York Rangers aren't trying to force Ryan McDonagh out. They too have to get what they need. Toronto is interested. Boston is interested. Not sure of the two other teams, so I'm not going to speculate. I have an idea, but I'm not sure.
"But from Toronto's standpoint, what's it going to take? It's not going to be a big core piece from Maple Leafs. But what if the New York Rangers ask for Travis Dermott. What if the New York Rangers ask for Kasperi Kapanen as part of that deal. Is it conceivable that Lou Lamoriello would be willing to consider that? I don't know.
"I don't know that Toronto is overly-aggressive, but I do know that they do have interest in Ryan McDonagh. So how much more Toronto is willing to give, or how much more in terms of how aggressive they want to become – we're going to find that out in the next few days."

---

Don't Mess with Success?
Pierre LeBrun said Thursday the Bruins will need the price on Ryan McDonagh to come down to consider making a move.
Bruins coach Bruce Cassidy, however, made the argument for keeping the team's current group together and not risk altering the team's chemisty.
The Bruins have made two trades this week, acquiring Nick Holden from the Rangers for a third-round pick and pick and sending oft-scratched forward Frank Vatrano to the Florida Panthers for a third-round pick.
"I think it's been factored into conversations between me and [Bruins general manager] Donnie [Sweeney] that we have a group with some real togetherness there this season," Cassidy told NBC Boston on Thursday. "At the end of the day if you can add and make your team better then you always have to look at it, and Donny is looking at that right now.
"Adding Holden I think he's done that and we've added some more depth. But after that I do worry about if we subtract somebody from the room. If you're adding and you're not subtracting, i.e. future assets, then as a coach you always prefer to go that way. But Donnie will do what's best and as a coaching staff we'll take it from there so to speak. But there is a good chemistry with that group…a very good chemistry in that locker room."
The Bruins, who sit second in the Atlantic Division with 82 points through 58 games, have lost just three games in regulation time - and six in total - since Dec. 16.