Insider Trading: Ottawa ready to clean house?
TSN Hockey Insiders Darren Dreger, Pierre LeBrun and Bob McKenzie joined host James Duthie to discuss the latest on Erik Karlsson and what else the Ottawa Senators could do before the deadline, Ryan McDonagh and the Vegas Golden Knights.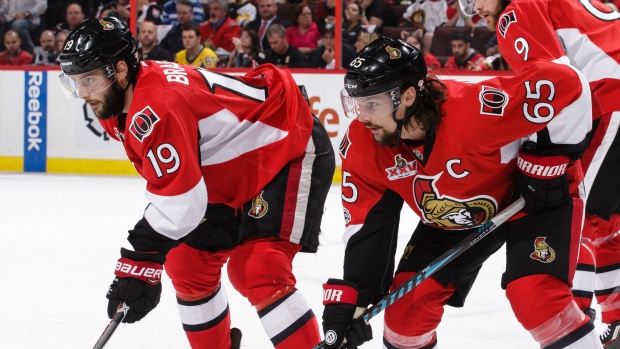 TSN Hockey Insiders Darren Dreger, Pierre LeBrun and Bob McKenzie joined host James Duthie to discuss the latest on Erik Karlsson and what else the Ottawa Senators could do before the deadline, Ryan McDonagh and the Vegas Golden Knights.

Lastest on

Erik Karlsson

and the Senators
James Duthie: All eyes right now are on Pierre Dorion, Erik Karlsson and the Ottawa Senators. What is the latest there, Dreger?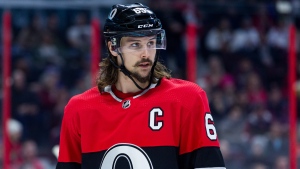 Darren Dreger: The Senators are still in waiting mode, waiting for the teams in both the Eastern and Western Conference to strategize, to put together the pieces of an enormous puzzle if they are willing to put in a bid on Erik Karlsson. If they're not, that's fine, too. My understanding is that Pierre Dorion met with his owner Eugene Melnyk and Melnyk is onside if they have to wait into the summer when there is less financial restriction and obviously more cap space and more flexibility among NHL teams. That's not to say that Karlsson is less likely to be traded, again it depends on the packages that are received between now and Monday.
Here's what we know though, the Ottawa Senators are willing to clear the deck to some degree. We've speculated for the last number of weeks on players like Derick Brassard, arguably the top centre available on the trade market.
Beyond him, you've got Mike Hoffman, again lots of speculation around Hoffman, Zack Smith as well. It is conceivable that Pierre Dorion could trade all of these guys, including veteran defenceman Johnny Oduya. He needs a specific return to make that happen, but Ottawa could look much different beyond their captain on Monday.

Bidding war for McDonagh?
James Duthie: The New York Rangers are also in house cleaning mode at his point, but Ryan McDonagh might be the most interesting and getting a lot of attraction from cities close by in the East.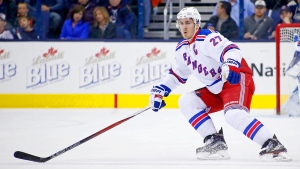 Pierre LeBrun: Isn't that interesting? That's exactly what I would do, if I was the New York Rangers. I would get Tampa, Boston and Toronto, the three top teams in the Atlantic, all bidding off each other on Ryan McDonagh and to some degree, that has begun in the sense that we know all three teams have talked to the Rangers in varying degrees about McDonagh.
There are a couple other teams as well – I believe there are five teams in all that have kept tabs on Ryan McDonagh. He's not a rental; there is another year on his deal and certainly comes at a price that will be smaller in comparison to if Erik Karlsson actually gets dealt and that's something else to keep in mind. I'm told by a source in Boston that yes the Bruins are still in there, but the price has to come down for them to go after McDonagh.

Buying or standing pat in Vegas?
James Duthie: It took us all a few months to actually believe that Vegas was really good and that it wasn't just a fluke. It's no fluke when it gets to this point and it becomes clear when they are officially a buyer at the deadline.
Bob McKenzie: They are definitely not sellers, that's for sure, and they may well be buyers. Now, every time we hear a situation, well the Rick Nash rental situation with the Rangers, Michael Grabner a rental situation, we keep hearing over and over that Vegas might be in on this one, Vegas might be in on that one and I believe that general manager George McPhee and his assistant Kelly McCrimmon are looking at all possibilities.
Now, they have to be careful. They don't want to mortgage their future too badly; they don't think that this year is just a one off by any stretch, but having said that, they also have to protect their future assets.
To that point, Darren, you talked about teams in the Western Conference being in on Erik Karlsson, having some sort of dialogue, I would count Vegas Golden Knights at least being one of those teams that is just looking and exploring. What might this look like if we were able to do it? So, absolutely keep an eye on Vegas between now and Monday.
Setting the market for Kane
Darren Dreger: In Buffalo, you've got Evander Kane, there's developing interest in Kane and a willingness among the Buffalo Sabres to maybe loosen things up a little but, so if it's not a first, maybe it's a second and a better prospect.
Pierre LeBrun: David Poile, we know he's checked in on Rick Nash, I mean he checked in on Erik Karlsson, why not? You're David Poile, that's what he does. Keep an eye on David Poile, absolutely a total wild card. The Predators are close, he wants to add and I think he will by Monday.

A new deal for Bailey?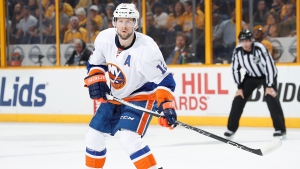 Bob McKenzie: This is not trade news by any extent, but the New York Islanders are close to finalizing a deal for pending free agent winger Josh Bailey, who of course plays on a line with John Tavares. He's has an outstanding season. It is expected that the term on the deal is either five or six years and around the $5 million a year mark. John Tavares is not going to make any decisions on his future until this season is over, but you would have to believe that knowing Bailey is being kept in house, might be positive in that regard.