Countdown to TradeCentre: Preds thinking big?
Follow the latest trade rumours and speculation leading up to the Feb. 25 trade deadline with TSN.ca's Countdown to TradeCentre. In Saturday's roundup, why the Nashville Predators might be buyers and one name that might be off limits in Detroit.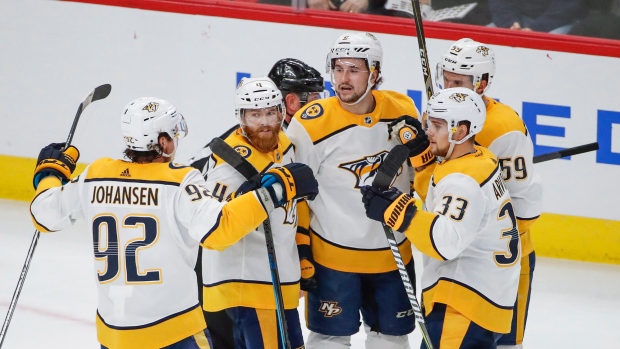 The National Hockey League's Trade Deadline is 3pm et on Monday, Feb. 25, and teams will be making decisions on whether to buy or sell and decide which players can make the biggest difference and hold the greatest value. Check out the latest trade rumours and speculation from around the NHL beat.
Nashville ready to make a splash?
TSN Hockey Insider Bob McKenzie joined TSN 1290 Winnipeg's The Big Show on Friday and touched on how the Jets' division rival – the Nashville Predators – might be one of the most active teams leading up to the trade deadline.
"Because Nashville is even further down the road than Winnipeg - Nashville has been doing this for a year or two or three longer than the Jets - they got to the Stanley Cup Final. That whets their appetite even more to get back there. This is what keeps [general manager] David Poile up at night. David Poile, I think he's the most experienced general manager – certainly the longest tenure with one team now that Lou Lamoriello has bounced around a little bit. But Lou and David are guys that have been around seemingly forever, relative to all of the other general managers in the National Hockey League," McKenzie said.
"I know David real well, and I think the only reason David is still around is because he won't retire until he wins a Stanley Cup. That's what drives him, and as I said, that's the thing that keeps him up at night, thinking, 'How can I do this?'"
"They've got an opportunity here to do things not just this year. So it's not so completely crazy our of your mind 'Sacrifice all the elements of the future, do it for this year,' but there's an enormous drive – I don't want to say pressure, because it's all self-imposed – I think there's an enormous drive on the part of David Poile to do everything he possibly can to give this team a shot to win, and that moment is now."
The Preds are tied with the Jets for the Central-Division lead with 64 points.
Wings planning to hold Athanasiou?
With the Detroit Red Wings sitting seventh in the Atlantic Division at 16-25-7, they might look to be sellers at the trade deadline.
But one name that isn't expected to be available in trade talk? Twenty-four-year-old centre Andreas Athanasiou.
"His name crossed my desk last week, and I did some checking with my Red Wings sources. I was told 'No, no, no, no.' Unless it's one of those can't miss opportunities, they see Athanasiou as being part of their future, that development of a younger core," TSN Hockey Insider Darren Dreger said Friday on Buffalo's WGR 550.
"Now, in saying that, where do these rumours and where does the speculation come from. Is the player unhappy in Detroit? There's been some who wonder about his relationship with Jeff Blashill. I'm not there. I don't know that to be true. But I don't think that that's enough to encourage a change in Detroit. And based on the feedback I got from the Red Wings, I think that the speculation is a little off-base."
Athansiou has 17 goals – second on the team behind Dylan Larkin – and 13 assists in 45 games for the Wings so far this season. The Woodbridge, On., native is in his fourth season with Detroit.