Countdown to TradeCentre: Targets for the Islanders?
Follow the latest trade rumours and speculation leading up to the Feb. 25 trade deadline with TSN.ca's Countdown to TradeCentre. In Sunday's roundup, a list of potential targets for the New York Islanders, the New York Rangers' situation, and an add that could make sense for the Boston Bruins.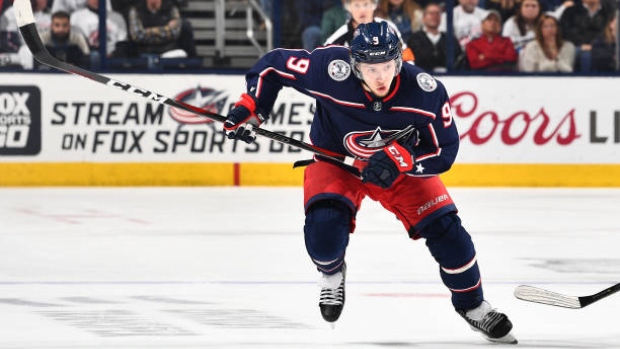 The National Hockey League's Trade Deadline is 3 p.m. ET on Monday, Feb. 25, and teams will be making decisions on whether to buy or sell and decide which players can make the biggest difference and hold the greatest value. Check out the latest trade rumours and speculation from around the NHL beat.
---
Targets for the Islanders
Currently sitting in first place in the Metropolitan Division with a 35-17-6 record, the New York Islanders have exceeded most people's expectations this season and are firmly contenders in the Eastern Conference.
The New York Post's Larry Brooks lists a number of players Islanders general manager Lou Lamoriello, who he notes always believes in the present, could target before the Feb. 25 Trade Deadline.
"Would be no surprise if the Islanders, with a bushel-full of futures, are in on Artemi Panarin, Mark Stone and perhaps even Mike Hoffman.
"Wonder if Lamoriello is up for a reunion with (Ilya) Kovalchuk, who has two years at $6.25 million remaining on the free agent contract he signed with the Kings last summer."
Panarim (No. 1), and Stone (No. 3) are high on TSN's Trade Bait Board while Hoffman, who is in his first season with the Florida Panthers, and Kovalchuk, are relatively new names heard in trade rumours.
While the top targets listed are all scoring forwards, Brooks could also see the Islanders making some other moves.
"Lamoriello, too, is always interested in A) Improving blue line depth that is necessary for a deep playoff run; and, B) Adam McQuaid-type players. So why not the actual McQuaid, who is believed under scrutiny by Tampa Bay?"
Matter of time
Brooks also looks at the New York Rangers' situation leading up to the Trade Deadline, in particular pending unrestricted free agents Kevin Hayes and Mats Zuccarello.
"As talks continue, you should know that contract length is every bit as important to both the Rangers and impending free agents Kevin Hayes and Mats Zuccarello as the money and cap hit. Both players are seeking longer-term deals they almost certainly would command if they get to the open market. Management, for obvious reasons, would like shorter-term deals."
Because of this, Brooks believes it's much more likely the Rangers trade the two players before the Trade Deadline than keep them.
Hayes and Zuccarello are No. 6 and 7 respectively on TSN's Trade Bait Board.
---
Replacing Pastrnak
With one of the team's top forwards, David Pastrnak, out for an undetermined amount of time, the Bruins could use a fill-in for their run to the playoffs.
Joe Haggerty, of NBC Sports Boston, argues with Pastrnak's injury in mind, it makes even more sense now for the team to go after Columbus Blue Jackets' star Artemi Panarin.
Haggerty adds the Bruins were in a similar situation at last year's Trade Deadline, when they added Rick Nash in light of David Krejci's injury.
"Clearly he's on the minds of the Bruins given what coach Bruce Cassidy said earlier this week when asked about the trade deadline:
"We talk about the lineup and where is the pressing need. I'll use last season as an example and obviously it was getting a winger for [David Krejci]. We went out and got [Rick Nash], you know?"
Haggerty also explains what the Bruins would likely have to give up to get a player like Panarin: a good young player and a draft pick.
"Certainly the Blue Jackets would be looking for a haul in return for the best forward available at the deadline, and that would likely mean a young budding NHL player like Jake DeBrusk and a top draft pick for a few guaranteed months of service. Could the Bruins instead get the Blue Jackets to bite on Trent Frederic or perhaps even the suddenly red-hot Danton Heinen in exchange for a rental of Panarin?"
---